If you're looking to claim a Semrush free trial, we have got your back.
Yes, we have partnered with Semrush to offer an exclusive 30-day free trial to Kickassmasterminds' visitors.
In this post, we'll guide you on how you can easily claim Semrush free trial real quick and easy.
How to Get Semrush 30 Days Free Trial (Semrush Pro Plan)
This guide helps you claim Semrush's 30 days free trial for the PRO plan worth $119.95.
Step #1: Visit the Free Trial
Use our special free trial link to land on the official free trial page of Semrush. Once you land on the official page, you will see a button "Start Your 30 Days Free Trial Now"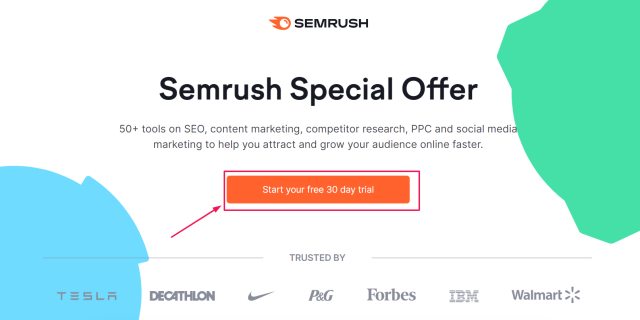 Just click on the link and move to the next step.
Step #2: Create Your Account
In this step, you need to create an account on Semrush and then move to the next page.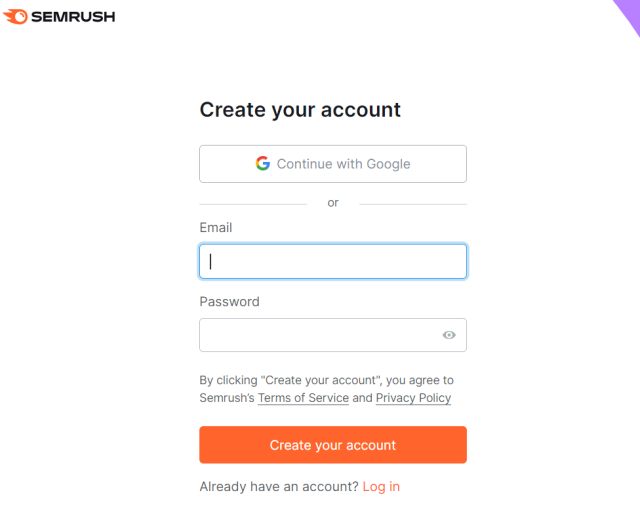 On the next page, it will ask you to enter the confirmation code to confirm your email address. Just enter the code and click on the "Confirm Email" button.
Step #3: Enter Payment Information
In this step, you need to enter payment details such as the card information as well as the billing info and address. On the right side of the screen, you will see that you're getting the Semrush 30 days free trial for free.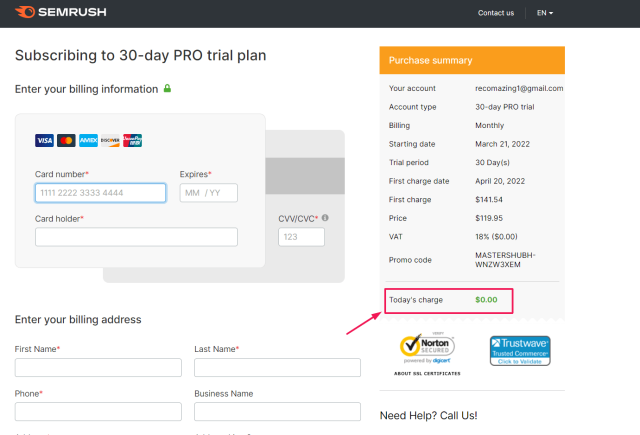 Once you're done entering the info you need to just click on the "Place The Order" button.
So this is how you can easily claim the Semrush 30 days free trial offer.
Note: You can continue to the paid plans if you like the Semrush tool, else you have to cancel the free trial offer within 30 days of the billing period.
How to Get Semrush 7 Days Free Trial (Pro & Guru Plan)
This section helps you claim Semrush 7 days free trial. Let's dive in.
Note: Using our exclusive Semrush link, you can claim a seven-day free trial of Semrush Pro and Semrush Guru Plan.
Step #1: Visit The Official Site
Use our special link to activate the free trial offer. And then, you have to visit the pricing page.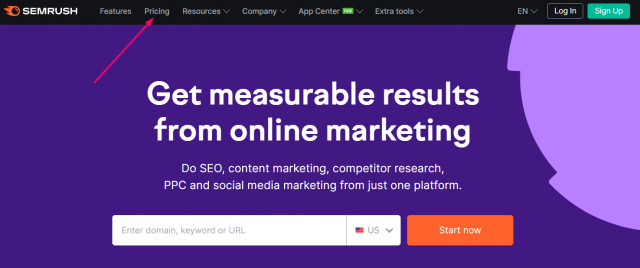 And then click on "Try for Free" well, here, you have to choose between the Guru and the Pro plan.

You can choose the free trial of – Pro Plan or Guru Plan. Check the screenshot given below and choose accordingly.
Here I'm choosing the Guru Plan and then clicking on "Try for Free"
Step #2: Signup With an Account
In this step, you need to create an account with Semrush. Enter your email and set a password.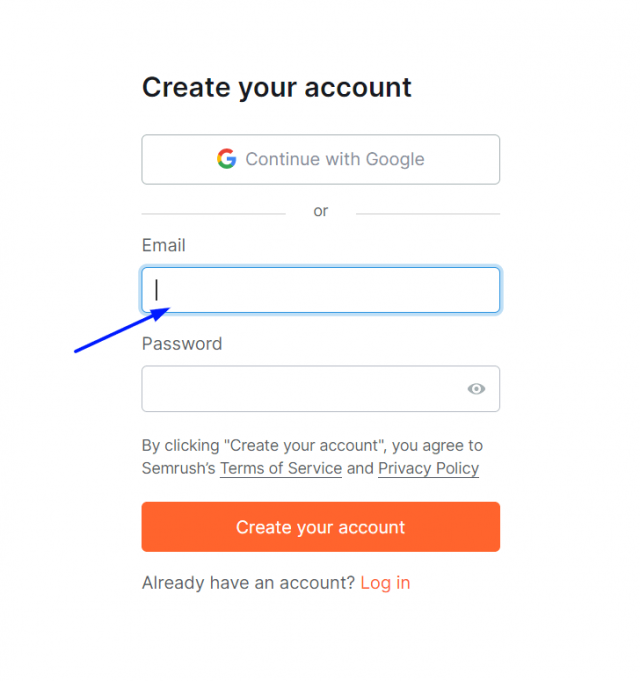 And then, you will need to verify the email address by entering the code there. Just verify the email and proceed to the next step.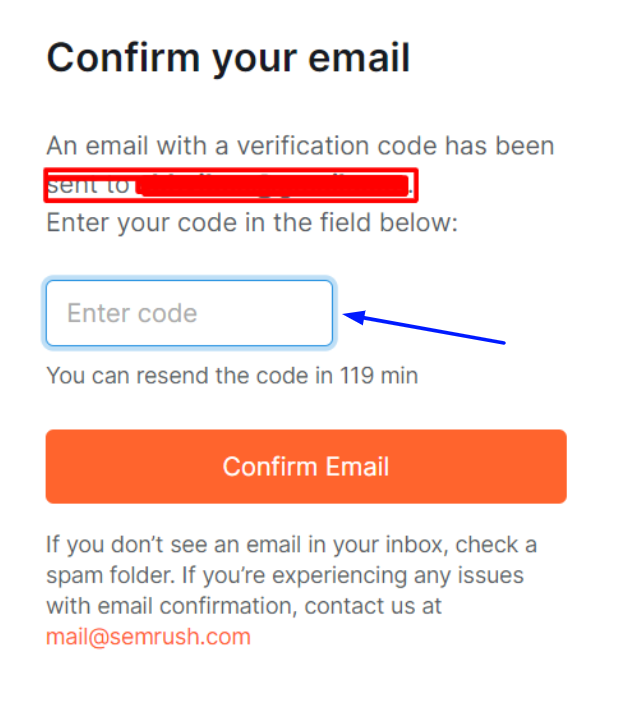 Step #3: Enter The Payment Details
Now to claim the free trial offer, you have to enter the payment details and finally make the payment.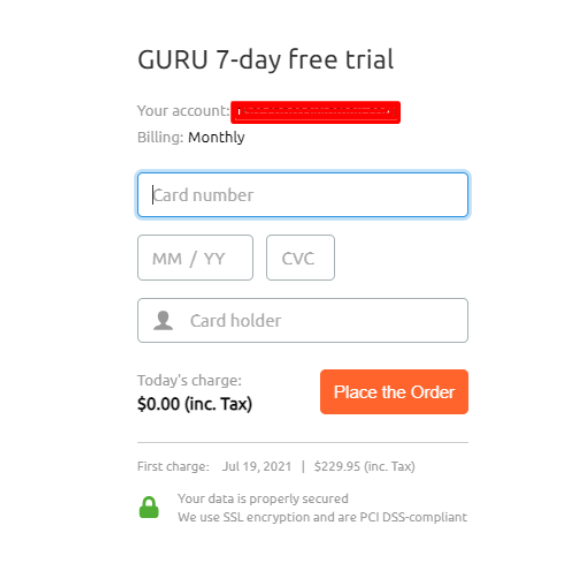 This is how you can claim the Semrush 7 days free trial. You have the option to claim seven days free trial of the Guru Plan as well as the Pro plan.
How to Cancel Semrush Free Trial (Steps Listed)
To cancel your Semrush free trial, here is the step-by-step guide you should follow.
Step #1: To cancel your subscription, you need to follow this link here.
Step #2: From there, you need to login into your account, fill in the form and then click on the "Submit Button."
Then the Semrush customer team will get back to you shortly.
You can just log in to your Semrush account and easily navigate to your subscription info page.
Then you need to find the link "Active" which will be next to the recurring option.
After that, you need to click on the "Contact Us" page and proceed from there to cancel your Semrush account easily.

Note: If somehow you're unable to log in to your account, you can easily reach out to the – mail@semrush.com and tell the issues. The team will contact you shortly and help you out the easy way.
Why Choose Semrush?
The straight answer to this question is — Semrush is an all-in-one SEO toolkit. It has every SEO tool that you need to level up your website SEO.
Let's check some of the robust features of Sermush that make it worth buying.
Keyword Research:
Semrush comes with a robust Keyword research module that helps you discover any keyword's organic and advertising value. The keyword research tool provides various data and stats such as — search volume, keyword difficulty, number of results, CPC, competition level, and so on.
Keyword Research Module Toolkit:
Keyword Magic Tool
Keyword Gap
Keyword Manager
Organic Traffic Insights
On-Page SEO:
Yes, Semrush comes with a robust on-page SEO module that helps you audit your pages and help you improve the overall on-page SEO performance. With this tool, you will get fresh ideas to boost your rankings.
On-Page SEO Module Toolkit:
Site Audit
On-Page SEO checker
Log File Analyzer
Competitor Analysis
With the help of competition analysis you can easily reveal rivals' online presence. You can easily uncover your competitors — marketing strategies, SEO efforts, advertising, content, PR, and so on.
Competitor Analysis Module Toolkit:
Traffic Analytics
Organic Research
Advertising Research
Brand Monitoring
Social Media Tracker
Content Marketing:
Now with the Semrush Content Marketing module, you can create a data-informed content strategy. Well, you can easily combine creativity and analytics right one each step of the workflow. From ideation to creation and optimization to measurements, it has every toolkit you need.
Content Marketing Toolkit:
Topic Research
Marketing Calendar
SEO Content Templates
SEO Writing Assistant
Post Tracking
Brand Monitoring
Content Audit
Local SEO Tools:
With the Semrush Local SEO toolkit, you can create and execute the perfect local SEO strategy. Get more expires and business using the Semrush local SEO tools. It has all the local SEO tools you need to grow and scale your local business.
Local SEO Listing Management:
Listing Management
Position Tracking
On-page SEO checker
Social Media Toolkit
Social Media Management
Yes, Semrush has one of the best social media management tools out there in the market. Now you can easily streamline your social media marketing strategy with robust monitoring and ads management solutions.
Social Media Management Toolkit:
Social Media Poster
Social Media Ads
Link Building
Using this module, you can easily find easy link-building opportunities for your website. With this toolkit, you can easily — discover backlinks opportunities, audit backlinks, master outreach campaigns, track progress, and so on. What's more, you will have access to a database of over 43 Trillion backlinks.
Link Building Module Toolkit:
Backlinks Analytics
Backlinks Audit Tool
Backlinks Gap
Bulk Backlinks Analysis
Link Building Tool
Competitor SEO Analysis:
Using this module, you can easily analyze your SEO competition in a matter of minutes. Yes, you can easily uncover the SEO strategies of your competitors real quickly and easily.
Competitor SEO Analysis Toolkit:
Organic Research
Keyword Gap
Backlinks analysis
Backlinks GAP
My Reports
Paid Advertising & Marketing Tools
This module is so powerful as it lets you — analyze competitors, do keyword research, and create compelling ads copy. You can save hours of manual work by automating all the time-consuming tasks right with Semrush marketing tools.
Paid Advertising Toolkit:
Keyword Magic Tool
Advertising Research
Display Advertising
PLA advertising
PPC Keyword Research:
The PPC Keyword Research Tool helps you find the right keyword with their paid keyword research tools. You can quickly uncover profitable PPC keywords to skyrocket revenue in your next ads campaign.
PPC Keyword Research Toolkit:
Keyword Magic Tool
Keyword Manager
Keyword Gap
PPC Keyword Tool
So these are some of the robust features of Semrush. Now you have an idea of what Semrush has to offer and why you should get started with it.
Semrush Pricing Review | Which Plan to Choose After Free Trial?
Semrush basically comes with three pricing plans:
Semrush Pro ($119.95/mo)
Semrush Guru ($229.95/mo)
Semrush Business ($449.95/mo)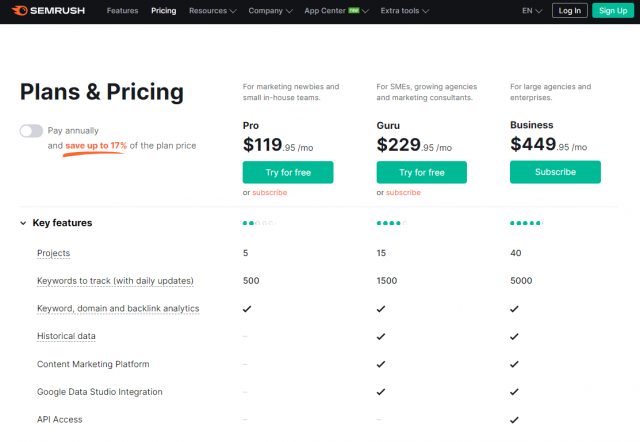 The Semrush Pro Plan (Best Suited for Beginners & Freelancers):
This is the budget plan that Semrush offers, costing $119.95/mo. You will get all the essential features that Semrush offers, such as –
Running five projects, tracking 500 keywords daily, keyword domain, and backlinks analysis. When it comes to domain and research, you can get like 3000 reports per day.
If you want more reports per day, you should sign up with the other plan.
Note: If you choose to pay for the whole year, you will save like 17% right away.
The Semrush Guru Plan (Best Suited for Bloggers and Pro):
The Guru plan costs like $229.95 monthly. With this plan, you can easily create like 15 projects and get 5000 reports per day which are suitable for bloggers and medium-sized businesses.
What's more, you can also quickly get around 20 scheduled pdf reports of your projects running on Semrush. This plan has all the basic and advanced vital features such as keyword research, historical data, ads insights, site audits, rank tracker, content marketing platforms, etc.
The Semrush Business Plan (Best Suited to Agencies & Business)
The business plan of Semrush costs around $449/month, which comes with all essential and advanced features to kickstart.
With the Semrush business plan, you can easily create around 40 projects and track 5000 keywords daily. Also, you get like 10,000 reports per day and Semrush API access.
You can check all the perks and features of the Semrush business plan here.
Which Plan Is Best: Pro or Guru
Here we have compared Semrush Guru and Pro plans which helps you to choose the best one. So without getting late let's get inside it.
| | | |
| --- | --- | --- |
| Features | Pro Plan | Guru Plan |
| Price | $119.95 per month | $229.95 per month |
| Content Marketing | No | Yes |
| Keyword Research | Yes | Yes |
| Report Sharing | Yes | Yes |
| Keyword Tracking | Yes | Yes |
| Historical Data | No | Yes |
| API Access | No | Yes |
| Branded Report | No | Yes |
| Product Listing Ads | No | |
| Scheduled PDF Reports | Yes | Yes |
| Multi Targeting | Yes | Yes |
| Mobile Ranking | Yes | Yes |
Which Plan is Right For You?
Semrush comes with three different pricing plans. But choosing one among them can be a difficult choice. If you have a clear budget in your mind, then there is nothing to think about. It will make the choice relatively easier. But what if you have the budget for the business plan and your requirements are not that vast? Then you might get confused. Let me break down each plan and who should consider using it.
If you are a beginner who is just starting your online business and in need of a complete suite of SEO tools, then the Semrush Pro plan is the right choice for you. If you have a small agency, an in-house team, or a mid-size enterprise, then you should choose the Semrush Guru plan. If you are running a large enterprise and your requirements are vast, then you should choose the business plan of Semrush.
Semrush Free Trial Alternatives
If you want to try some other similar tools like Semrush for free, here are some of the best tools you should try out for FREE.
Ahrefs – Offers 7 Days Free Trial for $7
SpyFu – Offers A Free Version of Tool
Ubersuggest- Free Tool for doing keyword research only.
Screaming Frog- For free websites audits
So these were some of the Alternatives to Semrush's free trial, which you can make use of.
Conclusion: Semrush Free Trial 2023
So this is how you can easily claim a free trial on Semrush.
Semrush is a pioneer SEO tool, and it helps a lot when it comes to on-page, off-page, and competitor analysis. We at KickAss MasterMinds use Semrush daily to stay ahead of our competitors.
Semrush is not affordable; however, it is worth every penny you invest. We recommend you get started with the Semrush free trial easily.
Frequently Questions Asked On Semrush Free Trial
Is it possible to get a Semrush free trial without a credit card? 

Well, no, it's not possible to get the Semrush free trial without any credit card. 

What will happen once the Semrush free trial is over?

Once the free trial is over, you will be charged with your chosen plan. For example, if you have used the Pro plan as a free trial, you will be charged. 

Is it possible to get branded and white-label reports with Semrush? 

You can't get branded reports with Semrush Pro and Guru plan. You have to sign up for a business or enterprise plan to get the white-label and branded reports.

What kind of SEO analysis can you do with the Semrush free plan?

With the Semrush free plan, you can easily analyze like ten domain analytics every single day. You can create a list with the keyword magic tool, backlinks audits, do rank tracking, crawl around 100 pages for site auditing, and so on. 

How does Semrush compare to tools like Ahrefs?

Semrush and Ahrefs are the two pioneer tools available out there. However, Semrush comes with many robust features apart from Ahrefs, such as historical data, content marketing tools and competitive advantages, etc. 

Which Semrush plan is suitable for me?

Well, if you're a blogger or a solopreneur, the Semrush Pro plan is suitable for you. For Agency owners, the Semrush Guru and Business plan.

Can I get access to historical data with the free plan of Semrush?

Nope, the historical data is only available with the Semrush Guru and Semrush Business plan. 

Who is the owner of Semrush, and when was it founded?

Oleg Schegolevl'm is the founder and CEO of Semrush. Semrush was founded back in 2008.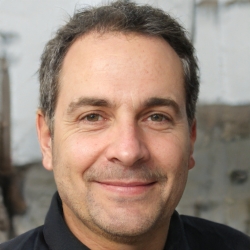 Latest posts by Tim David
(see all)