If you're looking for an in-depth AdPlexity review, you're in the right spot. 
No doubt, AdPlexity is a robust ad-spying tool available out there. With its easy interface and comprehensive ads data — you can track your competitor's profitable ads campaigns.
Adplexity Review: In A Nutshell
Mobile & Desktop Ads Spying
I'm excited to share my experience with AdPlexity, I'll review all the tools of AdPlexity, such as — Mobile, Desktop, Native, eCommerce, Push, and Carriers. What's more, I took various aspects to review AdPlexity, such as — ease of data, data metrics, countries supported, pricing plans, support, and so on.
By the end of this AdPlexity review, you will get to know — whether to get started with AdPlexity or look elsewhere.
So let's dive in.
Adplexity Review: In a Bubble
Before I go into the details of Adplexity, I would like to tell you what Adplexity is in reality if you don't know already. In simple words, Adplexity is one of the best ad spy tools in the market. Many leading affiliate marketers prefer Adplexity over any regular affiliate spy tool. This tool comes with a lot of features, and all of them are dedicated to giving out detailed insights into marketing campaigns.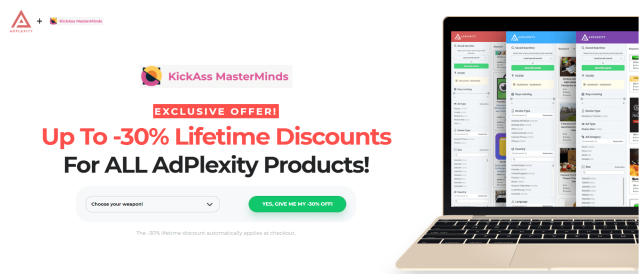 On the dashboard of Adplexity, you can see millions of ads from all over the world. You can see the details of every ad and even download it directly. These ads can be banners or landing pages, you can download the entire thing in just one click. If you want to see any specific offer or ad network, then you can search for it, and it will be available on your screen in just a few seconds.
Note: Rollover to check our working AdPlexity Coupon.
No matter what campaign you're running, Adplexity is compatible with all. It supports mobile, push, desktop, native, and other types of ad campaigns. Whatever data you see on the dashboard, all of that is available in real-time for you. Along with that, you can also track the performance of your ad campaign and see the behavior of users in real-time.
Standalone Points of AdPlexity
When it comes to online marketing and predicting, everything comes down to accuracy. Accuracy is the most important feature an ad-spy tool should have, and Adplexity provides that to its users. Along with that, Adplexity offers a lot of features, let's have a look at them closely.
Landing Page Downloads
Popup Tracking
Banner Ads Monitoring
World Class Support
Compatible With Every Device
Huge Mobile Carrier Database
International Database In Multiple Languages
Network Analyzer
Offer Affiliate Program
One Of A Kind Search Features
AdPlexity Products Reviewed
In my experience, Adplexity Products is the biggest advantage. These products are just other versions of Adplexity which you can use on different platforms. There are basically 7 Adplexity products available. I will explain each one of them in a detailed manner because I've used every one of them myself.
Let's dive into the details.
1. AdPlexity Desktop
The most basic form of Adplexity is the Desktop version. This version only focuses on profitable campaigns which are based on Desktop users. When I purchased this version, I saw all the active campaigns related to desktop users. I navigated among them and search for the best-performed campaigns as well. I can easily use different filters to find the best ones and see what they are implementing on their ads.
Once you log in to this version of Adplexity, you will have the option to run a search based on networks, publishers, advertisers, or placement. The process is really simple just click on the type of search you want to run and then enter a specific keyword that you are looking for. After clicking on the search, you will see all the ads running specific to that keyword, you can also apply other filters as well.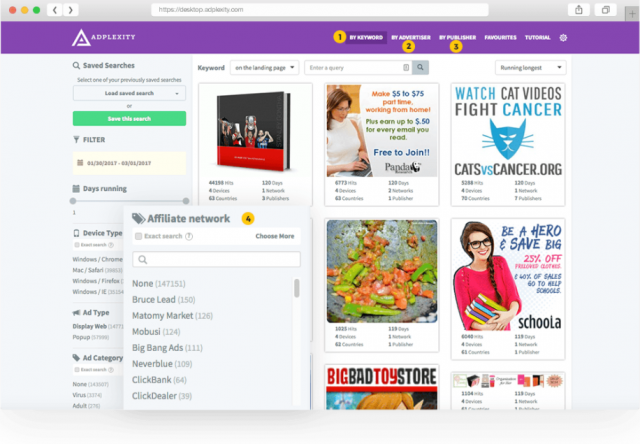 These filters can be location, affiliate network, device type, and traffic source. When you find what you're looking for, then just click on it and download it right away.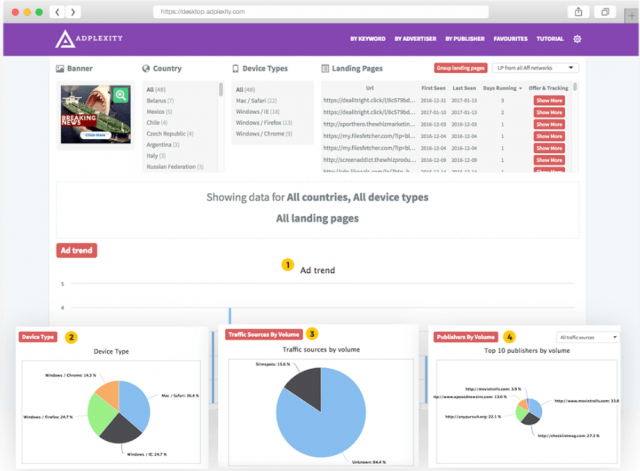 2. AdPlexity Mobile
The craze for mobile devices is growing rapidly, and this is becoming a really good traffic source for affiliate marketers. There are many carriers that are offering immense speed connections to mobile devices at very affordable pricing. The Mobile version of Adplexity is one of the amazing products. I took advantage of this like every other affiliate marketer.
With this, I found the most profitable mobile campaigns run by competitors and used their ideas to implement my ads. I got amazing results with it. Similar to the desktop version, you can see almost every mobile ad running all over the world. You can apply filters like browsers, device types, landing pages, and many more.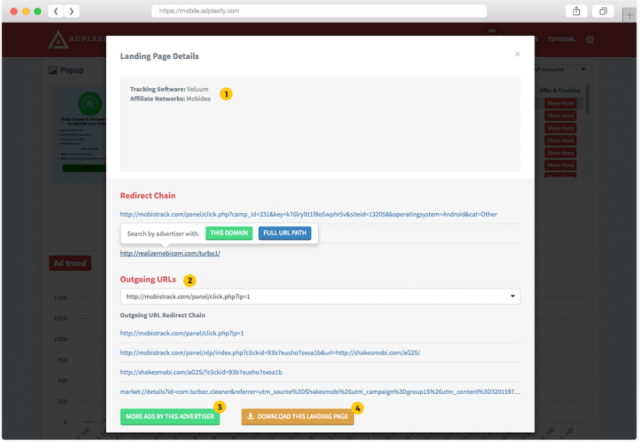 Even if someone is running a hidden mobile campaign still then it will be visible to you if you are using Adplexity mobile.
3. AdPlexity Native
Native Advertising is one of the best ways of advertising because you can easily deliver the content which you want users to see without any hindrance. Adplexity Native helps you to track native ads run by competitors in more than 35 countries. You can see which native ads leading affiliates are using and copy their strategy to apply to your native ads.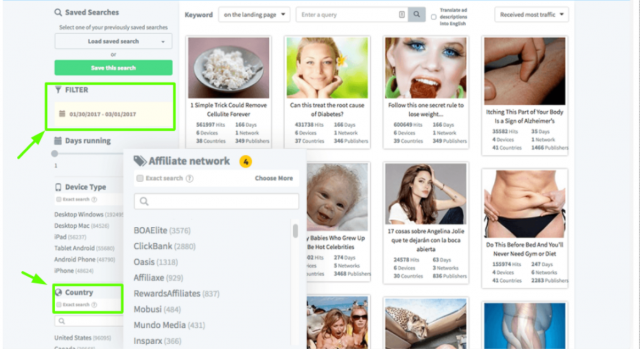 You can use Adplexity Native on almost every device. It is compatible with Android, iOS, Windows, and Mac. Just like every other product of Adplexity, Adplexity native helps you in finding out the best of the best among all the native campaigns. You can also use the Adplexity tracker to find out the source of any native traffic coming on your ads.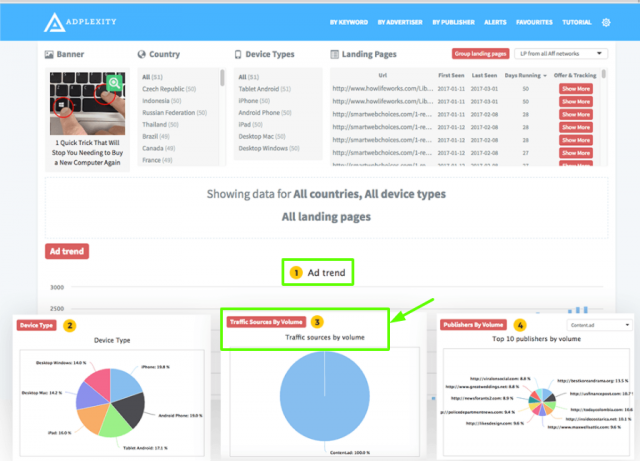 4. AdPlexity Push
Push notification ads are also a good way of advertising, just like native ads. These advertisements are really simple but effective. Through push ads, you can deliver your message to users just like any other notification they see on their device. Users don't block these types of ads, they can be engaged in your campaign really well.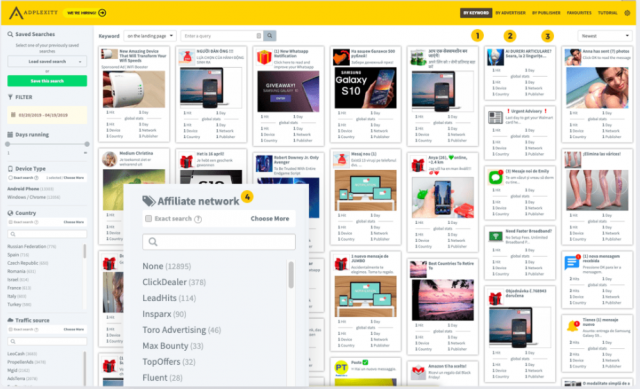 When I used push notification ads, the only thing I needed to keep in mind was that these ads work differently on mobile and desktop devices. So I had to design them accordingly. I used Adplexity push to separate mobile and desktop simultaneously and then used the best of the best to implement on my campaign. You can see the data of push notification ads from more than 70 countries and filter them based on mobile and desktop.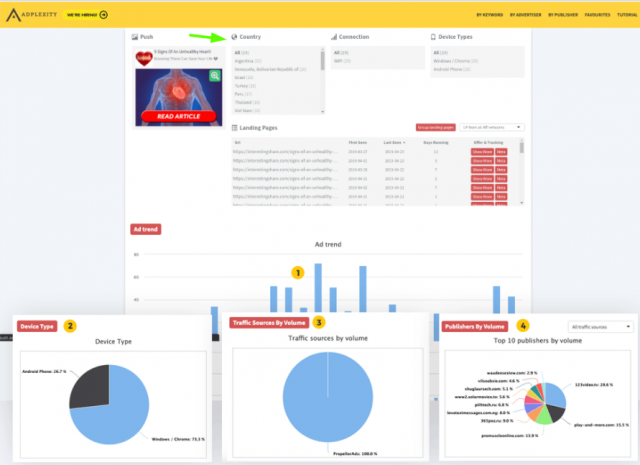 5. AdPlexity e-Commerce
Adplexity e-commerce helped me out in finding out which products are doing really well. I used only those products which were generating good results for competitors. I created an e-commerce store only using those products, and the results were really amazing. Adplexity e-commerce is one of the leading marketing tools because it has a database of over 71 million products from more than 100k online stores.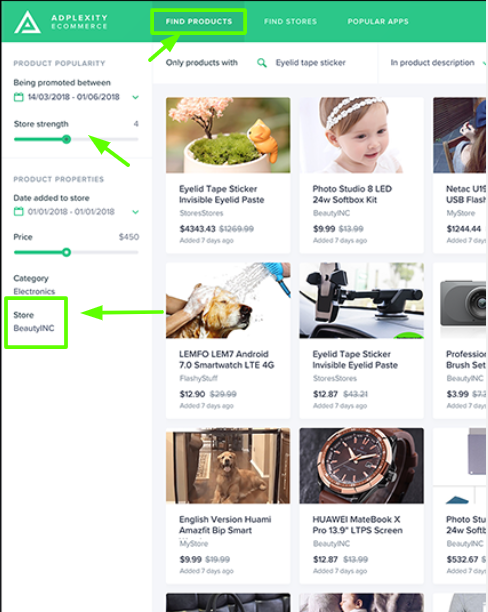 Almost every e-commerce store owner uses software for product page builders and shopping cart solutions. With Adplexity e-commerce, you can see the complete structure of an online store and see the product ratings as well. You can use this information to create monetization opportunities for your store as well.
6. AdPlexity Carriers
Analyzing traffic through a mobile carrier seemed like a dream a few years ago, but now it has become a requirement for every affiliate marketer. After thorough research, I found out that nowadays, the major traffic comes through mobile devices. The main motive of Adplexity carriers is to gather data on those particular campaigns which come through mobile carrier networks.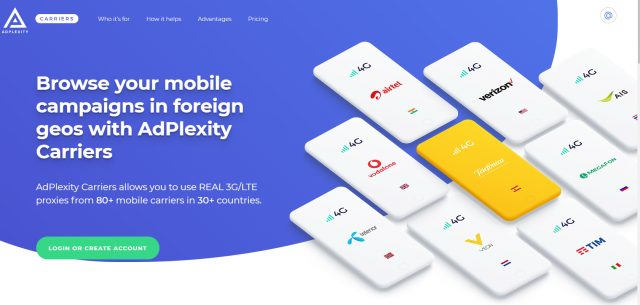 These campaigns are completely different from mobile version campaigns because here, a publisher needs to adjust their content for slower connections as well. With Adplexity carriers, you can find out what type of content you need to curate, which combination of conversion will work best, and much more.
7. AdPlexity Adplexity API
Adplexity API gives you control over all of the features of Adplexity and how you can implement them into your monetization scheme. With this, you can find out the best traffic sources, set custom filtering options easily, and see what ad format will fit best for your campaigns. You can easily search using a particular keyword, network, advertiser, publisher, and much more.
With Adplexity API, you can analyze content from more than 74 countries. If you need a marketing tool to work on big scales then Adplexity is the best choice for you.
Ease of Use: Using Adplexity e-Commerce
Here, I will be giving details on how easily you can use Adplexity e-commerce. This product of Adplexity is really easy to use. I will explain the key points of using Adplexity e-commerce and how it can benefit you.
I performed a search by stores, and I found the best products of competitors, all of their new products, store information, the price range of products, and much more.
When you run a search by products, then you will find the different product categories and their price ranges as well.
To find out a product's strength, run a search by strength. You will see which product is famous and which product is fading out.
Whenever I clicked on any product, I found all the details of that particular product, like when it was added and when it was last promoted.
For every product, you will see information on related Facebook ads. You can use the strategy for any Facebook ads for a particular product using this feature.
When you search for a particular product category, you will also see the related product categories as well.
I found an amazing feature where you can find out which apps are used by competitors to boost their revenue. You can apply the same strategy to your stores as well.
AdPlexity Pricing Explained
Every product of Adplexity has different pricing, so choose according to your needs.
I already explained what features you will get from all of these products in the above section now it's up to you to choose.
What About Adplexity Support?
Whenever I get stuck using Adplexity, I directly contact the support team of Adplexity. Because even if you are an expert affiliate marketer, still now and then you will need technical support as well. The support team of Adplexity is available 24*7 for 365 days which is the best thing about Adplexity.
You can contact them via email or just dial their toll-free number. They will provide you with technical support instantly overcall. If you have any query which is not urgent, then you can use email to contact the support team they will reply to you within 24 hours. But one thing you should keep in mind is that the toll-free number is free in specific regions so if you're calling outside these regions, then you might need to pay.
Adplexity Review: Pros & Cons
Below we have given the pros & cons of Adplexity. So without wasting any time, let's have a look. 
Pros:
Access up to more than 75 countries ads data
Easy filter selection
Quickly finds cost-effective ad campaign
Offers 100% genuine insight
Easy to download and clone landing page
Offer API
Spy for push ads, mobile ads, native ads, and pop ads.
Offers real-time data
They have full access to data from more than 1 lacs eCommerce store
Support all types of web browser
Cons:
Don't have a free trial
Need to improve customer support
Related Read:
Final Verdict: Is Adplexity Worth The Hype?
Every marketer needs the best ad spying tool to make their campaign the best of the best. But it is quite difficult to find which tool is best for you. Not every one of them offers you dynamic features with amazing accuracy. But Adplexity is a leading ad spy tool with different products based on the requirements of every marketer.
I hope this Adplexity review gives you a complete understanding of this tool and its products. So you can make your choice without any doubt.
FAQs On Adplexity
How accurate is Adplexity?
Accuracy plays an important role in choosing an Ad spy tool. From my experience, I can Adplexity is more accurate than any other ad spy tool.
Does Adplexity offer a free trial?
No, there is no free trial available for Adplexity. But if you don't like Adplexity, then you can opt for a refund within 24 hours. Make sure you're applying for a refund under this time limit otherwise, you won't be eligible for a refund.
How many platforms does Adplexity support?
Adplexity supports 6 platforms which are desktop, mobile, carrier, push, native, and e-commerce.
How many countries does Adplexity support?
Adplexity is available in more than 30 countries, including some major countries such as the United States, United Kingdom, India, South Africa, Mexico, and so on.
Is there any AdPlexity coupon available?
Yes, you can use our working AdPlexity coupons to get up to a 30% Lifetime discount on AdPlexity products.
Which ad networks does it support?
Adplexity supports ad networks like Android In ad apps (MillennialMedia, LeadBolt, InMobi, StartApp), Popups (PopAds, Adcash, ZeroPerk), and Mobile Web (25+ exchanges).
Why is Adplexity better than its competitor?
Adplexity is a very advanced and easy-to-use interface that helps you to get a successful campaign faster than its competitors.
What are the advantages of using Adplexity? 
Using Adplexity, you will get full insight into what your competitors are doing. So that you can get the advantage of your campaign and saves time, effort, and money.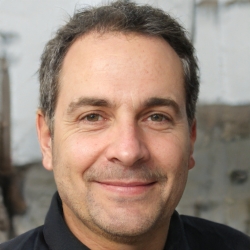 Latest posts by Tim David
(see all)