On the verge of buying a domain or hosting solutions from Big Rock? Before you do that, check out our exclusive Big Rock coupon code to get a discount on your purchase.
Big Rock is an Indian company, and Endurance International Group is backing it up. Big Rock offers brand-new domains, hosting solutions, Google Workspace emails, security for your websites, and a website builder. It offers an all-in-one solution to establish an online business. Their offices are located in India and USA.
If you find Big Rock a bit expensive, then you can try these coupon codes to save money. We have also included a step-by-step guide in this post to explain how you can apply these coupons to your purchase.
Let's get into all the details.
Available Big Rock Discount Coupon Codes (2023)
Here we are going to list some of the best Big Rock coupon codes:
Coupon 1. If you're going to purchase hosting services from Big Rock, then don't forget to use code HOSTYOURSITE30 at the time of checkout to get up to 30% off on your purchase. This offer will expire soon, so I suggest you grab it as soon as possible.
Coupon 2. If you purchase a domain from Big Rock, then use code BR21GSDMN at the time of checkout to get a free Google Workspace account.
These are a few coupons that are working right now on Big Rock. You can also check out their deals section to get hot deals on different products of Big Rock. It also offers fantastic deals in the holiday season and new year, so keep an eye out for it.
How To Claim Big Rock Coupon Code Easily?
If you are wondering how you can claim the offer, then follow this step-by-step guide to applying the offer to your purchase successfully. Let's take a look at the steps.
Step #1: If you don't see the offers on the official website, then use this link to activate the offer for yourself on Big Rock. This link will redirect you to the Big Rock website; from there, you must select the product you want to purchase. I am going to select their hosting service.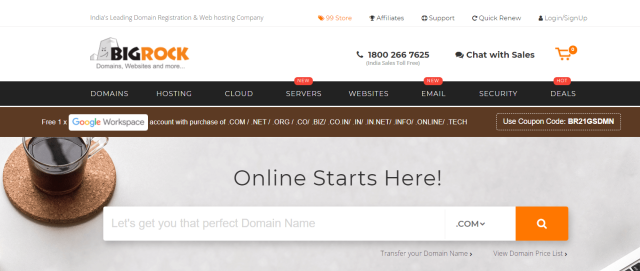 Step #2: There are three plans available to host your website. You need to select any one of the plans based on your requirements. All you need to do is click on the "Buy Now" button to move to the next step.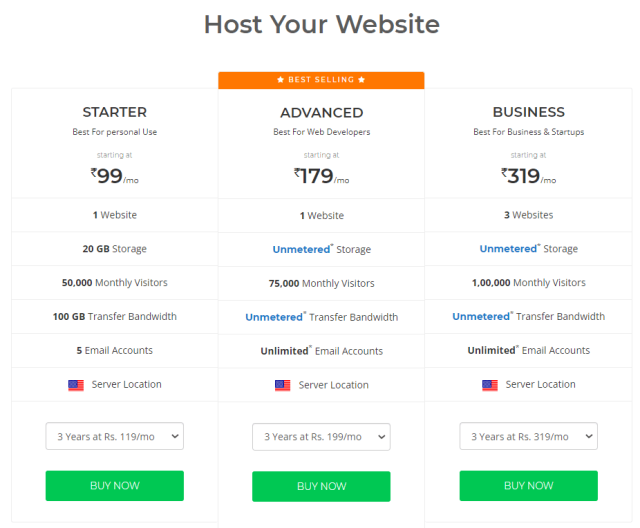 Step #3: It will ask you if you already have a domain. Click the yes button to move forward. Now You need to enter your domain name in the box. You can also add cloud backups and cloud security right there. Once you're done, click on the "Continue" button.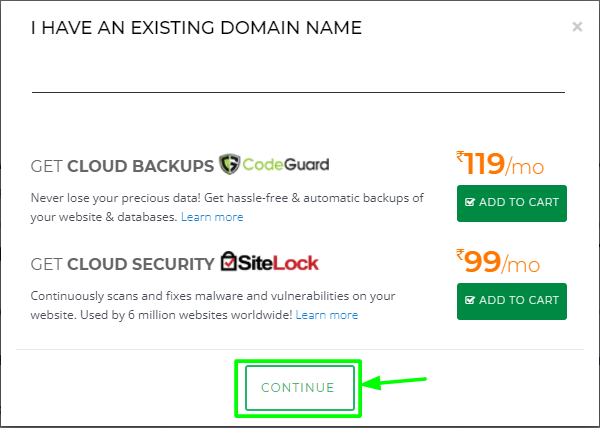 Step #4: The next step will show you the order summary. You need to enter coupon HOSTYOURSITE30 to get 30% applied to your purchase. The final price will get reduced instantly. Click on the "Next" button.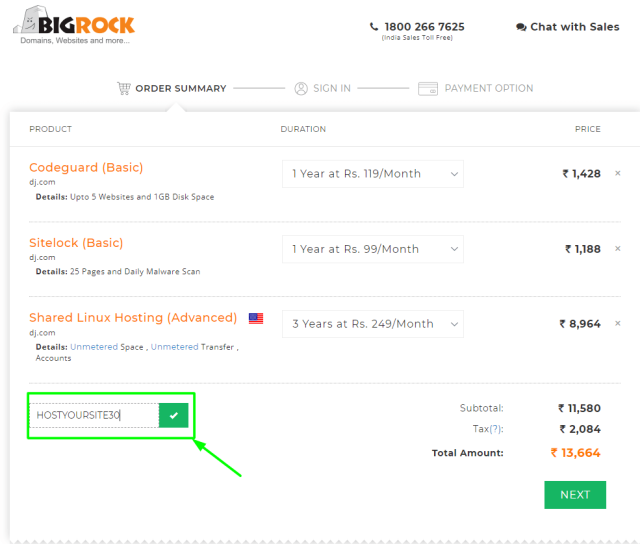 Step #5: If you already have an account on Big Rock, then enter your email and password to log in, or you can create a brand new account on Big Rock using your name, mobile no, email address, and password. Now you will need to fill out your billing address to move to the payment option.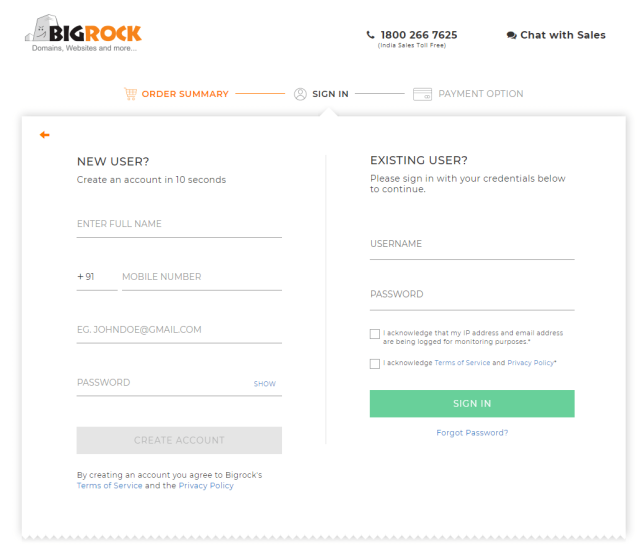 Step #6: Now, you can select any one of the payment options. You can pay through Net Banking, Credit Card, UPI, Wallets, Cheques, or Big Rock Wallet. Enter your details to finish the purchase.
As soon as you make your purchase, your Big Rock will get activated. You can manage to host services for your website directly from the dashboard of Big Rock.
Big Rock Pricing Plans
Big Rock offers many products, and their pricing plans differ. I will explain all their products and pricing options for it as well.
1. Domains: From the domains section, you can register a brand new domain, buy premium domains, transfer domains, and buy add-ons for it as well. Normally the domains ending with .com costs 849 Rs/year, .org costs 599 Rs/year, .in costs 499 Rs/year, and so on. The premium domains cost a lot so buy those only when needed.
2. Hosting: Big Rock offers different hosting options such as Linux Hosting, WordPress Hosting, Windows Hosting, CMS Hosting, and eCommerce Hosting. The price range of Linux Hosting is 99 Rs/mo to 549 Rs/mo. The price range of Windows Hosting is 59 Rs/mo to 599 Rs/mo. The WordPress hosting starts at 179 Rs/mo.
3. Website Builder: With Big Rock's website builder, you can build websites within three steps. The pricing plans of the Website builder range between 99 Rs/mo to 449 Rs/mo.
4. Email Hosting: It also offers email hosting services where you can buy business & enterprise email accounts. You can also buy Google Workspace services. The business email starts at 39 Rs/mo, and the enterprise email starts at 79 Rs/mo. The services of Google Workspace start at 99 Rs/mo.
So these are the Big Rock products and their pricing plans. You can choose any one of the plans based on your requirements. You can check the official website to check out the features of the pricing plans.
Pros & Cons Of Bigrock: 
Here we have listed the pros & cons of the big rock, so without wasting let's have look. 
Pros:
User-friendly interface 
Automatic backup
Numerous services
Competitive Pricing 
24*7 dedicated customer service
99.9% of uptime
Cons:
Limited storage & bandwidth
Limited customization option
Related Read:
Conclusion: Big Rock Coupon Code (2023)
Big Rock offers a complete solution to start an online business with no hidden costs. You only pay for what they show on their website. It offers different services such as domain registration, domain extension, different web hosting options, email hosting, and DIY website builder. If you face any issues, you can instantly chat with their sales team.
I hope you save money on your hosting purchase of Big Rock with my exclusive coupon code. If you still encounter problems, then leave a comment in the comment section below.
FAQs On Big Rock
Does Big Rock offer a money-back guarantee?
Yes, they offer a 30-days money-back guarantee on their hosting products only.
Does Big Rock offer any free trial? 
Yes, you can try their website builder for free. They give you 30 days free trial on that.
Where are Big Rock's hosting servers located?
Big Rock's hosting servers are in India and US. You can select any one of the hosting locations from the plans section
What is the backup policy?
It is very important to keep copies of your data and website files; with its CodeGuard, you can get regular backups of your website.
How to enable Cloudflare on the website?
To enable Cloudflare, you need to log in to your account, go to the Software section and click on Cloudflare. Now create an account and add your website.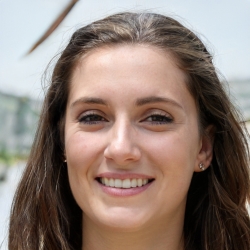 Latest posts by Olivia Baker
(see all)