Teachable is one of the most emerging online learning management platforms.
From complete pricing freedom and features, users tend to opt for Teachable. However, is it worth the hype? Or is it another click-bait you are going to get into?
Don't worry. We have got your back!
In this article, we have reviewed Teachable based on our experience and days of research. We have compared its features, pricing, pros and cons, and more. In addition, we have also compared Teachable with its alternative.
So, ready to understand whether Teachable is the right platform for you or not?
Let's dive into our review!
Teachable Review: In A Nutshell 
Teachable is a powerful and versatile LMS platform that enables content curators, bloggers, and online educators to create courses and memberships and sell them quickly.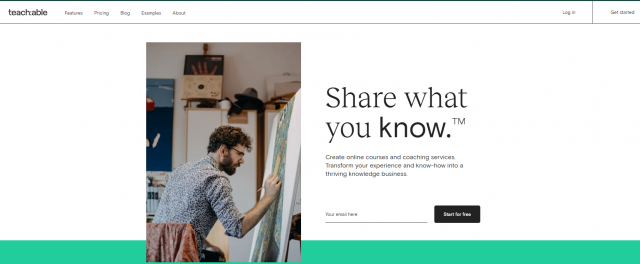 The platform is backed with robust features, including marketing and selling. The interface is also easy to use, making it ideal for beginners to create their courses from scratch and sell them through various social platforms.
Where Does Teachable Excel?
You can create professional academic courses with their certificate feature built-in for all the courses.
Teachable's user interface is straightforward to use and intuitive. It does not need any technical or coding skills to get started. However, you might need technical knowledge when you go for advanced features such as webhooks, power editor, and more.
There are no restrictions on the number of courses you can host, unlike some other LMS platforms which restrict you with a specific number of courses.
You can combine the subscription pricing and bundling feature for hosting membership without any hurdles.
Teachable takes boosting the conversion of your website to a new level through its one-click selling feature.
You can get started with a free plan. However, they charge 10% transaction fees with it.
The platform enables you to create unlimited webhooks of different types with its powerful webhooks module feature.
They have an in-built feature where they take care of EU VAT, reducing the headache of manually handling the taxes.
Where Teachable Can be Improved? 
The basic plan charges a 5% transaction fee which may be a drawback for specific users.
Teachable provides limited custom design capabilities. There is no drag and drop builder, which can be difficult for beginners. There is a custom CSS and power editor feature available only with the professional plan.
If you opt for the basic or free plan, the payment is processed with PayPal with more than a month's delay. This can disrupt your cash flow from sales.
Teachable Key Features (Explained)
Let us take a deeper look into all the features of Teachable below.
Interface 
The interface of Teachable is easy to use and highly beginner-friendly. As soon as you log in, you can see the dashboard.
On the left-hand side, you can see Teachbale's features. These options include themes, domain, navigation, pages, and more. Once you click on the feature, you can see more features inside. In addition, these features are accessible with double clicks.
You can also check out tutorials and articles for understanding the dashboard better. All Teachbale's features are easily accessible and come with tons of documentation.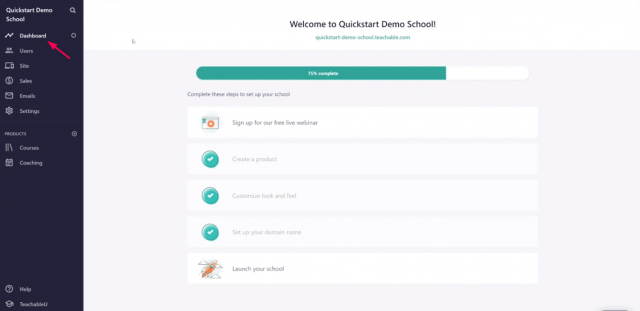 The interface is designed with beginners and non-tech users in mind. Therefore, you can simply create courses and lectures by hitting the enter button instead of touching the mouse.
Creating Courses 
Creating courses with Teachable is easy. However, before creating your courses with the platform, it is better to keep your outlines, recordings, and modules ready.
This will help you to create courses easily and a bit quicker. Once all the materials are ready, you can upload videos, documents in PDF form, presentations, and more on the course platform.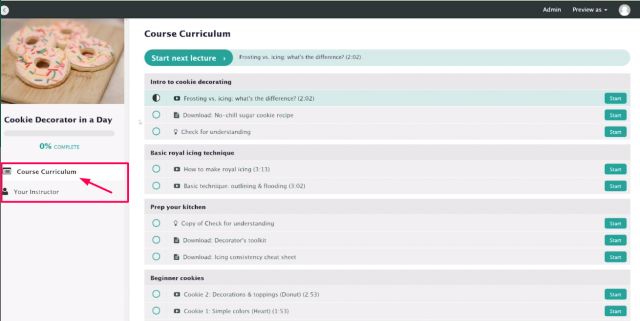 Furthermore, you can also import through Google Drive, DropBox, or One Drive. Now, you can take advantage of the drag and drop Teachable builder to move around your materials.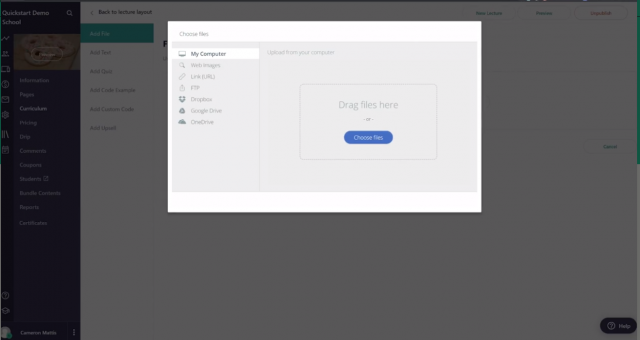 You can either divide the entire course into modules per lesson or keep the number of set lessons as it is. With the "add code" option, you can import any external webinars or video recordings into the lessons. However, this can be a bit tricky and tough for beginners.
Additionally, it allows you to add quizzes in between your lectures to keep your students engaged. If you opt for the professional plan, you can create quizzes with grades and display the results in the course completion report.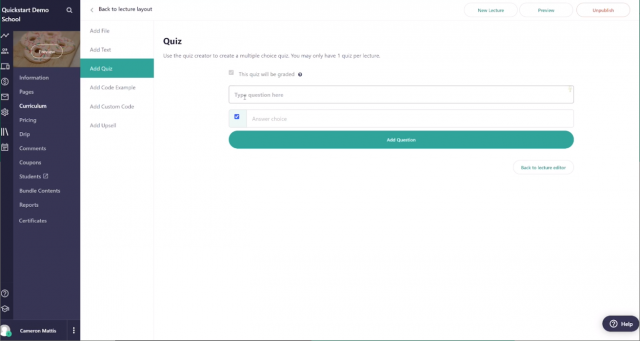 Besides, there is an option to turn on/off comments for each lecture. Lastly, a Drip option lets you publish your course after specific days of student enrollment.
Overall, the user interface of Teachable is straightforward. Although you are entirely new to LMS, you may find yourself stuck; with its drag and drop builder, you can get started quickly.
Creating Quizzes 
You can create engaging and straightforward quizzes with multiple-choice options to test your student's knowledge. You can have multiple or one correct answer. Additionally, you can also decide whether the quiz will be graded or not.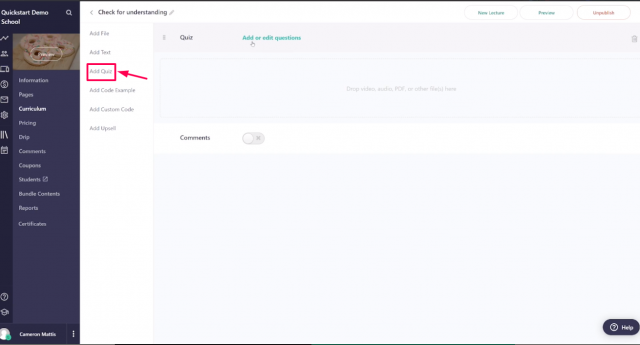 If you decide to keep it graded, you can view the score in the reporting area. You can create quizzes easily with Teachable. However, remember that there are various restrictions on the quiz building.
For example, there is no option for bulk import. For example, if you already have questions ready, you will have to enter them one by one. Furthermore, there is no option to give feedback to your students or explanation for the answers.
Customization and Designing
Customization and design are two of the crucial parameters to consider when you are picking your ideal LMS. You need your courses to match your website and brand.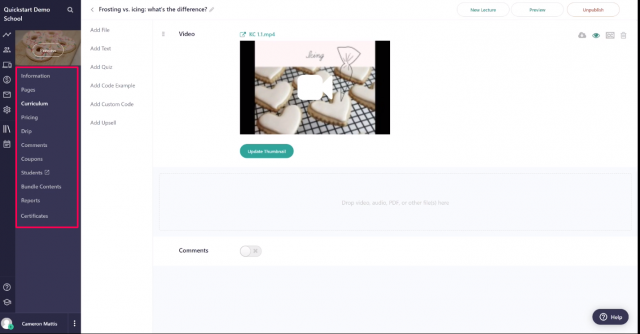 You get two customization and designing options -Customization of your website and customization of courses pages. Let us take a look at the two in detail.
Customization of Website 
You get powerful customization options from Teachable. You can tap on the 'site' option from the primary sidebar for all the design and customization options from the dashboard.
These options include theme, domains, navigation, bios, pages, comments, custom texts, code snippet, power editor, and more.
You can choose custom colors from the theme option, add your logo, select fonts, and more. You can also set your subdomain or edit the existing URL of Teachable.
In addition, you can add custom navigation links, edit the default settings, add custom bios and authors, manage all the comments for your courses, edit the texts, and more.
Moreover, you also can add new pages that do not belong to any of the courses. The power editor is one of the crucial parts of the customization. You can make tweaks and changes to all the aspects of your website.
Coaching Season: 
Coaching is the most dominant business model for the expertise business, whether providing coaching services as a self-supported or combining online coaching and courses. Teachable makes it very easy to offer and charge for the coaching service via native integration with the famous Calendly app.
Combining Teachable with Zoom or Calandly, you can schedule your calls and check-ins with a group or individual student. You can also set forms that require configuration and approval of your coaching, provided as a subscription product.
Customization of the Course Pages 
Besides customization of your website, you can also customize the sales page, thank you page, and checkout pages for your course.
Let us take a look at the customization options below.
Sales Page:
You can customize your sales page with different options, including making a course description, enroll button, displaying bios/authors and course curriculum, customization of the header with custom images, course page closing letters, and more.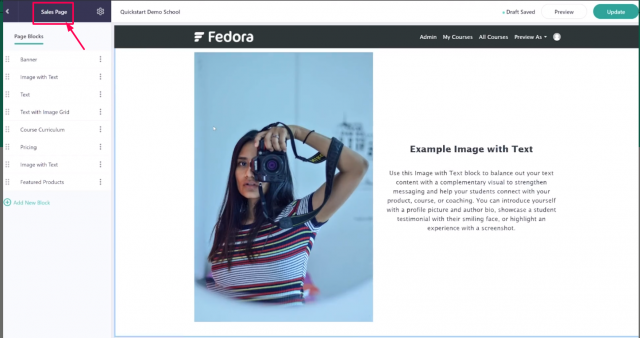 You can also add or remove blocks. You can also embed custom pre-blocks such as HTML, Testimonial, Rich Text, Featured courses, background images, and more.
With these options, you can set up a compelling sales page that helps to lock the deal.
Checkout Page:
Once your student enrolls, they are directed to the checkout page. The checkout page contains the default options, including personal information, payment methods, and more.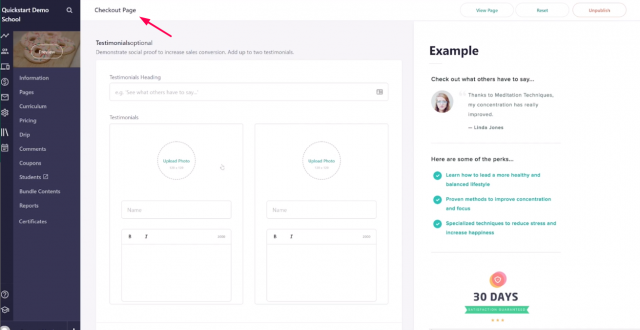 However, you have the additional option to add three elements, including Testimonial, guarantee, and value proposition bullets. This will help your students to understand what they will get after purchasing the course.
Thank you page:
Thanking your students after they have made the purchase is a warm gesture. Once the payment is made, your students will be directed to the Thank you page. This page can contain a simple thank you message with direct access to the course.
You can also add videos saying thank you and expressing your gratitude to increase your engagement with students.
Lastly, there is an option to add upsell blocks. This means you can add purchase links for other courses which your students might find helpful.
Overall, it gives you powerful customization and design options. Especially if you are a developer, you can enjoy the custom CSS and powerful editor feature.
Managing student enrollments
Managing student enrollment is essential. With Teachable, you can view who enrolled on the course, their progress until now, and which lessons they took. From the dashboard, you can manage student enrollments within a few clicks.
If you want to enroll or un-roll sure students, you can easily do it from the dashboard. For students, they can view all the courses at once. Moreover, if the students want to apply for a refund, they can easily do it with Teachable.
Lastly, it gives an option to switch languages for international students unfamiliar with the English language.
Completion certificate
One of the prominent features of Teachable is certificates. When students take up courses, they like to get the completion certificate.
Compared to other LMS platforms, the certificate mechanisms by Teachable are excellent. The course completion certificates are available to the students as soon as they complete the course.
There are various in-built certificate templates to build certificates, and if you are a developer, you can create a custom certificate with HTML.
It will automatically add your student's name, your school, and the course name. In addition, the editor gives you flexible options to customize your certificate to fit your brand by changing the color and adding a signature.
Analytics and monitoring
Of course, creating your course and simply selling them is not just it. You need to track the progress and whether they are enjoying it or not. This will help you to come up with new business strategies and boost your sales.
Teachable exiles when it comes to monitoring and analytics your student's numbers, figures, and progress to see how far they have come. The dashboard gives you a detailed view of how many people have signed up for your courses and the revenues you have earned through the course.
You get complete lecture breakdowns and insights into student's engagement. With this data, you can connect with students who are lacking or ask brilliant students for testimonials.
For advanced analytics to understand where your traffic is coming from and which content is working the best for higher conversions, you can integrate Teachable with Google analytics.
You can monitor the sales funnel to get insight into which area needs better marketing focus and optimization to boost your sales.
Student communication
Simply creating a course and selling them is not all of it. You also need to communicate with your students effectively. You can welcome your students, ask for feedback, let them know about new courses, lessons, and more.
One of the best ways to communicate with your students is through sending emails. With its integration with ConvertKit and MailChimp -two popular email service tools, you can roll out emails easily.
Additionally, there is an in-built Teachable emailing service that you can use to update your students. You can send emails altogether to the existing students with this tool. If you want to message students individually, you can also do it using the email editor.
Teachable Marketing and Sales Features
Teachable provides exceptional marketing features to boost your sales. Some of the significant marketing and sales features include:
Blog Marketing: you can easily create blog posts with Teachable. Suppose you want to turn on the blog feature by going to the settings. You can fill in all the basic details of your blog as asked on your screen. Once the option is turned on, you can see a new section -" blog" will be visible in the website section. However, remember that the blog feature of Teachable is restricted so that you can create it on WordPress.
Email marketing: As mentioned previously, you can email students with its in-built email marketing feature. Using this feature, you can stay in touch with your students. There are plenty of email templates available which you can customize. In addition, there is a history section that enables you to see all the emails you have sent, open rates, clicks, and more. However, there is no drip email feature.
One-click upselling: on your thankyou page, you can add a one-click upsell option. You can also offer discounts on the pricing on upsells. This upsell feature saves the credit card information from the user's previous purchase and makes the transaction quicker.
Affiliate marketing: Irrespective of the plan you pick, you get an option for affiliate marketing on all of them. You can easily add affiliates, meaning you can transform your students into your course promoters.
Payment options 
Since you are going to sell online courses, having flexible payment options is essential. Since your students will be coming from across the world, you need to have convenient payment options for everyone.
Teachable supports Stripe, PayPal, and credit card payments. When you want to withdraw money, you can use PayPal and Stripe.
For users from the United States and Canada, it offers Teachable payment, available for all the plans. You can either add an existing Stripe account or create a new one with its walk-in guide.
Through this, you can accept credit card payments or PayPal payments from students. In addition, there are no transaction fees under Teachable payment for professional and enterprise users. However, the basic plan charges 5% transaction fees. If you use the free plan, you will be charged 10% transaction fees and $1 per transaction.
For people outside the US and Canada, the monthly payment option is available. Moreover, you can set up custom payment options that connect to your Stripe or PayPal account. Using this option, you have to pay fewer transaction fees and receive payments quicker.
Integrations 
To improve your workflow and functionality, your platform must provide integrations with third-party tools.
Teachable provides plenty of integrations with lead-generating tools, autoresponders, Zapier, and analytics.
Teachable relies more on Zapier, but it is not available on the free plans. As of now, there are integrations with MailChimp, Google Analytics, ConvertKit, Sumo, Segment, and Zapier.
Compared to other systems, Teachable lacks integrations with other popular tools. However, you can use Zapier or Webhooks to integrate hundreds of tools.
If you want to post data to any other tool, you can use the robust webhook builder. Teachable does not offer webhook URLs of their own to receive data.
Although there is a lack of integration options with popular tools like ActiveCampaign, GetResponse, and more, you can use Zapier and Webhooks management to integrate plenty of other tools with Teachable.
How Is Customer Support?
Irrespective of Teachable's easy-to-use interface, having reliable support that you can always go to is essential. Despite your experience, we all need quick assistance or support at some point to understand how the platform works.
You can contact the support team directly by raising a ticket and get a response within 24 hours. In addition, if you are a professional user, you get access to live chat support.
Teachable provides an in-depth knowledge base with plenty of helpful articles. Besides, there is excellent in-line support which means you can tap on the question icon present next to the various features. However, this question mark feature is not available for all the functions.
If this isn't enough, you also get access to Teachable U. The Teachable U contains helpful support resources, including live and recorded webinars, online lessons, and more to launch your courses and grow your business.
How Much Does Teachable Cost?
Now that you know everything that Teachable offers, understanding how much it costs is crucial. Let's take a look at the pricing structure of the platform below.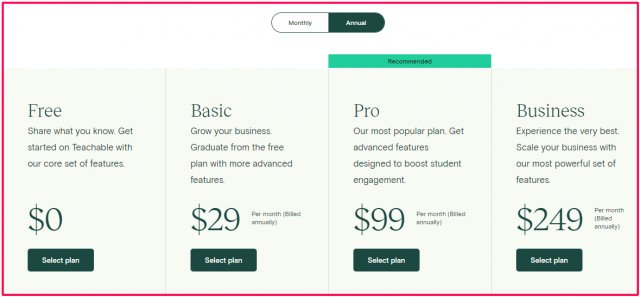 There are three premium plans by Teachable. They are as follows:
Basic -$29 per month: As the name says, the plan comes with all the essential features for beginners. However, the plan doesn't give access to chat support and charges 5% transaction fees for each sale. In addition, you do not get access to certificates, quizzes, customization options, and more.
Pro -$99 per month: The Pro plan is the most popular Teachable plan with all the advanced features to increase your student engagement. However, it lacks enrollments, student bulk import, and more. Additionally, there are no transaction fees charged by Teachable.
Business -$240 per month: The Business plan provides all the powerful Teachable features. It is ideal if you are looking for the most robust set of features.
Besides all the premium plans, there is a free plan. However, the free plan of Teachable lacks various features and comes with certain restrictions. In addition, it charges $10 transaction fees and an additional $1 per transaction.
If you are looking to try out Teachable, you can try the free plan. However, the transaction fees can be a significant downside.
If you are unsure which plan is ideal, you can contact the sales team, and they will guide you based on your needs.
Teachable Alternatives: How does it differ?
There is no doubt that Teachable is a powerful platform. However, before we conclude the Teachable review, let us see how it differs from other platforms.
Thinkific vs Teachable
Thinkfic is a popular alternative for Teachable that comes with similar functionalities as Teachable. However, it does not offer lead generating and building funnel tools.
Note: Check our detailed Teachable vs Thinkific comparison.
Coming to the course creation, you get an in-built feature for surveys and assignments. In addition, it does not cost any transaction fees, whereas Teachable charges 5-10% transaction fees.
The site-building capabilities of Thinkfic are also comparatively better than Teachable. Lastly, the marketing features are also better than Teachable.
Kajabi vs Teachable
Kajabi is a popular and all-in-one LMS platform. You can do more than just creating and selling courses.
When it comes to features, Kajabi lets you build a fully-fledged site, create sales funnels, run blogs, and automate email marketing.
Note: Check our detailed Kajabi vs Teachable comparison.
In comparison to Teachable, Kajabi offers better designing options with excellent themes and templates. However, the pricing is more expensive than Teachable. Even their basic plan is significantly higher.
Podia vs Teachable
With Podia, you can create courses, sell them, market them, create memberships, and even sell digital products making it an all-in-one solution for various users.
However, the platform does not provide advanced course-building features, including course certificates, advanced analytics, and more.
For proper course building features, we suggest going with Teachable. 
Teachable Review: Pros & Cons 
In this section, we have listed the pros & cons of using Teachable. Let's get inside it.
Pros:
It has a very simple user interface
Offers drag and drop builder to create stunning websites
It also offers coaching services
You can get unlimited courses, students, and bandwidth
Provide excellent support and free training program
It has a powerful course builder to create and launch courses online
Gives full access to your student data
Cons:
Limited native integration
Hard to create and sell courses in multiple languages
Teachable Review: Is It Worth The HYPE? 
And that's a wrap to our Teachable review.
If your purpose is only to sell online courses, Teachable is the right platform for you. You can quickly sell memberships and online courses. For users on a budget, they can opt for the free plan.
However, you need to remember the transaction fees apply to the free and basic plan, which can be a significant drawback. To avoid this, you can upgrade your plan and get all the powerful Teachable features discussed in this article.
We hope you found our Teachable review useful. What are your thoughts on Teachable? Let us know in the comments section below!
FAQs On Teachable
Can Teachable help with creating membership sites?
Yes, you can create membership sites with Teachable, which helps in getting stable recurring income.
Is Teachable better than Teachfic?
Both the platforms provide excellent features and get the work done. However, both platforms come with some unique features. You can check out the entire post to see how it compares with Teachable. 
Does Teachable provide an in-built marketing tool?
Yes, you get Teachable comes with its in-built marketing system that allows you to send emails to students. You can also customize the emails as per your needs and send them either in bulk to your existing student or send them individually. 
How much are the transaction fees with Teachable?
Yes, Teachable charges 10% transaction fees with its free plan and 5% transaction fees with the basic plan. However, there are no transaction fees with the professional plans. 
Is Teachable easy to use and learn?
Yes, Teachable comes with a robust yet user-friendly interface. They have plenty of support and documentation to understand various aspects of the platform.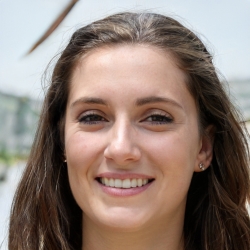 Latest posts by Olivia Baker
(see all)