Have you got a lot to write or could not find a professional writer on a budget?
No worries. I reviewed the best AI writing software and reviewed them in various aspects, including its key features, benefits, and pricing.
In fact, you can access some of the below-listed best AI writing software for free.
Does that sound interesting to you? Sit back and continue reading about AI writing!
List Of The 7+ Best AI Writing Softwares In 2023
Never in my wildest dreams have I thought that AI would take over potential human writers. Did they, though? I am not sure, but I can tell that they are strong players.
With compelling AI technology and the integration of new writing tools, the best AI writing software is slowly walking beside content writers, and it is quite shocking.
Seriously!
Although you might see countless "AI writing software" online, you cannot be sure of its functionality, and so I reviewed the best AI writing software on different criteria:
Jasper AI (Most Recommended)
ArticleForge
Copysmith AI
WriteSonic
Rytr
Ink Editor
WordAI
7+ Best AI Writing Softwares To Try In 2023
Here we have given 7+ Best AI Writing Software to try, so without getting late let's have a look.
1. Jasper AI (Formerly Jarvis.ai)
Overview: Jasper AI is one of the most recommended AI writing software that excels in every aspect, including its vibrant user interface. I considered Japer AI for its vital writing skills, acting like an actual human replica. It really does trust me.
With multiple writing styles, templates, and fonts, Jasper AI has plenty of benefits that you can use. Yes, Jasper has specific templates for platforms like Facebook.
Any customization to the desired content delivered by Jasper AI is possible. You can also talk to Jasper AI like a typical human being via voice recognition. Plus, Jasper AI can impersonate various celebrity tones and incorporate them into the content.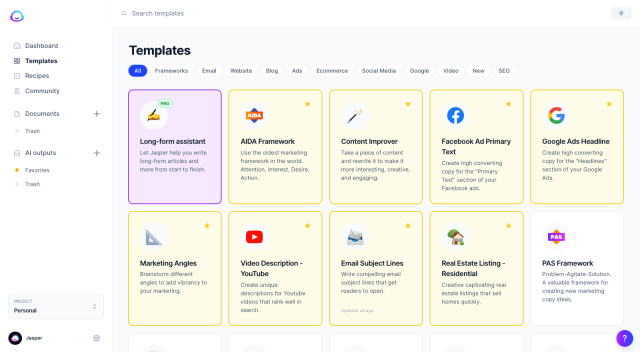 Key features:
11,000+ free fonts.
SurferSEO Integration.
25 languages are supported.
Write 5x faster with Boss Mode.
Highlights selective quotes automatically.
50+ templates for multiple models and platforms.
2,500 writing styles that are also customizable in Jasper AI.
You can identify and enhance your content with a content improver.
Pricing: You can use Jasper AI on two specific plans. To give a heads-up, I'd say that going for the boss mode in Jasper AI is efficient for productive purposes.
Let me recall the pricing of Jasper AI. You get restricted word curation like 20,000 words per month or 50+ short copies in the standard plan, priced at $29 per month (or $288 per year). Still, the standard plan is ideal for short sales and ad copy.
Regarding the Boss Mode in Jasper AI (premium plan), you get an in-built Grammarly integration along with an accurate plagiarism checker at $59 per month. It is an excellent choice if you hunt for long-content writing AI software.
---
2. ArticleForge
Overview: ArticleForge is an AI writing software that shows 100% accuracy with no errors or plagiarism. In ArticleForge, you get SEO-optimised content, lengthy articles, and quick blogposts in a fraction of seconds.
You can also check for grammar mistakes which I don't think you would want to because ArticleForge delivers the best.
Unlike competitors, ArticleForge is the only AI writing software that uses 8 deep-learning models to curate the best human-like content for you.
In fact, ArticleForge takes care of the posting schedule on WordPress all by itself.
Key features:
Curate content in all sizes and word limitations.
Customize your article style accordingly.
Error-free content with no plagiarism.
Schedule your WordPress posting.
Usage of 8 deep-learning models.
7+ universal language support.
API integration access.
Pricing: ArtcileForge offers two incredible deals wherein you get 250k words per month at $57 per month or $27 (per month but billed annually) as a standard plan.
Still, you get unlimited words if you purchase ArticleForge at $117 per month or $57 (per month but billed annually).
Additionally, ArticleForge provides a 30-day risk-free money-back guarantee which you can use if you are not satisfied with ArticleForge.
---
3. Copysmith.ai
Overview: Copysmith AI is another AI-powered writing software that enables efficient content writing without the help of a human editor. From brand taglines to blog pitches to ad descriptions to marketing copies, Copysmith AI got you covered.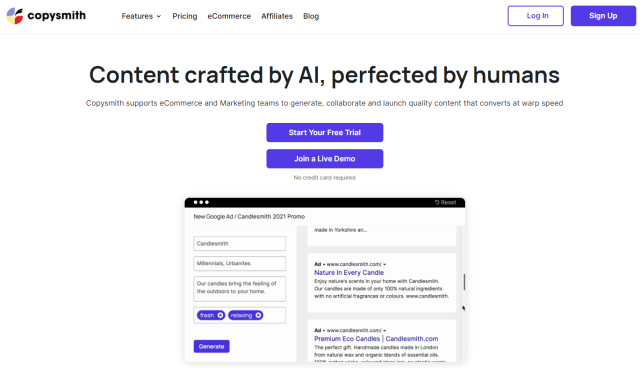 You wouldn't believe that Copysmith AI supports almost every language and has shown proven accuracy and checking for plagiarism. To ease your writing experience, you can also add Copysmith AI as a chrome extension while working.
You can also use Copysmith AI as a rephrase tool if you find faults in the content.
Key features:
An in-built plagiarism checker is available.
Multiple copy templates are offered.
Easy chrome browser extension.
100+ languages are supported.
Integration with Shopify eCommerce.
Taglines also can be written.
Content enhancer is available.
Pricing: With limitations like 50 credits and 20 plagiarism checks per month in the basic plan, you can purchase Copysmith AI for $19 per month and $192 per year.
As an extension, you get 400 credits and 100 plagiarism checks per month in Copysmith AI for $59 per month and $600 per year. You can additionally pay $149 per month if you want access to unlimited credits in Copysmith AI.
NOTE: The basic plan allows only 2 members, whereas the premium plan allows 5.
---
4. WriteSonic
Overview: If you are looking for an AI writing software that puts quality first, WriteSonica is the right choice for you. In WriteSonic, you can generate quality content within seconds that are mistake-free and well-formatted.
Even product descriptions and marketing copies are possible with WriteSonic. You can also expand and shorten the desired using WriteSonic efficiently. WriteSonic is in the top five AI writing software because it also supports 24+ languages.
Key features:
Generate high-quality content.
Ad and marketing copies are written.
Supports 24+ languages with accurate results.
Restructuring the desired content is achievable.
---
5. Rytr
Overview: Rytr is an AI writing software that delivers content 10x without compromising quality. In Rytr, you get excellent API integration, content delivery in different tones, multiple language support, and an in-built plagiarism checker.
Rytr is fast and responsive in producing the desired content. In fact, an exclusive SEO analyzer is also incorporated in the Rytr software to ensure that the content is optimized to rank at the top in the Google search results.
Lastly, Rytr can be used anywhere – Yes, literally anywhere. From WordPress to Slack to Instagram, Rytr has got you covered with the best AI writing software within it.
Key features:
Fast and responsive.
API integration is available.
An in-built plagiarism checker is offered.
You can curate content in multiple tones.
Multiple Rytr browser extensions are available.
A dedicated account manager can also be allotted.
An exclusive SEO analyzer and use-cases are available.
You can also curate your own custom templates in Rytr.
Pricing: You might be surprised, but Rytr actually allows most of its service for free. Yes, you can simply pay a visit to the official Rytr website to use it efficiently.
If you want in-depth content curation and use the core features, then you can pay $9 per month and generate 50,000 words using 20,000 tones per month.
Feel restricted with 50k words? Go for the Rytr unlimited plan, priced at $29 per month. The best part of the pricing plans of Rytr is that you get 2 months free!
---
6. Ink Editor
Overview: Ink Editor is a perfect combination of AI-writing and SEO assistance.
In Ink Editor, you get excellent content that is also optimized simultaneously and so there is no need to worry about the tiring SEO optimization process. Additionally, Ink Editor is integrated with WordPress directly with a readability enhancer.

In fact, image optimization is also possible with Ink Editor, making it one of the best AI-writing software that has every useful tool under a single roof.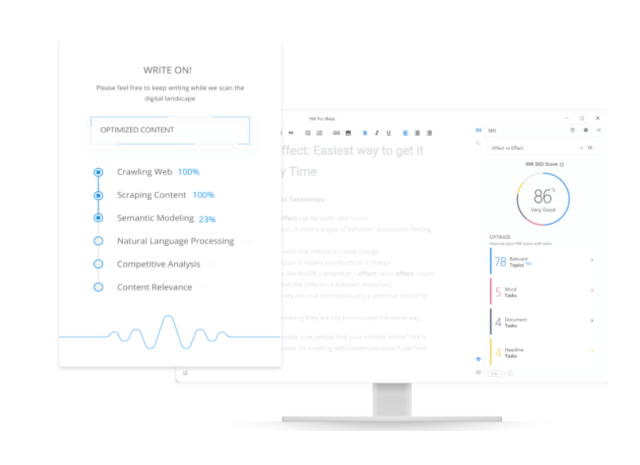 Key features:
SEO-optimized content generation.
Tone analysis/detection is achievable.
You can expand/shorten any content.
Customizable accessibility modes.
You can check the content score.
A paraphrasing tool is available.
Offline downloadable AI writer.
API integration is available.
Pricing: Like most competitors, you can also access ink Editor free with limited features. Still, if you want to upgrade to Ink Pro, you can purchase it at $29/m, unlock 50,000 words, and unlimited SEO AI content scoring. You also get chat support.
If you pay some more bucks, you can get Ink Pro Unlimited for $82/m and get unlimited access to everything in Ink Editor without any restrictions.
Note that all the plans provide access to 65+ Ink-dedicated web tools.
---
7. WordAI
Overview: WordAI is the finest content-spinning tool that rewords the original content into a rare version of itself containing the same meaning as the original content. The main weakness of this platform is that you need to provide content to get its unique copy. The new article that you get will differ from the original in terms of sentence clarity, flaw, and clarity.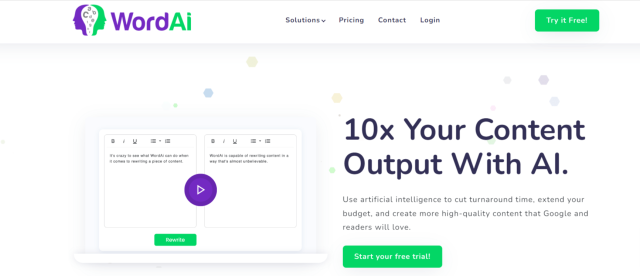 WordAI uses the machine learning model to appreciate how words interchange with each other. With the help of this technique, this tool spins the original content in .txt form and creates a unique form of it.
Key Features:
Spin Article In bulks 
Correct Grammar And Spelling Errors 
Split Sentences 
Integrates With Copyscape 
AI-Based Article Spinner 
Get Upto 1000 Of Article 
Its Paraphrasing Sentence Make It Unique 
Get The Best Quality Of Content 
Pricing: WordAI offers 3 days of a free trial to get started with this tool. It also offers three types of pricing plans, the Monthly plan costs you $57 per month, the Yearly plan costs you $27 per month, and for the Enterprise plan, you need to contact its customer support team.
---
Related Read:
Final Thoughts On Best AI Writing Software
Oh, wait! AI did not take over the world yet, right? Thank God. I might lose my job then.
Although AI writing software cannot replace human writers, it is still beneficial to have such compelling and robust AI writing software to smoothen your writing experience.
Say you have bulk content to deliver; you can use AI writing software to do the writing for you. If you are still doubtful, you can proofread the desired content and enhance it by tweaking it a bit. I found out some of the best AI writing software and…
They were top-notch with utmost accuracy. Still, some AI writing software fell back with the repetition of words and irrelevant content.
The above-listed AI writing software is genuinely some of the AI writing software out there that gets the job done perfectly well. The best part is that AI writing software like Rytr and Jasper AI offers free versions that any user can access without paying.
What are you doubtful about? Take a nap and let the AI writing software do the work!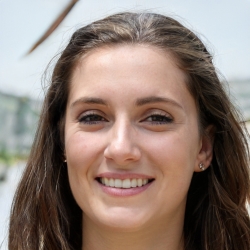 Latest posts by Olivia Baker
(see all)