Are you looking for a way to boost your Amazon store sales? Or are you someone who wishes to launch an Amazon store but doesn't have the right resources? Well, your search ends here, Jungle Scout is something that will be your helping hand to help you start your eCommerce journey just the right way.
Keep on reading as we discuss all Jungle Scouts in this space below. We will cover all the features that it has to offer, its pros as well as cons, the pricing policies, and also the FAQs associated with the tool.
Before that, let us give you an overview of this amazing tool that you'll want to add to your strategies and plans.
What is Jungle Scout?
Jungle Scout is an all-in-one platform for selling on Amazon. It is a research tool created by Greg Mercer and his professional development team with the aim of boosting and enhancing the ability to identify Amazon specialty items. They enable an Amazon FBA seller to find and manage product ideas, as well as assess their rate of success. Find specialized items on Amazon to help you grow your Amazon FBA business.

Jungle Scout now offers a comprehensive suite of Amazon seller solutions, assisting sellers with everything from locating products, locating suppliers, launching and optimizing product listings, and managing business statistics, inventory, and more. With locations in Austin, Texas, Vancouver, Canada, and Shenzhen, China.
Who are the Jungle Scout users?
Amazon agencies, sellers, and brands looking for a marketplace analysis and optimization solution for product research, Search Engine Optimization, inventory management, listings, Pay Per Click campaigns, competitive insights, and finances.
Now that we know about the background of the product let us show you what it's capable of.
Jungle Scout Review: In A Nutshell
Without the appropriate tools, finding high-quality niche items may be difficult, if not impossible. If you intend to do your own product research without the assistance of tools, you may run across many obstacles on the way. This will not only lengthen but also stress the procedure, as well as force you to waste time and energy on a process that can be successfully simplified.
This Jungle Scout review will explain why Jungle Scout could be the solution for your Amazon business. And when we talk about simplification, the first thought that pops up in our minds is the features that will simplify the task.
So what are the features that Jungle Scout has to Offer? Let's take a look
Note: We have given a working Jungle Scout Discount that helps you get 60% Off On Jungle Scout Now
Features & Benefits Of Jungle Scout
Launched in 2015, Jungle Scout is updated on a regular basis to better serve its customers. Jungle Scout's committed team of experienced developers is always developing, expanding, and upgrading the tools and materials provided.
Let's briefly check out the key features that Jungle Scout offers.
1. Product Database:
You'll get access to a product database with 475 million Amazon-sourced items with Jungle Scout. These items come straight from Amazon's catalog. According to your unique search query, Jungle Scout makes it simple to categorize and see all product suggestions. It's not always simple to come up with product ideas, and Jungle Scout understands this. That is why, when it comes to product ideas, they give a research tool for business owners. Pre-set criteria make it easier for you to find possible goods and generate product ideas that are relevant to your business. Estimated sales, sales rank, and revenue are among the criteria available. You can also sort the results by various other categories.
2. Product Tracker:
When it's to item and product selection, Jungle Scout has a one-of-a-kind feature called Product Tracker. This feature allows Amazon FBA sellers to keep track of product ideas over a period of time. It also allows you to keep track of a product's rank, sales, average price, and income. Furthermore, it allows you to add goods from the Product Database and Extension to the tracker. This helps you to stay organized and confident when managing lists and making educated business decisions. The ability to monitor these metrics of possible product ideas helps you to develop a winning approach and gives you an edge over the competitors.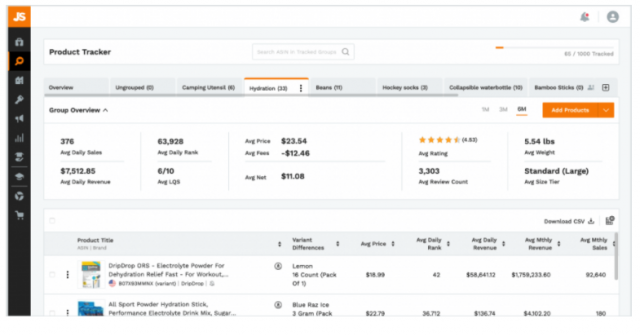 3. Opportunity Finder tool:
In the New update, Niche Finder Tool has been merged into this tool. Now the new Opportunity Finder tool includes in-depth analytics to assist small businesses in identifying a successful market niche to pursue. Finding product possibilities is straightforward using the opportunity finder. You can easily notice seasonality and identify top goods in a niche thanks to the filters and features.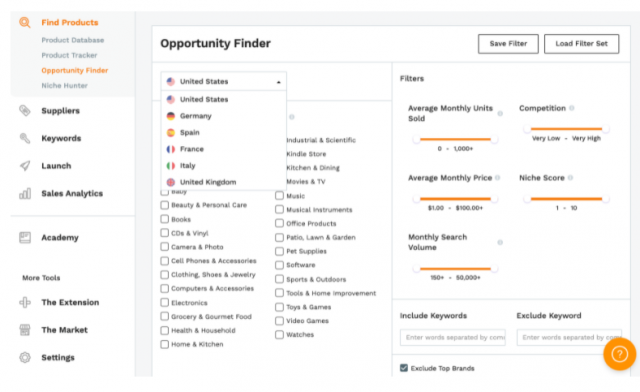 4. Keyword Scout:
Keyword Scout I not only useful for Amazon keyword research but also for promotional giveaways. This feature indicates the recommended amount of units to give out each day on Jungle Scout. That's not even the most exciting part. The keyword targeting algorithm used by Jump Scout ensures that you rank for the most popular keywords on Amazon. When you combine that with the suggested giveaways and your Amazon advertising, your product may be ranked in the Top 5 in as short as 30 days.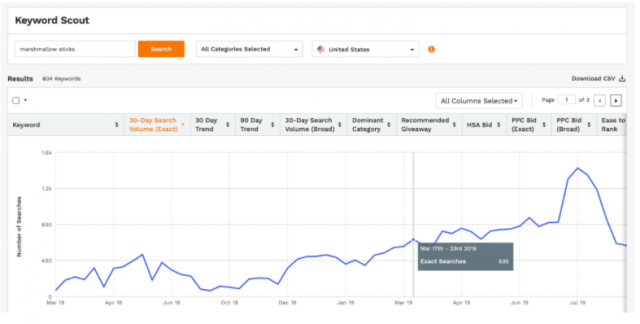 Keyword Scout also helps new and aspiring sellers to calculate Amazon PPC and HSA costs in advance.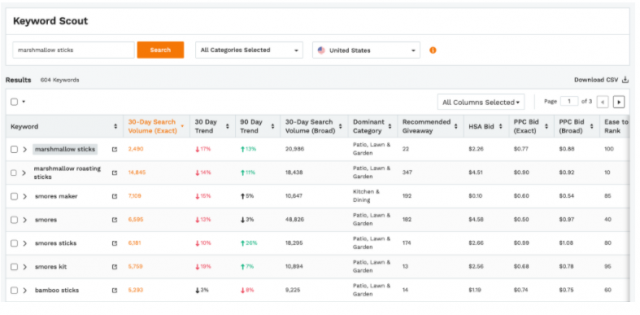 You can also check how many searches are carried out for similar Keywords
This provides you with a significant edge since you can not only predict how well the items are selling but also see how much room there is for new vendors in the actual market.
5. Supplier Database:
The Supplier Database gives you access to a database that contains all of the world's suppliers. This allows company owners to compare suppliers by looking at their volume and shipments. If you're looking for a certain product on Amazon and want to know who made it, the Supplier Database can help you connect your product ideas to other relevant factories. If offering specialty items is more important to you, the Supplier Database will assist you with that as well. It will show you manufacturers that make similar items. With the option to search by ASIN, you can find a provider in seconds, saving you time.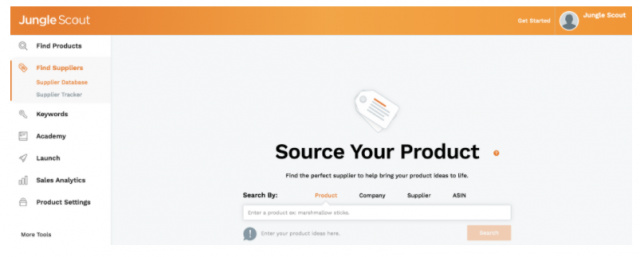 Seller Features:
Sales Analytics: The ability to track sales is a crucial element of running any organization. Jungle Scout has launched a professional Sales Analytics solution to assist business owners in doing so in real-time. This will allow you to assess your plan and assist you in earning more money. View your metrics, such as statistics over a defined period of time, to gain the insights you need to improve your company plan for profit generation. You'll be able to see individual product performance rates as well as information about suppliers. The tool also helps you avoid risk by allowing you to see when sales peaked. You may discover that some sales and promotions are more well-received and responded to at different periods, which may help you adjust your strategy.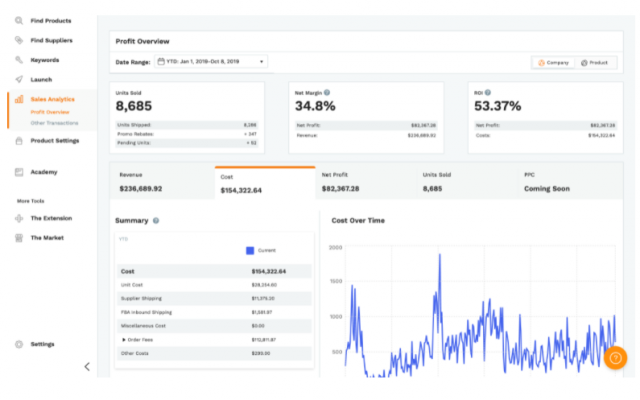 Inventory Manager: Inventory management is made easier using this tool. You'll be able to forecast how much stock you'll need and when the ideal times are to order it. This is due to the real-time access to your Amazon FBA inventory, allowing you to check inventory levels on the go. This will assist you in determining how much stock you will require. The inventory Manager can determine when you should order and how much you should order. This program also shows you your expenditures and earnings from individual stock order transactions. The tool also includes other essential functions, such as daily sales, that you may find handy. These tools guarantee that you do not order more than you require and that stock is not ordered when it is not required.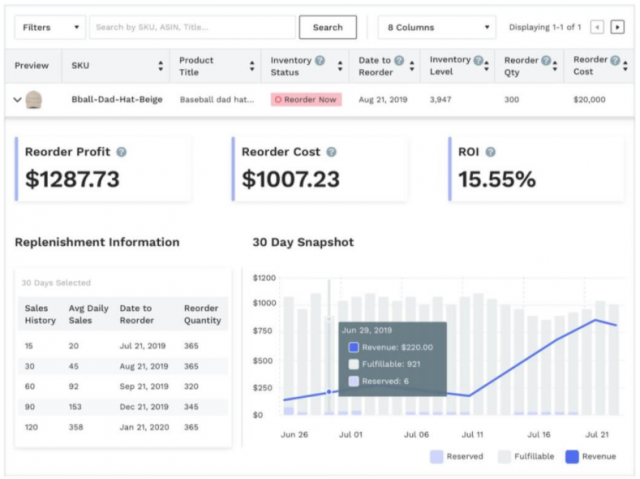 Launch: Jungle Scout Launch consist of a couple of elements, let's look at both of them 
a.) Email Campaigns – this element allows you to seamlessly follow up with your Amazon customers to make sure they've received their orders, that they've had no problems, and to ask for comments and reviews. The function is automatic and anonymous because it leverages Amazon's genuine Buyer-Seller communications system. You don't have to manually send the emails, Launch will do it for you!
You'll benefit from Launch in three aspects
Boost sales and obtain social proof.
Improve conversions.
Improve page ranking.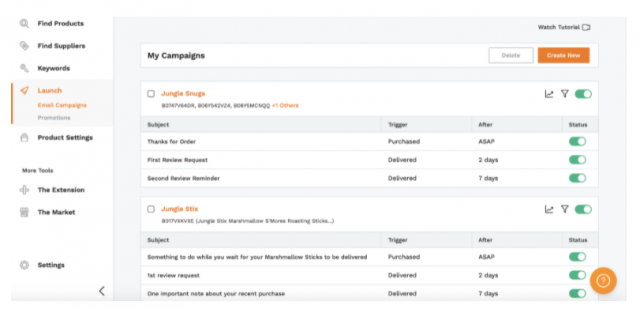 b) Product Promotions: This feature provides you with a promotional marketplace where you can advertise your Amazon-discounted items. Once you've generated a product promotion, it'll show up on the Jump Send marketplace. Millions of customers on JumpSend seeking bargains will be able to request a discount code to purchase your product. As a result of the reduced price, your product's visibility improves.
You'll benefit from Launch in three aspects
Successfully launch products.
Higher sales Velocity.
Improved Product Rank.

Alerts: Jungle Scout Alerts is a new method to keep track of Amazon items you're tracking or selling, including pricing, ratings, and more. You don't even need to log in to Amazon or Jungle Scout for it.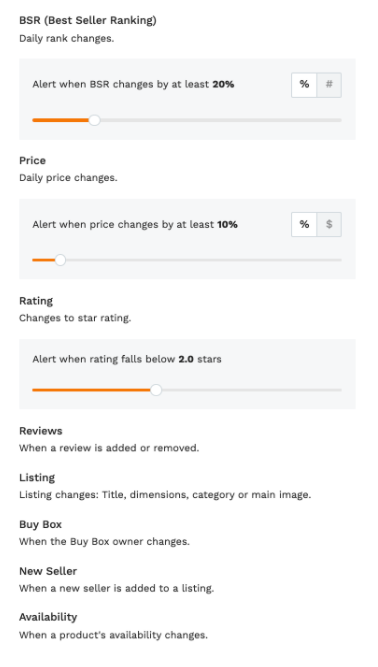 Jungle Scout Academy: The Jungle Scout Academy has a library of video lessons developed by Amazon professionals and experienced sellers to teach you all you need to know about becoming an Amazon FBA seller and how to utilize Jungle Scout to get the best of it. It has a large number of courses, each of which is broken down into videos of around 10 minutes duration.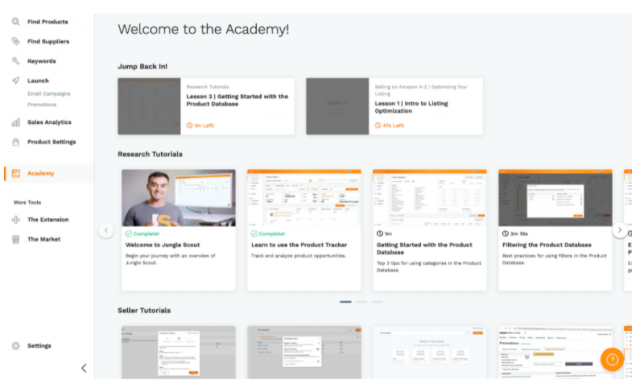 Browser Extension: The Jungle Scout Extension is a cutting-edge web software tool. The extension is compatible with Chrome and Mozilla Firefox browsers. Once the web extension is installed, you can search Amazon for products using keywords. On such goods, you'll get information like product sales, average price, monthly sales, quality score, and search traffic. On the goods you search for, you may see Google trends, sales data, and other statistics. While the web app extension is best used in conjunction with Jungle Scout, it can also be used independently. The extension is available on Chrome as well as Firefox browser.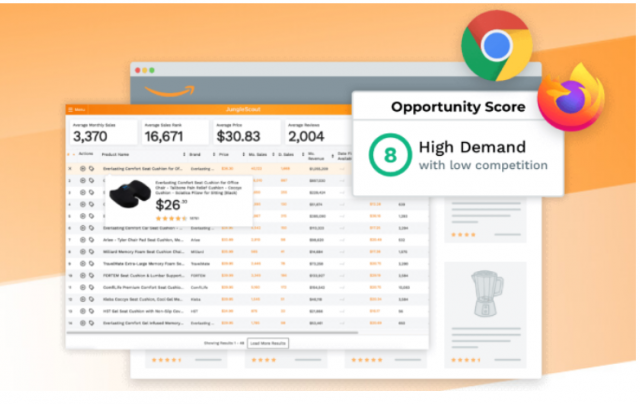 Features of Extension
Live Product insights: The extension gathers important details from Amazon, such as product demand, competitor statistics, and profit predictions, for the product page or search results page you're browsing.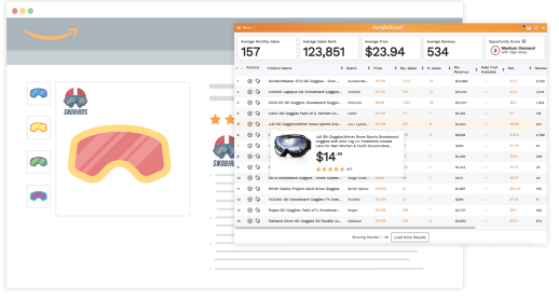 Stat Checker:  Using the most up-to-date real-time data, the extension determines whether a product is a wise investment. The AccuSalesTM algorithm analyses over 1 billion data points every day to remove the guesswork from product research – quickly view historical sales, historical prices, and monthly sales forecasts.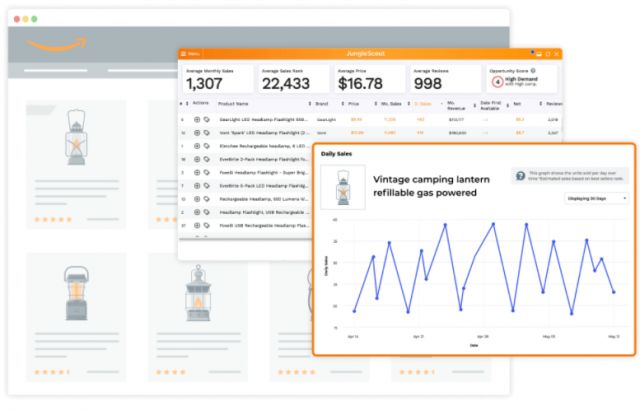 Opportunity score: Using the unique Opportunity Score, you can quickly verify or dismiss any product concept. To assess a product's potential, this measure combines demand, competition, and listing quality data.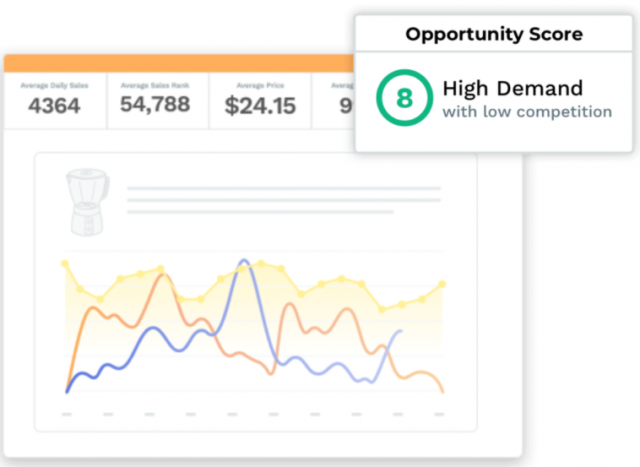 Sales Overview: View a graphical analysis of organic vs. PPC sales immediately on your Seller Central home page. you can Sort by daily, monthly, or custom date periods to examine more product analytics such as cost per click, page visits, and impressions.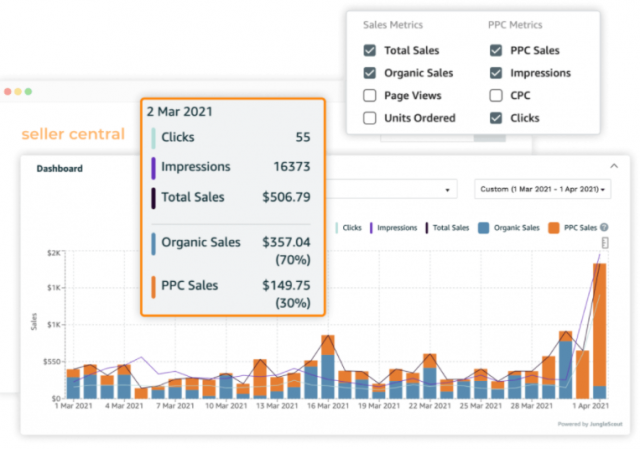 Pros:
Simple and straightforward to use.
A plethora of learning materials are available for amateurs.
The precision of the estimations and predictions.
Excellent client service.
Extensive examination of product variants.
Excellent customer service.
Cons:
Some features are restricted based on the product number or search.
The browser extension has limited features
The browser extension is billed separately.
Mobile application is not available, unlike some competitors.
Jungle Scout Review: User Interface
Jungle Scout is not only a single tool but a combination of numerous and the best part is that it neatly assembles numerous tools on one dashboard which is not so easy. But the Jungle Scout has done an excellent job in this regard. Even a beginner who begins with Jungle Scout can easily understand its method around. Its interface is curated and crisp for the need of every Amazon Seller.
The dashboard of Jungle Scout offers a comprehensive snapshot of the key metrics on how your business is growing on Amazon. Although its dashboard also offers very helpful resources to fix the issue which might cut up while searching your way around many tools. You can also analyze PPC campaigns or make modifications on your dashboard.
Jungle Scout vs Competitors
Sales Volume is a great metric to test Jungle Scout, So it was put to a test against its top competitors.
Well, I have done a detailed comparison of Jungle Scout with its alternatives and competitors.
The goal was to figure out the median difference between estimated and actual sales. The formula for it was as follows: ((Absolute (Actual Sales – Estimated Sales) / Actual Sales).
the median of the percentage mistakes for each of the tools is obtained. it is called the Overall Error Percentage. The closer you get to 100%, the better!
Here are the results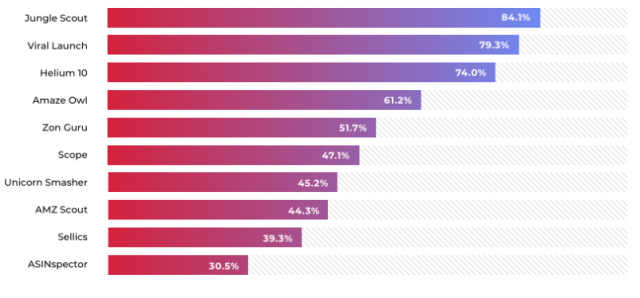 Other than this, what sets Jungle Scout apart from its competitors
The supplier Database is the industry's first and only sourcing tool of its type.
Their products are of excellent quality, and the user interface is simple to navigate.
They are the largest and most experienced firm in this field, with more than 20 Amazon sellers on staff.
A world-class customer service staff is available to answer inquiries 24 hours a day, 7 days a week, 365 days a year.
| | | | |
| --- | --- | --- | --- |
| Features | Jungle Scout | Helium 10 | Viral Launch |
| Education & Training | | | |
| Unrestricted on-demand video guides | ✔ | ❌ | ❌ |
| Free Step by Step case studies | ✔ | ❌ | ❌ |
| | | | |
| --- | --- | --- | --- |
| Product Research & Validation | | | |
| Chrome Extension | ✔ | ✔ | ✔ |
| Amazon Sales Estimates | ✔ | ✔ | ✔ |
| Product Tracker | ✔ | ✔ | ✔ |
| Leader and data accuracy | ✔ | ❌ | ❌ |
| Niche/ Opportunity finder | ✔ | ❌ | ❌ |
| Easy Opportunity Score | ✔ | ❌ | ❌ |
| | | | |
| --- | --- | --- | --- |
| Source Product | | | |
| Global supplier database | ✔ | ❌ | ❌ |
| Trade data & US import history | ✔ | ❌ | ❌ |
| Find competitor suppliers by ASIN | ✔ | ❌ | ❌ |
| | | | |
| --- | --- | --- | --- |
| Keyword Research | | | |
| Keyword Search volume | ✔ | Keyword Search Volume | ✔ |
| Reverse ASIN searches | ✔ | ✔ | ✔ |
| Pricing data for sponsored Ads & PPC | ✔ | ❌ | ✔ |
| EU marketplace Support | ✔ | ✔ | ❌ |
| Keyword rank tracker | ✔ | ✔ | ✔ |
| Save keyword list | ✔ | ✔ | ✔ |
| | | | |
| --- | --- | --- | --- |
| Launch On Amazon | | | |
| Amazon listing builders | ✔ | ✔ | ✔ |
| Unlimited Email Follow up | ✔ | ❌ | ❌ |
| Product promotions & discounts | ✔ | ❌ | ✔ |
| 250000+ Shopper marketplace | ✔ | ❌ | ❌ |
| Inventory protection | ✔ | ❌ | ❌ |
| | | | |
| --- | --- | --- | --- |
| Business Management | | | |
| Alerts | ✔ | ✔ | ❌ |
| Profitability Dashboard | ✔ | ✔ | ❌ |
| Inventory Manager | ✔ | ✔ | ❌ |
| Coupon abuse prevention | ✔ | ✔ | ✔ |
| Refund reimbursements | ❌ | ✔ | ❌ |
| PPC Tool / Add Manager | ❌ | ❌ | ✔ |
| Freelance Marketplace | ✔ | ❌ | ❌ |
| | | | |
| --- | --- | --- | --- |
| Misc | | | |
| 24/7/365 Customer support | ✔ | ❌ | ❌ |
| 8 Figure amazon seller founder | ✔ | ❌ | ❌ |
| 1000+ Trustpilot review | ✔ | ❌ | ❌ |
| Company size | 110+ | 35+ | 65+ |
| Marketplace support | | | |
| Cost | $39 | $97 | $49 |
Explained Pricing Of Jungle Scout
Jungle Scout provides flexible and economical price plans to allow anyone to get started. You have the option of selecting a monthly or yearly plan. We recommend going for the yearly plan as you save up to 55% on the total cost of the plan.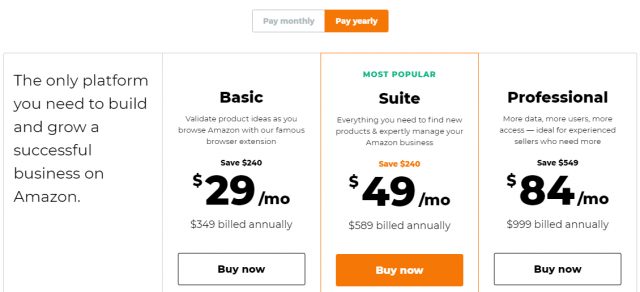 You get to choose from 3 different plans which are as follows.
Basic: $49 mo & $349 yr
Full Extension access and product research requirements are included in this plan, however, monthly searches on select tools, such as Keyword Scout, are limited. This plan is beneficial for anybody in the wholesale/retail trade.
Suite (Most Popular): $69 mo & $589 yr
You get complete access to all research tools as well as premium-selling features. You can review automation, Add more users and get advanced seller capabilities including access to more detailed historical product and keyword data.
Professional: $129 mo & $999 yr
you get complete access to all research tools, of course, additionally, you can keep track of up to 1000 ASINs. include 6 users at a time and receive onboarding priority.
Let's compare the planning side by side
Other than these standard plans, Jungle Scout also offers packages that help sellers learn all about jungle scout as well as Amazon FBA.
There are 3 packages under this
Start-up Suite: $189 (3-month plan)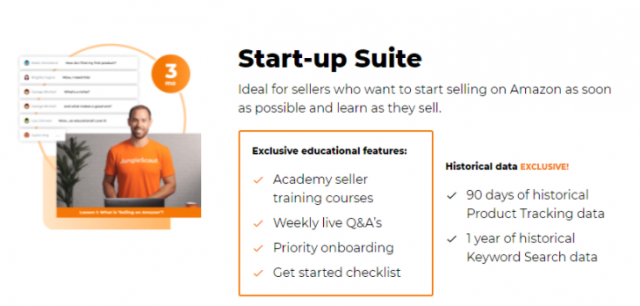 This plan is perfect for sellers who want to get started selling on Amazon right away and learn as they go.
Academy seller training courses.
Weekly live Questions & Answers.
Priority onboarding.
Get started checklist.
90 days of historical Product Tracking data
1 year of historical Keyword Search data
Entrepreneur Suite: $349 (6-month plan)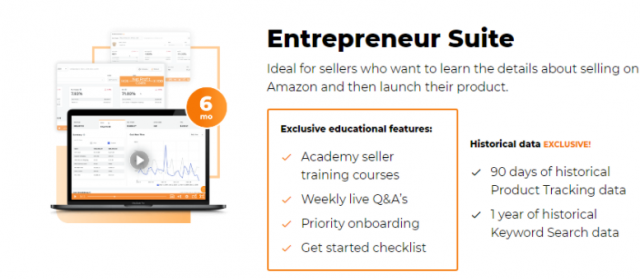 Ideal for sellers who want to understand the ins and outs of Amazon selling before launching their goods.
Academy seller training courses.
Weekly live Questions & Answers.
Priority onboarding.
Get started checklist.
90 days of historical Product Tracking data
1 year of historical Keyword Search data
Freedom Builder Bootcamp: $999 (12-month professional plan)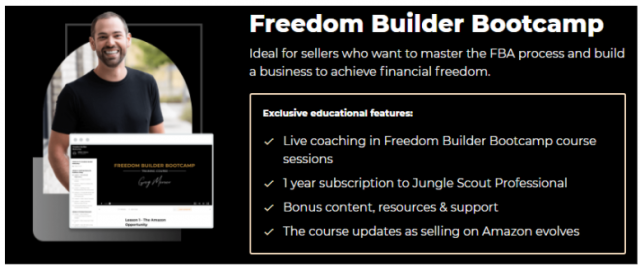 Ideal for sellers who wish to understand the FBA process and create a business from the ground up in order to attain financial independence.
Live coaching.
Jungle Scout Professional subscription for a year
Bonus material, resources, and assistance
As Amazon's selling platform evolves, the course will be updated.
The standard plans (Not the packages) come with a 7-day money-back guarantee with a question-asked policy.
Related Read:
Conclusion – Is Jungle Scout Worth The Hype?
Finding the proper product to sell on Amazon is perhaps the most crucial element that will decide your success. With all of the innovative features that have recently been published, you should be able to manage your whole Amazon FBA business using Jungle Scout and even eliminate the need for other software or systems. Having software like Jungle Scout is extremely necessary for identifying successful niche items to sell on Amazon, and using it will boost your chances of finding a winning product.
Hope you found this review of great help and we wish you all the best in your future endeavors on the FBA market. 
Frequently Asked Questions On Jungle Scout Review
Is there a free trial for Jungle Scout?
Jungle Scout does not provide a free trial. It does, however, come with a 7 days money-back guarantee. 
Is Jungle Scout worth the money?
Yes definitely, if you're serious about growing your Amazon business, Jungle scout is worth its price.
Is there a free alternative for Jungle Scout? 
You can try Unicorn Smasher, a free alternative to Jungle Scout, but the problem with free tools, though, is that they aren't always dependable.
Can I use Jungle Scout on multiple computers?
Although you may use your extension subscription across many computers, you can only be signed in to your extension account on one computer at a time. When you log in to your account on another computer, you will be instantly logged out of the initial computer.
How many users can use Jungle Scout?
Account owners can invite other users to their plan depending on the kind of membership. If you are the primary account owner, you can view the status of any available seats and sub-users in your account by going to the Settings panel and selecting Subscriptions.
By selecting the Edit Seat option in the same menu, you can purchase more seats to add more people to your subscription.
How is the customer service of Jungle Scout?
Jungle Scout's support desk is available 24 hours a day, seven days a week throughout the year. Many users on trust pilot say they love the way the assistance is done when there is an issue.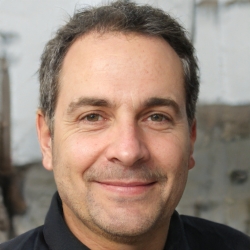 Latest posts by Tim David
(see all)