Grammarly has gained significant importance with its excellent features and is an ideal aid for helping people to polish their content to make it grammatically correct. However, is it worth the hype? This Grammarly review will help you clarify that!
As someone who has been regularly writing multiple contents, I have been using Grammarly for years now. No matter how perfect you are, numerous small mistakes can be slipped from your mind. In such a situation, Grammarly has genuinely been a savior for my articles! 
It doesn't matter whether you are a student, a blogger, or a writer; choosing the right editing tool is essential. There may be various questions in your mind, such as "is it worth paying for?" or "can you replace it with a human editor?"
To make your decision easier and give everyone an honest insight on the editing tool, I decided to put down a Grammarly Review (as a premium user!).
So, by the end of this review, you can decide whether Grammarly is worth it or skip it!
Grammarly Review: In a Nutshell
Grammarly is one of the most widely used spelling and grammar checkers online. With over 10 million active users, the tool is an excellent aid for users from different backgrounds, including teachers, students, writers, bloggers, and more. 
But, how does it work? Well, this advanced writing assistant analyses your content and detects all grammatical corrections. In addition, it also checks your content for clarity and engagement to ensure that your content's readability is improved.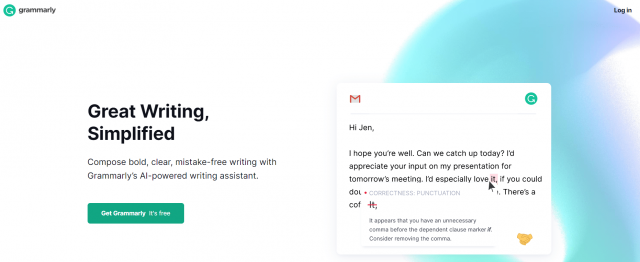 An additional feature that Grammarly comes with is it's an in-built plagiarism checker to ensure your content is unique and plagiarism-free. A free version offers all the basic grammatical corrections such as punctuation marks, spelling errors, and grammar. However, the premium version comes with advanced features offering the best editing features.
One of the best parts about Grammarly is its easy availability. You can use Grammarly through its web tool, on your mobile, extensions for browsers, MS Word, and Desktop app.
Note: Rollover to check our working Grammarly Discount Coupon here.
Grammarly: Key Features
Powerful features back Grammarly. Some of my favorite features that I'm amazed by include:
Easy to use interface.
Grammarly extensions for easier access.
In-built advanced settings options.
Downloadable editing reports.
Plagiarism detector.
Writing style guide.
Expert help for every content that you check.
While there are other excellent features, these features attracted me and made me stick to Grammarly for years now.
How is The Interface?
One of the most crucial factors of an editing tool is its interface. Over the years, I have been experimenting with different editors, but their complex interface was always the biggest turn-off for me.
When I switched to Grammarly, I was pretty amazed at the interface. Something that I am personally fond of about Grammarly is its easy-to-use and beginner-friendly interface. However, the interface varies depending on the version you use.
One of the best parts about Grammarly is that you don't need to make the corrections manually. The editor will already provide you with suggestions to improve a particular sentence, and you can click on the suggestions. Once clicked, the changes will be applied automatically!
As of now, I have used Grammarly on the Grammarly web tool, on my phone, and on extensions. Let me walk you through the interface of the three versions I have used so far!
Grammarly Web Tool
The interface of the Grammarly web tool is straightforward to use. You can open the Grammarly website and log in to your account. Once you have logged in, you will be able to see the dashboard. You can go to the settings to customize the suggestions as per your requirements.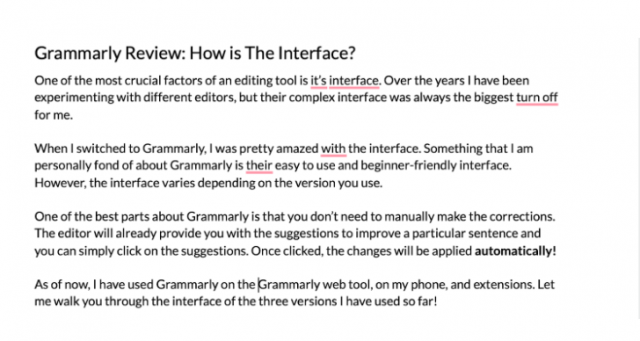 Furthermore, all you need to do is click on "new document" and paste your content to check the content. All the suggestions, including your content's Grammarly score, will be visible on the right side of your screen. At the bottom of the right side, you can also check for plagiarism.
Mobile app
Grammarly comes with its keyboard for all mobile devices. You can download the app on your iOS and Android devices, and the keyboard will automatically be embedded. The keyboard works similarly to the web tool.
You can make the corrections directly from the keyboard and later switch to the standard keyboard of your phone once you are done. However, I am not sure about the plagiarism detector for the keyboard version.
I use a Grammarly keyboard when I write something while traveling and haven't carried my laptop along. This helps me identify all the mistakes on the go.
Extensions
Extensions are one of the most significant features of Grammarly. You can download the extension for your browser or MS word directly from the Grammarly website. I mostly prefer using the Grammarly extension on Google Docs.
When you download the extension, you can log in with your account, and as you type, the corrections will be visible directly in the doc. This helps in saving plenty of time and polishing your content without copy-pasting it and ruining the format. For additional corrections, you need to click on the Grammarly logo at the right bottom of the doc, and the corrections tab will be visible on the right side.
Is It Reliable For Proofreading?
Proofreading is one of the most vital parts. Grammarly works seamlessly as a proofreader and quickly analyses your content for all the corrections. The quick correction suggestions will help you publish your work faster.
However, at the end of the day, Grammarly is an automatic tool, and in comparison to the human editor, it still has a long way to go. I noticed that Grammarly would only check for clarity, spelling errors, and delivery style.
Grammarly will detect significant corrections, but various minor mistakes can be slipped away, and relying entirely on Grammarly is something that you can avoid.
For example, if you wrote a sentence that does not make a sentence, but all your spelling is correct, Grammarly will still approve it. This is one flaw of Grammarly that cannot completely replace the human editor.
When identifying the tone, paragraph structure, length, and more, you cannot wholly rely on Grammarly.
However, what I do for my content is make all the corrections as per the suggestions and proofread it manually. This helps me identify if there are any minor mistakes that I committed which Grammarly couldn't.
How Secure Is It?
If you are a content writer, small business owner, or publisher, your content getting stolen is one of the most disheartening things that can happen. You put your all in crafting a piece of content only for it to be used by someone else without getting credits or paid.
Many online free tools contain risks of your content getting stolen. Grammarly has received various security and compliance certificates and includes enterprise-grade encryption to ensure your content is secure.
As I mentioned before, I have been a Grammarly premium user for years. I have checked thousands of content from Grammarly, and until now, I haven't encountered any issue with the security of my content.
However, if you are concerned about your sensitive material's security, you can request a report from Grammarly to check what information Grammarly holds regarding your content and then proceed ahead.
Grammarly Free vs Premium -How Does It Differ?
Grammarly's free version is an excellent opportunity to test the editing tool and see if it works perfectly. While other tools online provide a free trial or free versions, they lack a lot of things. However, with Grammarly, I was surprised at how well the free version worked.
The free version detects spelling errors, punctuation errors, and basic grammatical mistakes. Once you install the free version, the errors will be underlined with a red line, and the suggestion will be available on the right side. In addition, it also allows you to choose between US English, Australian English, or British English.
On the other hand, the premium version gives additional tools for corrections. Additionally, the premium version gives you advanced setting options to set goals for your writings and provide a detailed insight into the content.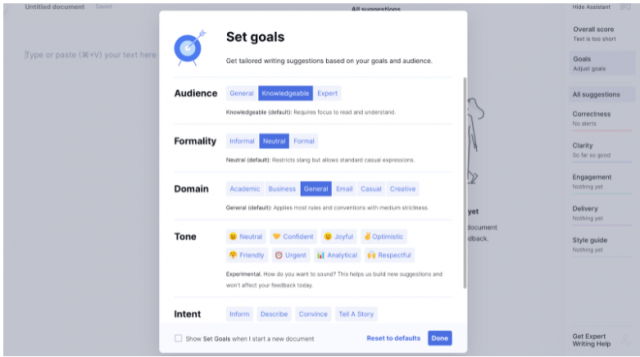 The perks of premium include:
Plagiarism detector. 
Styling guide. 
Fluency. 
Choice of words. 
Tone adjustments. 
Formality level. 
The premium version will detect any sentences that are too lengthy and are hard to read. Moreover, if a word is repeated a lot and dismisses the quality of content, Grammarly will provide you with suggestions that can replace the word to make it less wordy or replace it with a synonym.
Furthermore, Grammarly premium also comes with a plagiarism detector that scans through thousands of websites for your content and points out the sentences that stand the same as the other websites. You can change the plagiarised content and see if your content is unique. This feature is pretty good as you can save money by paying separately to the plagiarism detector tool.
The premium version is worth it if you are writing regular content. I first started with the free version for a few days to test Grammarly and then upgraded to the premium version.
Grammarly Pricing and Plans
Grammarly comes with a flexible pricing structure. You can decide whether you want to pay monthly, quarterly, or yearly. The monthly plan is more expensive than what you pay for an annual and quarterly subscription.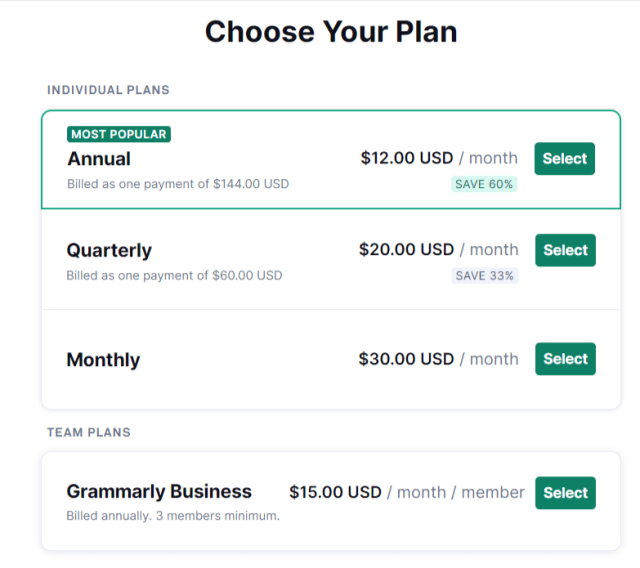 Grammarly Premium monthly -$30 per month. 
Grammarly Premium quarterly -$20 per month. 
Grammarly Premium annual -$12 per month. 
You can always opt for the free version before going with the premium. However, as I mentioned before, the free version is limited with the corrections. 
Who Should Use Grammarly? 
When searching for a grammar-checking tool, the only point that comes to your mind is that subscribing premium version is worth your hype. It is because the grammar-checking premium tool is best for professional writers, content creators, and authors.
Although, anyone can use this Grammarly-free version and check the blog post, emails, social media posts, essays, and text for grammatical correction free of cost. Grammarly is the best choice for everyone.
My Experience With Grammarly Premium
Now this section is one of my favorites where I can share my personal experience with Grammarly Premium! 
So approximately I have been using Grammarly Premium for two years now. Initially, I started with the basic free version to test the features. However, I was impressed with the interface and the functionalities it the free version. 
Later, I switched to the premium version for advanced corrections.
I check all my content through Grammarly. I have been using the web tool Grammarly Premium and extensions for Safari. I use the extension to check my content as I type. It immediately detects any mistakes or changes. Later, I cross-check from the web tool Grammarly Premium. 
The extension version is not reliable. Sometimes the extension version may miss a lot of corrections. After writing hundreds of content, I feel that Grammarly is excellent at what it does. However, the clarity section is not entirely reliable. Sometimes the sentences that the editor suggests do not match your content or may not make sense. Therefore, before making the corrections for clarity, you can read the suggestions to check if it makes sense.
Moreover, glitches occur often. Sometimes Grammarly may suggest that you need to put a comma before a particular word, and when you correct it, within a few seconds, it will again show that you don't need the comma. This is sometimes irritating to see. 
Another thing I noticed that Grammarly lacks is that once I check my content and make all the corrections, then check again after a while, it sometimes shows additional corrections. On the brighter side, Grammarly has been my go-to editor for polishing my content, making it up to the mark! 
Where Can It Improve?
Overall, Grammarly is an excellent editing tool and makes your work a lot faster. Although it comes with unique features, it still lacks somewhere. Some of the areas where it can be improved:
Price: Personally, pricing plays a lot of importance. This is because I don't want to overspend on my editing tool. The price of $30 per month can be an affordable option for people who write regularly, but paying $30 a month just for the editor can be challenging for people on a budget.
Include plagiarism detector in the free version: The plagiarism detector is only available on the premium version.
Improve accuracy: As I mentioned above, Grammarly is accurate but cannot replace a human editor. The editing tool can be improvised with its suggestions.
Grammarly: Pros & Cons
Here we have given the Grammarly pros & cons. Let's get inside it.
Pros of Grammarly:
Grammarly proofreading helps you to review the content on the go.
Its algorithm follows a list of more than 250+ grammatical rules.
It integrates with MS Word, which helps you to use it when you are in the MS Word interface.
It can be accessed very rapidly on any browser.
Grammarly makes extensive use of the pop-up box to clarify the suggestions to you.
Cons of Grammarly:
The extension is quite a malfunction
Lack of offline mode, you can't fix your error when you are offline. 
Related Read:
Final Verdict: Should You Go For Grammarly Premium?
Grammarly is one of the best editing tools available. To sum up this review, I would highly suggest giving the free version a try.
I'm a fan of their service and the quick corrections it offers. You can use Grammarly Premium for checking blogs, letters, social media posts, articles, and more. Whether you are a student or a professional writer, Grammarly will be an excellent aid to help you write great content. 
The bottom line is Grammarly premium is absolutely worth paying every penny! So, go ahead and give this premium tool a try to take your content's quality to the next level.
We hope this Grammarly review helped you understand how it works. What is your experience with Grammarly Premium? Let me know in the comments section below!
FAQs On Grammarly Review
Is Grammarly worth paying for?
Definitely yes! Grammarly is a fantastic AI editor to correct your document. It shows spelling errors, clarity, engagement, delivery, and more. In addition, the premium version gives you an in-built plagiarism detector which saves you the money and time that you pay for other premium plagiarism-checking tools. 
Can I use Grammarly for free?
Yes, Grammarly comes with a free version that is accessible to everyone. The best part is, you can use the free version as long as you want. 
What if I do not like the premium version?
If you do not like the premium version, you can cancel the subscription right away. However, it does not offer any refund policy. 
Can you trust Grammarly?
Yes, Grammarly is reliable and secure. All your documents will be safe. If you are unsure about the safety, you can request a report to see what it does with your content.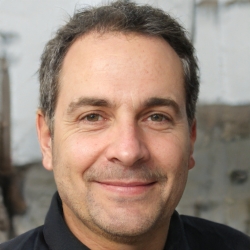 Latest posts by Tim David
(see all)