Page builders have found a lot of popularity in the WordPress world over the past few years and have proven to be very useful and easy to use by many web designers.
There are a lot of WordPress page builders out there, but two of them (Elementor and Gutenberg) are quickly catching on. It is no secret that Elementor is the leader in the field. Despite this, Gutenberg gives tough competition.
With WordPress 5.0, Automattic has just launched the Gutenberg block editor, a visual builder integrated into the WordPress community.
The developer's community has grown steadily since Gutenberg was introduced a while ago. As more themes and plugins are developed, Gutenberg gains traction.
Let's take a closer look at both builders now.
Key Differences Between Gutenberg vs Elementor
| | | |
| --- | --- | --- |
| Basis | Elementor | Gutenberg |
| Pricing | Starts at $59/year | Free |
| Best for | The elementor theme is an excellent choice for websites that have extensive pages to create. | Almost every website can benefit from Gutenberg |
| Features | Make a visually stunning website without coding Drag and drop ease of creating a highly functional website Template library with tons of options | Creates a layout with multiple columns The drag-and-drop editor allows you to create posts, pages, and custom content Various blocks for displaying texts, images, tables, and buttons |
| Pros | Tools and features galoreBuilder for themes and WooCommerce | Block-based visualizing of contents Developers will find it useful |
| Cons | Outdated UI | Customer service isn't as strong as it could be |
Here is an overview of the differences. For a more detailed understanding of Gutenberg and Elementor, please consider reading the entire article.
What is Elementor?
Elementor is a drag-and-drop page builder that is specially designed for WordPress sites. Elementor is one of the most frequently used platforms for creating web pages with advanced layouts and complex styling without coding knowledge. Most importantly, you can use Elementor pro to build a complete theme for your WordPress website.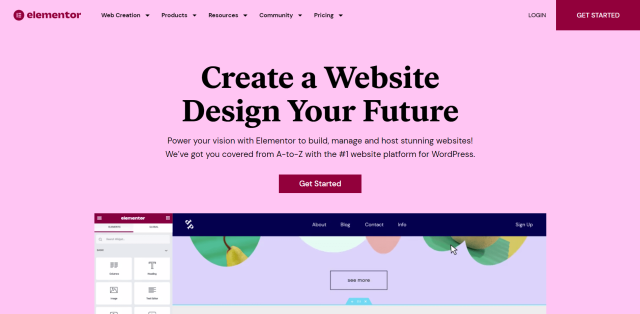 Besides the content layouts and widgets that Elementor comes with, it also comes with a few custom designs that are also built-in. Using Elementor, you can build a website without having to start from scratch while building it.
What is Gutenberg?
It was developed by WordPress and released as part of WordPress 5.0 in 2018 and is the block editor that WordPress has developed since then. In the wake of Gutenberg's release, it has become the default editor for content when using the WordPress platform.

The purpose of Gutenberg is to make it easier to design, build, and publish your WordPress website, so WordPress was created to make it easier for you to do so. To achieve this goal, the introduction of the modular block system, making it possible to place it anywhere, was a great help in achieving it.
Detailed Differences Between Gutenberg vs Elementor
We've compared Gutenberg and Elementor across a range of areas.
Ease of use
As Elementor has an easy-to-use interface, as you make any changes to it, it automatically displays the changes as you make them on the screen. There is a noticeable difference between the WordPress interface and a custom one, which means figuring out a new way of interacting with WordPress, but it has plenty of capabilities.
Gutenberg has a very user-friendly interface that makes it very easy to use. A few handy prompts even help you figure out which way to go next, so you stay aware of the situation.
The easiest way to add blocks to your document is by clicking on the plus sign on top and adding the element you want.
Capabilities
It's important to note that Gutenberg and Elementor are similar in their capabilities and can be used to build the same types of pages.
Notably, Gutenberg is designed to work seamlessly with all plugins and themes built on the WordPress platform, so by default, it will work with all of them.
The block editor allows you to create posts and pages with a few simple clicks and seamlessly integrates with the other components of the overall WordPress system and interface.
The Elementor plugin sits on top of WordPress and is more of a separate entity. As a separate program with a separate design, the editor is designed to be a powerful page builder that can be used without additional plugins but not necessarily as an extension of the WordPress system.
Key Features
One of the great features of Gutenberg blocks is their lightweight nature and the fact that they load fairly quickly. This is worth noting. Moreover, WordPress has developed Gutenberg, a must-have for any WordPress user, and will be around for the foreseeable future.
Elementor, on the other hand, has built-in widgets available for you to choose from, along with a large ecosystem of 3rd parties for you to choose from. You can make things easier by creating a theme with the theme builder and choosing from a template library to get started quickly.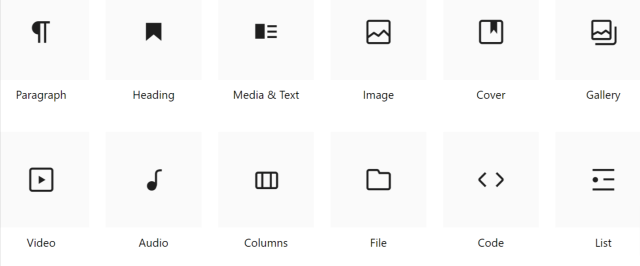 If you need even more control over the look of your website, Elementor can give you the highest degree of flexibility with its margin and spacing controls.
Despite both Gutenberg and Elementor being drag-and-drop editors, Elementor offers more customization options and flexibility than Gutenberg, even though both are drag-and-drop editors.
Supported Plugins
Elementor differs from Gutenberg in several ways. It is also a good chance that it will work with most WordPress plugins. On the other hand, if you would like it to work with the theme of your choice, then it will not work. Regarding plugins and themes, Elementor is not compatible with only a very short list of plugins and themes.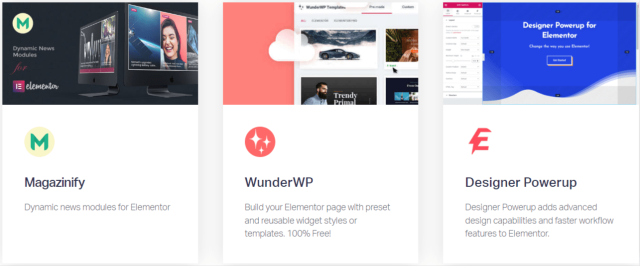 There was a time when Gutenberg was a plugin for WordPress. Still, after a recent update, it has already become the default editor for WordPress, so that's why it is compatible with all WordPress plugins on the market. Many of the plugins and themes that won't work with Gutenberg are either outdated or need to be updated since they weren't compatible with Gutenberg when it was first released.
Speed
The page speed of your website refers to the speed with which the content on your website loads within a given period. There is no doubt that Gutenberg is, on average, faster when compared to Elementor, as numerous tests have demonstrated. There is no doubt that Gutenberg makes websites more efficient and complex by having fewer features and making them easier to download.
The test pages created by the Gutenberg builder were the smallest in terms of page size, while the test pages created by the Elementor builder were the largest. Using Gutenberg, you can render your webpage faster than using Elementor, which allows your visitors to read your information quicker and more efficiently. Although it lags behind Gutenberg in speed, Elementor still performs faster than most of its competitors.
Drag and Drop Features
Elementor is an editor that allows you to drag widgets and drop them onto your page, so you can build your content as you drag widgets into your page. As a result of this feature, you can add text sections and image sections to your post, as well as sidebars, testimonial sections, and many more.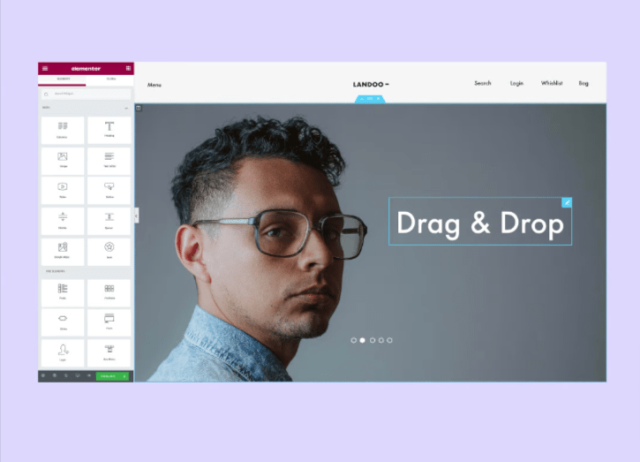 Despite Gutenberg's drag-and-drop functionality, you can only order the blocks you want to add to your site. Your blocks cannot be made taller or wider, and you cannot adjust their height or width. Elementor allows you to take full control over the location of your widgets and create a variety of complex page layouts using the widgets.
The final verdict is that Elementor is more powerful than Gutenberg. Among the main advantages of Gutenberg is that you might already be familiar with it as a user of WordPress.
Responsive
A responsive design can be easily achieved with Elementor if you give it a bit of control. As an example, on the mobile version of your website, you can choose whether or not you want to show or hide what widgets are visible to users. Even images that are too big for mobile screens can be hidden if they are too big to display on a phone screen. It is worth mentioning that Gutenberg does not have this functionality out of the box, so you will need to use plugins to make it work.
Pricing
Using Gutenberg is free since it is built into WordPress itself.
On the other hand, Elementor offers a free and premium version of its plugin that can be accessed via your website. As a free plugin, it has some limitations, including a lack of readily accessible widgets and templates. It is necessary to purchase the pro plugin from the available plans to access the whole spectrum of widgets and templates on offer.
In terms of plans, there are four to choose from. Various options are available, such as Essential, Expert, Studio, and Agency. Determine how much each plan will cost depending on the number of sites you plan on using the pro plugin and the number of licenses you will purchase.
Related Read:
Conclusion: Gutenberg vs Elementor (2023)
Generally speaking, if a tight budget is at the top of your priority list, you should choose Gutenberg as it is free of charge. The other side of the coin is if you are looking for the ultimate features and tools in your website, then Elementor is the one to choose.
Compared to other web-building tools, Elementor is much better because it gives you a lot of flexibility in creating and designing your website. The sky is the limit.
If we were to select a winner, Elementor would be a clear choice. Gutenberg is helpful, but with added capabilities, the advanced feature has made Elementor a clear winner of the race.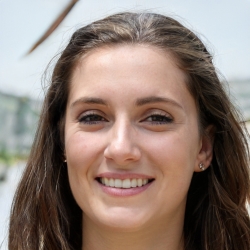 Latest posts by Olivia Baker
(see all)