Straight-up facts: Jasper AI is excellent! But, it cannot replace a human content writer.
Formerly known as Conversion AI and Jasper AI is a copywriting tool that is ideal for anybody who has difficulty crafting content. This application can help users produce better content in much less time and increase the output by 2x or even 10x, depending on how you use it.
For us, Jasper has proven to be an asset since we got it. It has helped the team create fascinating content faster to feed the algorithms.
If you write in a niche where the AI is trained well, you will be able to write 5 articles in place of 1 and sometimes even 10! That too fully optimized and toned according to your traffic. Amazing right?
After hearing me hail the tool, you must be wondering how much it costs and if is it bang for your buck. 
I am here to help you with just that. In this post, I will give you a tour of the A to Z aspects of Jasper AI along with my personal opinion. In the end, you are free to choose or Lose it. Ready? Let's enter the world of Jasper.
Jasper AI Review – Everything in Detail
After using various content curation AI tools over the years and getting hands-on the Jasper.ai for almost half a year now, I can clearly pick it as my favorite.

With little input, Jasper.ai can generate high-quality content. It can even help you write catchy headlines, online material, and articles. With 35 integrated tools, It is an excellent choice for busy people who wish to improve their writing skills or even newbies who wish to create more content but have limited skillset.
Jasper.ai can readily create interesting content for users in a number of genres. The tool is user-friendly and can even be employed as a virtual assistant to help you create high-quality content.
Jasper.ai turns content generation into a completely automated process. It addresses all SEO issues and delivers content that will help you stand out. It also addresses the lack of experience in the freelance copywriting industry. Over 50,000 content marketers trust Jasper, including Google, IBM, Autodesk, and Airbnb. Jasper has trained with a number of SEO experts to become the flexible tool it is today. Jasper.ai has more than 50 aesthetic writing templates and supports over 25 languages. and trust us, it is only increasing with every update they roll out.

To give you an overview, Here is a table:
| | |
| --- | --- |
| Rating | 4.9/5 (3000+ reviews) |
| Copywriting Templates | 50+ writing utility templates |
| Supported Languages | 25+ widely recognized languages |
| Monthly Pricing | $29 Starter Plan$59 Boss Mode Plan |
| Annual Plan | $24/month Starter plan (2 months free)$49/month Boss mode plan |
| Money-back guarantee period | 7 days |
| Free Trial | 5 days risk-free |
| Recommendation | Highly Recommended |
Pros
You can pick from over 50 writing templates, so you don't have to start from scratch with each work.
Supports over 25 languages
you'll be able to produce more material in a few days that would typically take you months without the tool.
The material created by Jasper.ai has the potential to provide a significant quantity of traffic to your site, eventually converting visitors into daily subscribers.
Jasper.ai is very adaptive. It's appropriate for blog posts, social media posts, Copywriting, and even Novels.
Jasper is always developing, so you can feel comfortable about purchasing it since you know it will be upgraded to generate greater content with each new release.
Cons
As it is an AI, it sometimes gives out irrelevant content.
It has a hard time curating content in niches that don't have much information on the web or the niches in which the tool hasn't been trained well
Its pricing plans can be tough to deal with for beginners
The learning curve is very steep
Jasper.ai Free Trial
As of now, Jasper.ai does not offer either discounts or lifetime plans. Any website that is claiming to offer you either is making a fool out of you. Beware.
However, there are savings you can unlock by choosing to go for yearly subscriptions rather than monthly. We have mentioned all about it in the pricing section below so be sure to check it.
Jasper.ai also offers a 7-day free trial period. You can click the exclusive DemandSage Jasper.AI Trial Offer to unlock 5000 credits!
Who is Jasper.ai Best Suited to?
Jasper.ai is suited for all kinds of writers. Period.
Are you a writer with a limited amount of time? Jasper.ai can write blog posts, articles, and even Google ads for you. It also has the ability to create and update Facebook advertising, and Google ads to get better ROAS and LinkedIn profiles.

It can generate long-form content which is keyword-rich and plagiarism-free for blogs and articles. Which helps SEO experts boost their reach
Are you an author who isn't familiar with copywriting? Jasper will assist you to write creative and catchy content for your upcoming novel.
It can also generate a blog post outline, an email template, and much more. It may also produce scripts and short articles, even book manuscripts.
I can go on and on about its uses but this should give you a fair idea that Jasper.ai is truly the ultimate content creation tool for all types of users.
How to Use Jasper.ai
Step #1: Choose a skill (TEMPLATE).
First, choose from over 50 copywriting templates. You can simply generate captivating headlines, product descriptions, blog post outlines, rework your content, write brief copy, extend your sentence, and many other things using these templates for all of your blog requirements.
Jasper.ai writes about any subject in a conversational tone, then turns your work into engaging paragraphs as if it's completely written by a human being.
Step #2: Input your product's data.
In this step, you will have to fill in additional data about your product so that it will allow the AI to curate content accordingly.
For e.g. If you choose the 'Product description' template in step 1, you will get the following options:
Company/Product Name: Type in the name of the product or company for which you want a description.
Tell us about the product: Fill in details about your product or business. You must supply as much information and detail as possible to get the most out of Jasper.ai.
Tone of Voice: Jasper.ai will use friendly, informative, conversational, or witty tone of voice to curate your content based on your input.
You also get to select input and output language. Although, take note that this feature is in its beta phase. We recommend selecting both languages like English.
Step #3: Generate AI content.
It's time to create your content once you've selected a template and entered the necessary information.
All you have to do is press the create button, wait a few seconds while the AI is working its magic, and then examine the results. You get multiple outputs. You may choose anyone for your usage as it is or you can go on and edit it further and then use it.
How Effective Jasper.ai is In Content Curation?
Here I have explained the effectiveness of Jasper.ai:
Accuracy:
I did a thorough check to see how many errors Jasper.ai made, so I used Grammarly, of course. When I looked at the data, I saw that Jasper AI performed rather well; the produced papers had approximately 3% mistakes, which isn't terrible for an AI.
I ran around 20-30 pieces of content and found out that the rate of irrelevance wasn't much. It's safe to say that Jasper gives out pretty accurate content most of the time.
Grammar:
Before we get into Grammar, It is common knowledge that no AI can be 100% accurate.
Although the text produced by Jasper is not 100% error-free, it is superior to its competitors by a mile. I used Grammarly to proofread the material produced by Jasper and discovered 8% – 10%
Take note: grammatical mistakes, not accuracy. 
The thing is that AI tools can write creative pieces, but they still require human assistance when creating articles that adhere to SEO standards. whether it's punctuation errors misspelled words or sometimes irrelevant sentences. there will always be something to check down the line when it's about tools. This proves that Jasper is an excellent tool but it can never replace a human content writer.
Plagiarism:
Grammarly once discovered that 15% plagiarism is one of the AI copies written.
This seems excessive, particularly if you're accustomed to screening for plagiarism in lengthy pieces. Among the 15, 1-2% of the plagiarism was from totally irrelevant sources.
After checking several articles from across niches, the plagiarism rate kept changing but the average would've been 10-15%.
It took me around 10 minutes to get rid of all the plagiarized content. If I'm to vote between the efforts it took me to clear the plagiarism and the ease with which I got my content curated. I'll go with the latter. because it simply is worth it.
What Makes Jasper.ai Stands Apart?
Jasper.ai has features that no other competitors offer. Here is a brief guide to them

Integration with Seo Surfers: Surfer SEO assists users and Jasper itself to optimize blog posts so that it appears attractive to search engine crawlers. This will help rank your blog higher.

Copywriting Skills: Jasper offers over 50 writing skills. You can create the ideal piece of content by switching between these copywriting abilities with just a few clicks.
Supports over 25 languages: Jasper lets you publish the high-quality blog and social media posts in 25+ widely recognized languages.

Quora responses in seconds: choose the quora answering template and feed in your pointers. Jasper will create a well drafted answer using your pointers in seconds.
Improve existing content: Take a piece of information and Jasper will enhance it by rewriting it to make it more intriguing, innovative, and engaging.
My Experience With Jasper.ai
I've been in the writing industry for quite some time now. Once when I was researching for one of my blogs, I stumbled into Jasper.ai. Believe me, I too was skeptical at first but after reading enough reviews, I decided to give it a shot and my job hasn't been more productive.
Jasper has been a part of my life for 10 months now. I've tried all other options as well. But Jasper creates unique and intriguing content. It is now the most often used tool among my writing resources.
With Jasper as my assistant, I can produce 5x the output and have ample time left to focus on my other pursuits.
Jasper isn't only for producing blog posts; it can also be used to produce Google & Facebook advertising, social media posts, copywriting, novels, and even song lyrics, all without having to write them yourself.
I wouldn't recommend to my viewers the things that I won't use myself. Choose Jasper without any hesitation, it won't let you down.
Jasper.ai Pricing Reviewed (Which Plan Is Best For You)
Here I have explained the pricing of Jasper.ai in detail.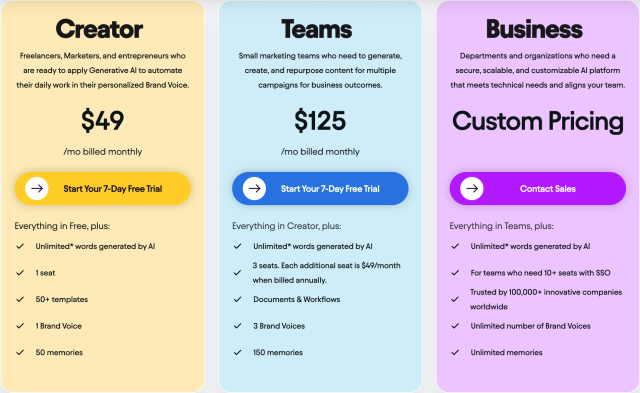 Creator Plan:
The starter plan costs $49/month with an unlimited word limit, which is sufficient for beginners who want to learn how to create content with templates such as product descriptions, Quora answers, or blog posts. Users will have access to all templates created by Jasper.
You can switch to yearly billing to get a 20% discount. The plan will then cost you $39/month.
Team Plan:
Team plan begins at $125 a month for unlimited words. This plan is specially designed to produce long-form content, marketing emails, novels, and much more.
Implementing a Team plan is similar to hiring your personal content writing assistant who will collaborate with you to create amazing content for all of the marketing requirements. With integrated tools such as SurferSEO & Grammarly, it can create intriguing content quicker.
If you switch to yearly billing, the Team plan will cost you $99/month.
Jasper.ai Alternatives
There are plenty of AI writers out there in the market. If you wish to try your hands on them as well. Feel free to explore. All the below-mentioned tools below offer free trials. Let us know your experience with them in the comments below
Copy.ai
Copysmith.ai
Crawlq.ai
Conclusion: (Can It Replace A Content Writer?)
If you're still looking for a TLDR, here it is: No. Jasper is an excellent assistant but it can't match a human being.
Jasper curates content that seems delicious to the web crawlers but, if you truly want to rank higher, don't write your posts for the search engines, write them for the audience.
Jasper is an AI assistant After all, it needs a human touch to perform well. Surely it will help you create content much faster but at the end of the day, it's the human writer who has to go through its relevance and accuracy.
We hope this Jasper.ai review was helpful by all means. We look forward to hearing more from you in the comments below. We keep updating our space regularly, ensuring you check in here often so you don't miss out on exciting reviews and offers.
Frequently Asked Questions On Jasper.ai
Does AI-generated content rank higher on Google?
Google's algorithm doesn't care if your content is AI-generated or not, Its ranking system will look at how much time people are spending on your blog and if your blog is serving its purpose. If you've curated a good piece of content, nothing will stop you from ranking higher.
Does Jasper.ai offer a lifetime deal?
They do not have a lifetime subscription plan. However, they offered a launch and early adopters discount in the beginning. But hey, don't be disappointed, you never know in the future 😉
Does Jasper.ai have an affiliate program?
Yes, Jasper.ai gives 30% recurring commissions to its affiliates under its program.
What are Jasper.ai alternatives?
The only viable alternative to Jasper.ai is Shortly.ai but it too has been acquired by team Jasper.
What is Jasper's boss mode?
Long story short, Jasper's boss mode allows you to curate content using voice commands similar to Siri and Google Assistant along with a bunch of other features. 
What technology powers Jasper.ai?
Jasper uses OpenAI's GPT 3 algorithm to function. The algorithm is constantly trained and updated giving users the best AI writing assistant in the market.
Do I get a discount on Jasper AI?
Of course, you can get a flat 20% discount on purchasing Jasper AI annual plans. 
Can try Jasper AI for free? 
Jasper is offering 7 days of free trial for all its new users to try this tool before subscribing to its premium plan.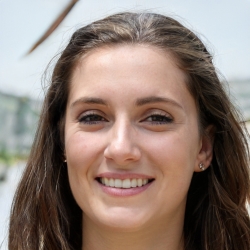 Latest posts by Olivia Baker
(see all)