Thinkific is one of the popular online course builder platforms.
If you're sitting on the fence about choosing Thinkific, this in-depth Thinkific review will help you get detailed insights into this platform.
The key highlight of Thinkific is — it's an affordable, flexible, and on-the-go solution.
Well, the question is — does it live up to the hype? In this review of Thinkific, you will get to know what it has got to offer.
While reviewing Thinkific, I have taken various aspects such as interface, courses creation module, design & customization options, marketing features, customer support, pricing, etc.
What's more, in the end, I have also added a section explaining — Thinkific is worth HYPE?
So let's dive in.
Thinkific Overview: Only A Courses Builder? 
Thinkific is more than just a course builder.
This platform market itself as a stop solution to — create, market, and sell online courses.
The platform is fully flexible and allows creators to create online courses in various niches easily. In addition to creating courses, Thinkific helps you manage and sell courses, provide customer support, and so on.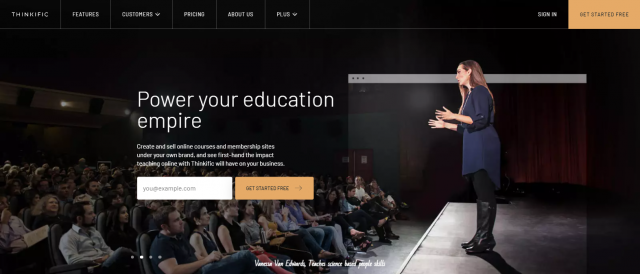 Let's talk about some of the standalone points of Thinkific.
What Makes Thinkific Stand Apart (My Experience)
Thinkific doesn't charge any transaction fees when you sell courses. What's more, the funds are available instantly for withdrawal after purchase.
Thinkific offers a completely free forever plan that has essential features to get started right away. You can create three courses, and unlimited students can enrol in the course. (useful for beginners looking to build their first course)
Thinkific makes it super easy to create online courses. It comes with a robust drag-and-drop page builder. The page lets you add feature-rich media such as — audion, pdf, video, surveys, etc.
Thinkific page builder has many website themes available, and it comes with various customization options.
Thinkific helps you create engaging courses as it enables you to embed various aspects such as quizzes, drip content, cohorts, adding multiple instructors, discussion areas, etc.
Thinkific comes with robust marketing modules where you can send progressive emails and automates various aspects. You can enable your students to track progress, offer assessment & certification, communities, and memberships, etc.
Thinkific even allows you to set your custom domains for courses. Moreover, it also offers fast and secure cloud hosting to host your website. The best part, an SSL certificate is also included — the SSL adds an extra layer to your website security.
Where Thinkific lacks? (My Experience)
Thinkific user interface isn't that streamlined like other platforms such as — Kajabi, Teachable, Podia, etc. (This is my opinion while creating courses with Thinkific)
Thinkific lacks advanced marketing features such as email marketing automation, sales funnels, and a checkout module. Although Thinkific does offer email marketing capability, it is pretty basic.
The design and themes available with Thinkific are limited compared to other course builders like Kajabi. Also, the design options aren't that flexible if you don't have some HTML and CSS skills.
Thinkific also lacks live chat support. The email support option is available; the response time is one day, that's isn't that great.
Detailed Thinkific Reviews (Key Features Explained)
In this section, I will review all the Thinkific features and modules in detail. This section will help you get detailed insights into Kajabi's features.
Interface & Ease of Use
The interface of Thinkific is straightforward but not that seamless.
Once you signup with Thinkific as a course creator, you will access the admin dashboard. The main dashboard has all the essential and advanced module that helps you create and market your online courses. For example, you can access — course builder, students progress, order stats, checkout, integrations, and so on.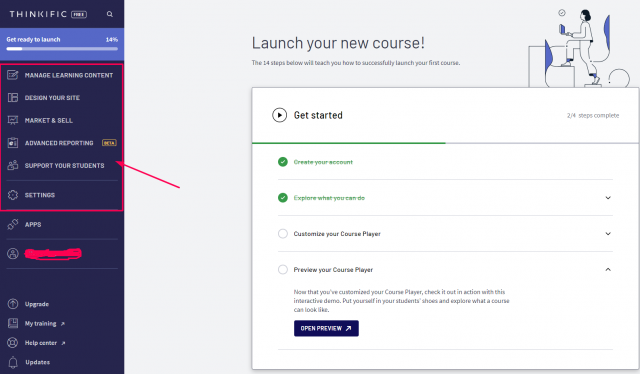 It makes it super easy to access all the features from the sidebar menu. All the features are arranged properly; however, sometimes, you need to dig deep to find specific features.
You will see your course in a nutshell on the dashboard as the dashboard has all the details such as revenue, students accounts/signups, etc.
All in all, the interface of Thinkific is reliable but streamlined. Some of the alternatives like Kajabi and Teachable have a seamless and streamlined user experience. Compared to this platform, the Thinkific interface lags behind.
Courses Creation Module
When it comes to course creation platforms, Thinkific is well known. It makes it super easy to create engaging courses. The best part, it has a free plan that helps you create courses on the go with limited features and functionality.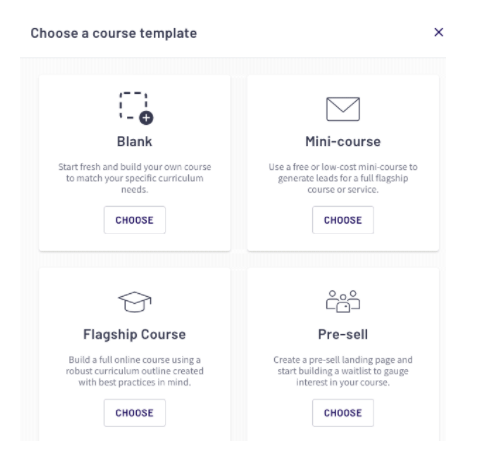 Moreover, Thinkific has a flexible way of creating and structuring your courses.
You will enjoy the process of creating courses if your course curriculum is already prepared. As Thinkific has the option to upload your course content in bulk — making use of the drag & drop functionality.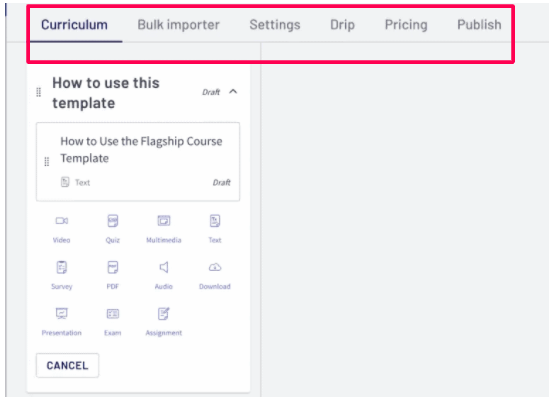 Well, I would say the course creation is quite easy compared to other platforms like Teachable. As per my experience, Teachable and Thinkific platforms enable you to upload videos (using Wistia). Here, Teachable doesn't come with the bulk video upload functionality, while Thinkific allows you to upload videos in bulk.
What's more, Thinkific allows you to add various feature-rich media within your lessons and courses. It lets you add videos, audio, quizzes, surveys, assignments, community, discussion areas, and robust course management.
The course scheduling module of Thinkific makes it super easy to schedule course content. The platform has advanced content automation and drip-feeding content to create streamlined engagement.
Using the email marketing module, you can easily send progress emails to your students when enrolled in your courses. Even you have the option to add assessments & certifications to your courses. This is where Thinkific stands apart from other platforms such as Teachable and Podia.
Memberships Module
Thinkific has a robust membership module enabling you to add a fully-fledged membership area to your website.
The membership module of Thinkific is easy and seamless. You can easily set up various bundles of courses just for your members only. Also, you can keep adding more content and provide more value to your members only. You also have the option to drip feeding the content to your students.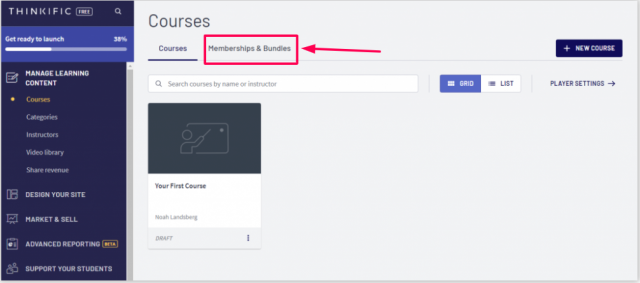 To receive recurring payments for your membership, Thinkific integrates well with Stripe. This integration makes it super easy to receive payments on the go.
Coming to the payments module, you can set up flexible pricing options. Such as you can easily set up the weekly, monthly subscription options. Even you have the flexible option to add different levels of pricing for courses bundles you have.
Comparing this flexibility to other platforms like Teachable, Thinkific outshines as Thinkific has a more robust membership module.
Managing Users & Students
Thinkific has robust course management features, as it offers flexible ways to manage the students of your course.
There are various options available to manage students with Thinkific. Here you have the option to manage— course discussions, reply to students' comments, approving/disapprove discussion comments.
In addition to this, you can also manage quizzes and surveys easily. Also, you will be able to see students' responses on the quizzes and surveys within the courses.
You can add two different levels of access to your Thinkific online course. Two options are available, the first one is site admin, and the second one is course admin.
Design & Customization Options
When you choose an online course builder, you should always make sure the design & customization options are robust. And it must have the capability to create stunning websites, landing pages, sales pages, etc. Let's check the design and customization option of Thinkific.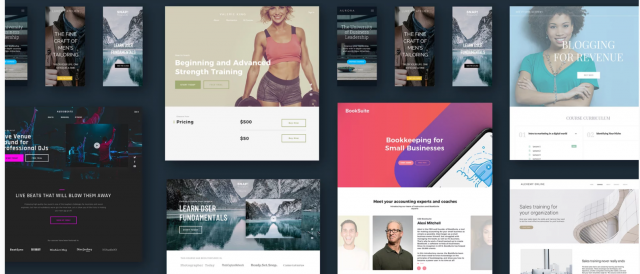 The best part, Thinkific is a self-hosted platform that indicates you don't have to buy hosting to create your online course. Also, Thinkific offers you to use your custom domains, and the hosting includes a free SSL certificate.
For designing the site, Thinkific offers three website themes that are responsive and minimal. Moreover, you will also get different style options with these three themes. Styles are the elements that help you meet the look and feel of your website.
However, it completely outranks other platforms, such as Teachable. But the design and customization option of Thinkific isn't as great as of Kajabi.
Other than that, you have the option to import custom third-party themes to Thinkific, similar to Kajabi. Also, you can customize default themes from the backend of the Thinkific dashboard.
Thinkific comes with a robust drag-and-drop module which helps you create stunning — sales pages, landing pages, homepage, or any other custom page. 
With the drag and drop functionality, you'll be able to different elements to pages such as images, headings, FAQS, testimonials, countdown timers, etc.
Overall, Thinkific has a robust design and customization options available at such a pricing point!
Marketing Features Reviewed 
To be honest, Thinkific doesn't come with advanced marketing features like Kajabi and Kartra. The advanced marketing features that Thinkific lacks are — email marketing automation, sales funnel builder, etc.
However, it does offer some marketing features with the Growth plan of Thinkific. This marketing module helps you create course bundles to help you sell them at different flexible pricing.
Well, Thinkific comes with a 1-click upsell capability to embed in the checkout feature. Again Thinkific lacks the robust marketing features — sales funnel builder, that Kajabi course builder offers.
Coming to the email marketing module, the features are quite basic. As with the Thinkific email marketing module, you can only send emails to students enrolled in your courses.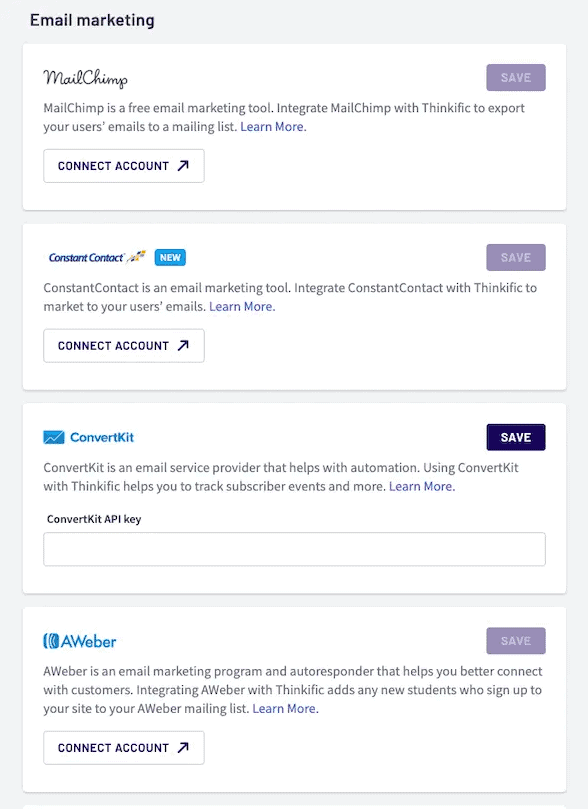 All in all, you can only notify your enrolled students when you launch any new course pr products. You can also send courses updates and send courses progress.
Sales & Analytics Module
Every course creator wants to get more sales and track the revenue in a better way. Seeing this, a course creation platform must have a robust sales and analytics module.
Let's check the sales and analytics module of Thinkific.
Thinkific comes with some sales features but is not as great as platforms like Teachable and Kajabi. To be precise, Thinkific doesn't even allow you to build sales funnels like Kajabi.
Note: Another drawback of Kajabi is the — 2 Step Checkout process. This bugs a user to the first signup and then buy any courses or products on your site. This truly drops the conversion rates 🙁
The checkout page of Thinkific is nested and clumsy. Although Thinkific enables you to customize the checkout page, it won't make any difference. The checkout process does support the one-click upsell.
Other than this, Thinkific does come with something robust called — post-purchase flows. This module enables you to create custom offers for your students depending on which plan they are going with.
Analytics & Metrics Options of Thinkific
Well, getting only sales and conversions won't take you further when you think of the long term.
To establish a better understanding of your courses and students, you need to understand the engagement. Such as you should be able to understand the course's video engagement, like how many people are watching videos and where they are dropping the video.
Thinkific comes with reliable analytics and metric modules. As Thinkific offers some coll metric options as follows:
Average engagement: the average of students who have viewed any video.
Total Plays: The number of times students have played a video.
Play Rate: How many times do students press play once the video is loaded on their screen.
The last watched and other essential metrics.
The best part is that Thinkific allows you to integrate your website with other analytics tools such as Google Analytics and Minxpanel.
What's more, you also have the option to integrate marketing pixels such as — Facebook Pixels and Google Tag Manager.
Affiliate Management Module
Thinkific comes with a robust affiliate management module. So you can easily create and manage a complete affiliate program for your online courses and digital products.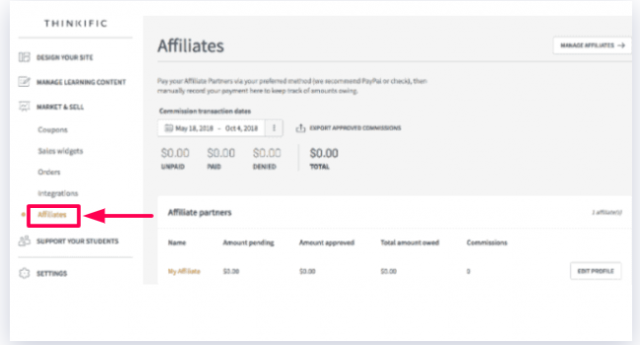 With Thinkific, you can easily select a commission percentage for each of your courses. You can create different commission percentages for various courses.
Once you approve any affiliate, Thinkific has a private dashboard for affiliates. Through the dashboard, affiliates can track the affiliate links and their performance.
The default cookie duration is set to 30 days period — the cookie period remains unchanged 🙁
Other course builders like Teachable and Kajabi has better affiliate program module. With these platforms, you can even change the cookie duration as per your needs.
Integration Options
Let's check the integration of Thinkific.
As a course creator, you might want to integrate your course site to other available tools and apps. This is where you should look for a course builder platform that has a robust integration module.
Thinkific integrates well with other tools and apps available out there. Such as Thinkific integrates with emails marketing platforms such as MailChimp, ConvertKit, Active Campaign, Drip, and Aweber. For web analytics, Thinkific integrates with platforms like Google Analytics and Segment.

What's more, Thinkific also integrates with Zapier, indicating you can easily integrate Thinkific with 100s of third-party tools and services.
Such as, you can connect Thinkific with other tools like ClickFunnels for sales funnels and MailChimp for email marketing and automation.
Thinkific Pricing Review | Affordable?
One of the standalone points of Thinkific is its affordable pricing plans.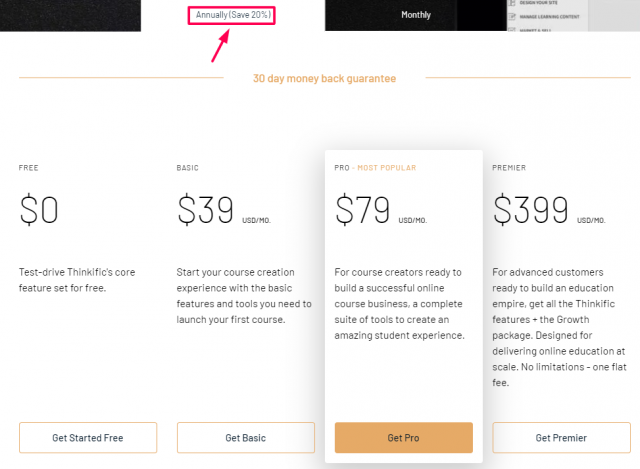 Thinkific comes with three flexible and affordable pricing plans. What's more, Thinkific also offers a free forever plan with some limited features. The paid pricing is as follows:
Basic Plan: It costs $39/month when paid annually or $49/month when paid monthly.
Pro Plan: It costs $79/month when paid annually or $99/month when paid monthly.
Premier Plan: It costs $399/month when paid annually or $499/month when paid monthly.
If you have higher and more enterprise requirements, I suggest getting started with the "Thinkific Plus" plan.
Moreover, Thinkific also comes with 30 days money-back guarantee. So if you don't like the Thinkific platform, you can claim a refund.
Let's discuss these plans in detail:
Thinkific Free Trial (Suitable for someone with no budget)
This plan has the free-forever feature, enabling you to create three courses where unlimited students can enroll. The features included with the free plan are:
Adding videos, audio, and PDFs to courses
Adding quizzes and other aspects within the courses
Note: The free plan has 10% transaction charges for every single sale you make.
The Basic Plan: Suitable for Beginners With a Growth Mindset
This is the first paid plan of Thinkific, and it doesn't come with any transaction fee. With the help of this plan, you can easily upload unlimited courses alongside unlimited students can enrol.
Along with all the features, you will get robust features such as course hosting and quizzes/surveys. This plan comes with marketing features, more specifically, email marketing.
This plan also integrates with major email marketing tools such as MailChimp, ConvertKit, etc. You will also get features like affiliate management module, drip schedule content, and so on.
Pro Plan: Suitable for a Growing Online Courses Creator
Thinkific Pro plan has all the features that the basic plan has. In addition to that, you can get upto around five admin accounts, two site admin accounts alongside the priority customer support.
The best part, the Pro plan also comes with assessment and certification options. You can also create memberships, give assignments to students, and offers different pricing options.
Premier Plan: Suitable for Professional Course Creators
Thinkific Premier plan is suitable for:
Accredited institutions
Institutions or Colleges
This plan has all the essential and advanced features you will need to create, market, and sell online courses. Also, you will get 50-course admins along with five admin accounts.
Thinkific also has some onboarding preparation and training features for the Thinkific module.
What About The Customer Support (My Experience)
Thinkific has responsive customer support; however, it doesn't have any real-time support such as live chat. However, other platforms like Kajabi offer 24/7 live chat support.
The only way to reach out to Thinkific is to use their email support. Although the response time for the email support is one day (I experienced this dealy while I was opting the customer support of Thinkific)
The best part, Thinkific has an in-depth knowledge base helping you get started on the go. The knowledgebase is a great resource to solve the most common queries on the go.
What's more, Thinkific also offers reliable training to help you master the art of creating and selling online courses. Overall, the customer of Thinkific isn't great compared to Kajab and Teachable, but it is worth it. 
Thinkific Review: Pros & Cons 
In this section, we have listed some pros & cons of Thinkific. Let's get inside it. 
Pros:
Unlimited content and student
Seamless automation
Powerful customization
Multiple course payment option
Create stunning sales pages
Offers best lesson options
Reasonable pricing structure
Cons:
No real-time help is available 
No coding snippet
Thinkific Alternatives (How it Stacks Up)
Let's find out how Thinkific stacks up against other course creation platforms.
Thinkific vs Teachable
Yes, check my detailed Thinkific vs Teachable comparison here.
Teachable and Thinkific are two similar platforms helping to create and sell online courses and memberships. Teachable has the same pricing as Thinkific.
Compared to Thinkific, Teachable doesn't have that robust design and customization options.
So if you're a rookie, I suggest getting started with Teachable instead of Thinkific as teachable comes with beginner-friendly pricing and an easy course creation module.
Thinkific vs Kajabi
Note: Check my detailed comparison of Kajabi vs Thinkific.
Comparing Thinkific to Kajabi: Kajabi is the clear winner.
Kajabi is expensive compared to Thinkific, but it comes with robust marketing features such as sales funnels and email automation. These are the features that Thinkific doesn't offer.
So if you're someone looking to scale your online course platform and take it to another level with a great marketing module — Kajabi is worth the HYPE.
Kajabi comes with all essential and advanced features such as — advanced email marketing module, sales funnel builder, design & customization options, course creation module, etc. Overall, it's a comprehensive solution for creating, marketing, and selling online courses and memberships.
Thinkific vs Podia
Thinkific is more suitable for enterprise and established courses creators. On the other hand, Podia is suitable for beginners who are getting started (Kind of more DIY).
Podia has a flexible pricing structure and a more robust course creation feature compared to Thinkific. Overall, if you're a beginner looking for a beginner-friendly platform, I suggest getting started with Podia.
Conclusion: Is Thinkific Worths The HYPE? 
So this is my in-depth Thinkific review explaining what Thinkific has got to offer. I have covered all the aspects covering the good, the bad, and everything.
Now it's the time for the verdict; Thinkific is a great choice for creating online courses — if you're on a budget. For the starting pricing of $39/month, it comes with robust essential features.
The only down part is- Thinkific lacks some advanced marketing features like automation and sales funnels. If you're a beginner, you won't need these advanced features.
Now over to you — What are your thoughts on Thinkific? Do let me know in the comment section below.
FAQs on Thinkific Review
Does Thinkific have a free plan? 
Yes, Thinkific comes with a free forever plan. However, the plan has limited features, and it comes with a 10% of transaction fee for every sale you make. 
Is there any Thinkific free trial?
No Thinkific doesn't offer any free trial as of now. But it does provide a fully-fledged free plan to get started. 
Does Thinkific offer any money-back guarantee?
Thinkific comes with a 30-day money-back guarantee. You can cancel your plan within the first 30 days of the payment to the money back. 
Is Thinkific a legit platform for course building?
Yes, Thinkific is a great platform for building and selling online courses. The platform is suited to beginners and intermediates. 
Is Thinkific an LMS (learning management system)? 
Yes, Thinkific is a complete learning management system that enables to creation and manage online courses easily.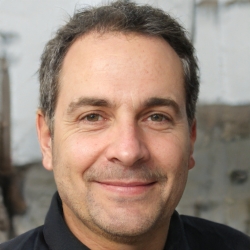 Latest posts by Tim David
(see all)