Searching for a better Amazon Seller tool? Well, you've landed on the right page to get the answer to this question. Viral Launch is a full suite of tools designed only to help Amazon sellers to grow their businesses.
When I started my business with Viral Launch, I saw my business lifting off from the ground. Even though I didn't know anything about the FBA business, I still managed to establish an amazing business. I have been using Viral Launch for a long time now. I wanted to share my own views about the tool.
That is why in this post, I've featured a Viral Launch review that includes detailed insights into the tool, such as interface, data accuracy, ease of use, pricing, and so on.
At the end of this review, I will tell you if Viral Launch is worth the hype or not.
Let's begin.
Viral Launch Review: In A Nutshell
As a beginner Amazon seller, I was looking for a tool that offers all the required features in one place. Then I stumbled on to Viral Launch after that, I never looked back.
Viral Launch is a tool that needs no introduction because most Amazon sellers prefer it. You will get everything from product research to listing management. It helps you in analyzing your competitors. You can easily start selling on Amazon with this tool at your disposal.
Viral Launch's kinetic PPC module helps you in automating your Amazon PPC. Select the best niche to begin with and then find the right products to start selling. The data you will get from Viral Launch is top-notch. Data metrics help you in deciding which product will be best for you.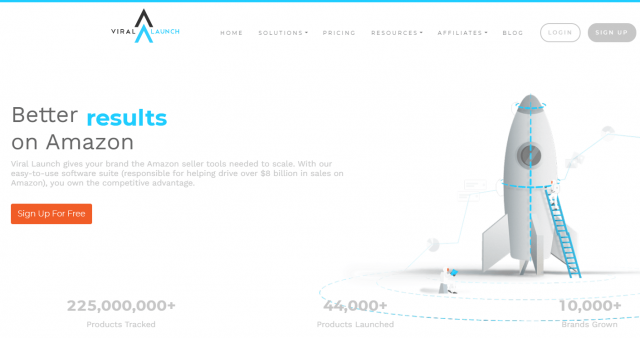 With my experience, I can easily say this is the tool you require to start your Amazon FBA journey. It not only helps beginners but also experts in the industry. Although this tool has all the robust features still, it is a bit more expensive than other Amazon seller tools such as Helium 10 and Jungle Scout.
Let's take a look at what this tool offers in detail.
Viral Launch Data Accuracy
The first thing every Amazon seller needs is accurate data. Because the more accurate data helps them in deciding which product is best for them. I have seen many reviews on the internet claiming that Viral Launch is not accurate. Let me tell them that it has an accuracy rate of 79.3%.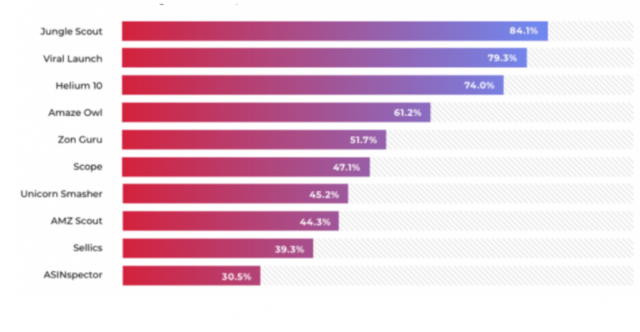 This number is the outcome of thorough research of different tools. You can see the screenshot below to see which tool is the most accurate tool. After Jungle Scout, Viral Launch is the most accurate tool which provides all the data and metrics.
Now you know that Viral Launch is not only accurate but also reliable when it comes to data.
Ease of Use & Interface of Viral Launch
Starting with Viral Launch is pretty easy. All you need to do is select a plan, create a new account on Viral Launch and complete the purchase. Once you complete all the steps, you can easily access the dashboard of Viral Launch.
When I first interacted with Viral Launch, I found its interface really easy to navigate. There is so much I could do with it. All the instructions were there for every feature. Even a beginner can use it without any difficulty.
All the tools available on Viral Launch are effective, and they also help you in doing your research in an easy way. Along with access to the web-based tools, you will also get access to browser search extensions of Viral Launch.
These extensions are really helpful because they can help you in doing research on the go. With a single click of a button, you can validate your product ideas and do keyword research on different products.
In my experience, Viral Launch has really intuitive interface, and it is extremely easy to use. Every type of Amazon seller can use it without any difficulty.
Viral Launch Tool & Features Reviewed
I've given a basic overview of this tool. Now I will explain all of its features in detail so you can understand the tool a little better. Let's get into features:
1. Product Discovery Tool
The name and working of the Product discovery tool are the same. This tool helps you in finding the most profitable products to sell on Amazon. You will get all the insights and data of products on this tool. All the data is nearly accurate.
To start using the tool, you need to log in to your Viral Launch account and then click on the Product discovery tool from the dashboard. It will look something like this.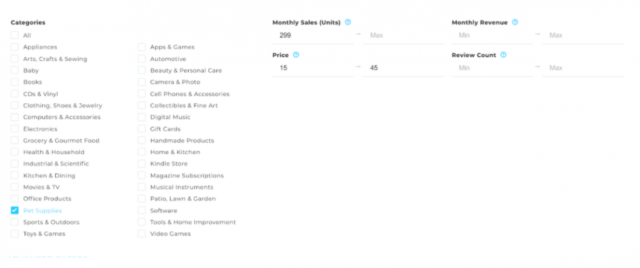 As you can see in the above screenshot that there are many categories available. All of these categories are niches, you can select your desired niche and then search for its products. This tool also has many advanced filters that help you in finding the right products. Some of the advanced filters, as you can see in the below screenshot.

To get more product ideas, you can perform a search based on category, keyword, brand, and pinned search. You can also use the sales estimates filter to see which product is on the rise based on sales.
2. Market Intelligence Tool
If you want to validate your product ideas, then the Market Intelligence tool is the one for you. In short, Market Intelligence gives you all the data on the products you're choosing to sell on Amazon. All the useful metrics, such as historical data, upfront costs, sales, and profits, are available on this tool.
Market Intelligence tool is easy to find. Just go to the launch pad of Viral Launch and look for Market Intelligence and then enter a keyword of the product to perform the search.

After clicking on the search button, you will see all the metrics which I've mentioned above. The start validation system helps to validate all of the product ideas on Viral Launch. The success of the product depends on its rating and product score. This will certainly help you in making the right choice.
Viral Launch's product validation system is one of the best features that help you in making decisions without any hassle. It is more efficient than any other Amazon seller tool.
3. Keyword Research Tool
We all know that keywords are important to perform a query. Similarly, they are necessary for Amazon Product listing. Once you search for a keyword in the keyword research tool, it will look something like this.
The keyword research tool helps you in searching for all the products related to a particular keyword. Once you open a product, you will see all the data and metrics of the product on your screen.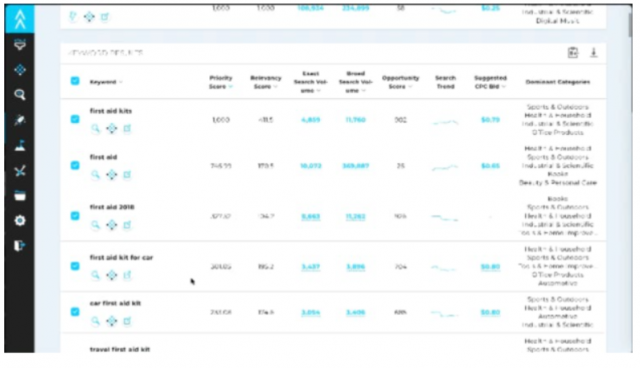 All the data you see on your screen is reliable, and all the keyword results are mapped from the Amazon website itself. Viral Launch's keyword research tool works similarly to the autosuggest and searches feature of Amazon.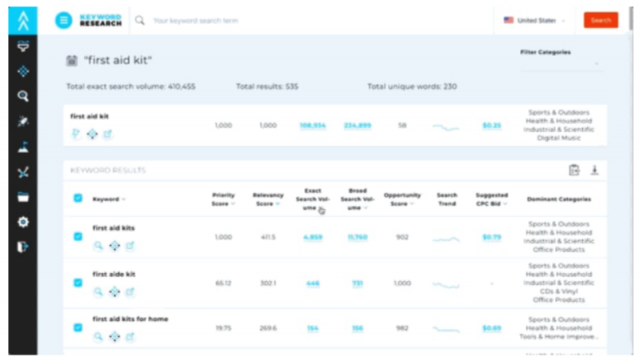 Similar to all the other tools, the Keyword Research tool can be accessed directly from Viral Launch's dashboard. On the next page, all you need to do is enter a keyword to get all the data and metrics.
The keyword research tool also has different filters option available. You can sort out the right keywords from the big pile of keywords. You can clear the irrelevant keyword with the help of advanced filters.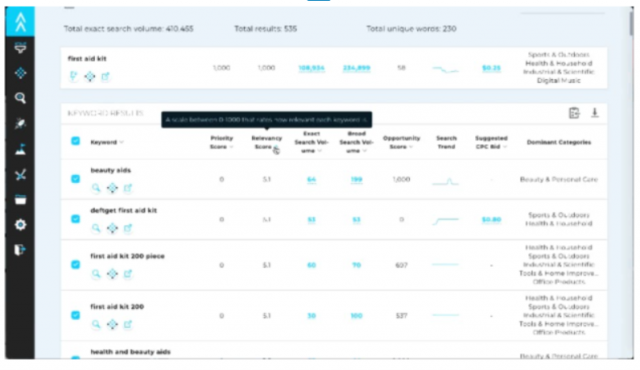 4. Competitor Intelligence Tool
If you want to spy on your competitors and see how their products are performing, then the Competitor intelligence tool is the one to use. It is an advanced reverse ASIN tool for Amazon.
Access this tool from the dashboard and then just enter a product ASIN, and voila!! You will see a huge list of your competitor's top-performing keywords and their listings.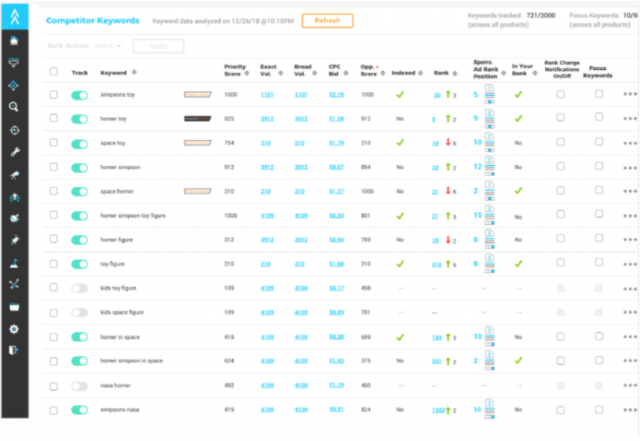 This tool also helps you in getting data such as keyword rank, price, sales, analysis & track indexation, search volumes, reviews, and so on.
5. Listing Builder & Analyzer Tool
This tool helped me in creating Amazon listings on the go. It also helped me in importing and optimizing my previous product listing. You don't need to create and optimize a new listing.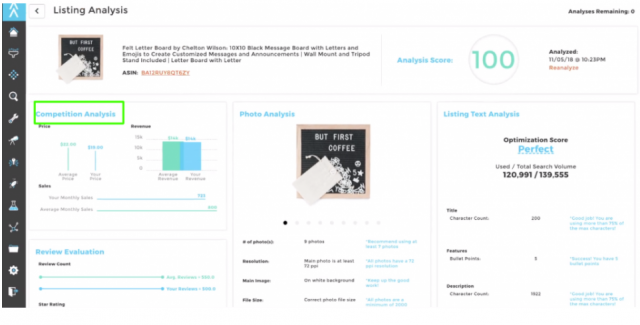 You can access the Listing Builder tool from the dashboard of Viral Launch. Create your very first listing right here and then analyze it using the listing analysis feature of this tool. This will help you in optimizing your listing in the best way possible.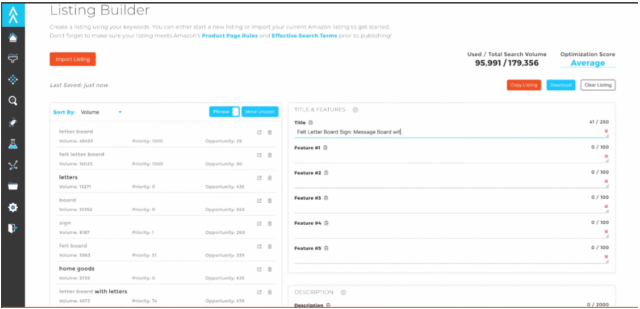 This feature will compare your listing with a competitor's listing based on photo analysis and listing test analysis. In the end, you will receive an optimization score for your current listing.
6. Keyword Manager Tool
Keyword Manager tool helped me in managing all my keywords in one place. All your keywords will appear on the dashboard once you access the Keyword manager tool.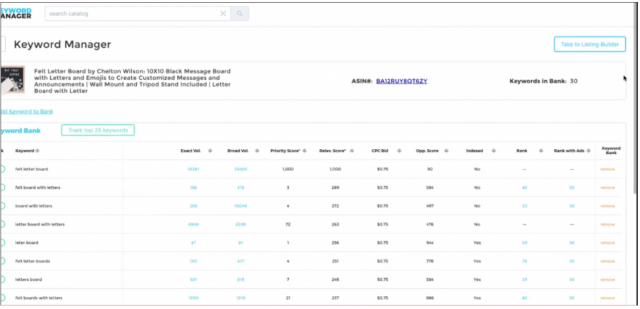 All the keywords are added manually on the Keyword manager. The listing can also be exported into a CSV file. Here you can track all your keywords and see how they are performing.
7. PPC Automation
This feature is only available on the pro plan of Viral Launch. In my experience, this is the only tool you will need for PPC. The working of the PPC automation tool is similar to the Adtomic tool of Helium 10.
It has different templates available that you can customize for automation. It also has the recurring option available. You can also implement different rules, such as ad group rules, search terms, campaign rules, product targeting rules, and so on.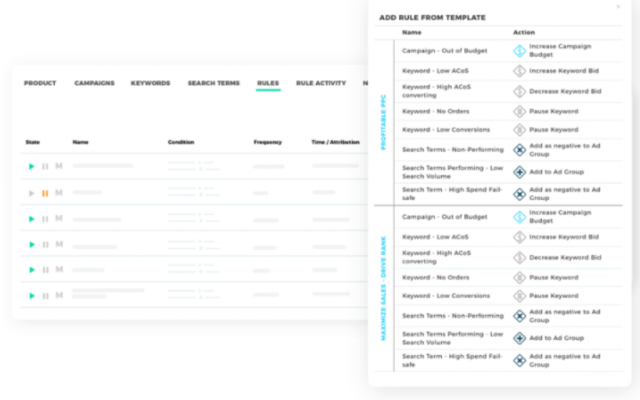 8. Product Launch Service
This service helps you in launching your desired products. These products can be launched without any hassle from the Launchpad of Viral Launch.
All you need to do is add a product, create a launch, and then view all the launch analytics. Now you can just watch how your product performs. Many tools charge extra for the Product Launch service, but this service is included in all the plans of Viral Launch.
9. Chrome Extension
There are many tools that offer a chrome extension version of their tool, and Viral Launch is one of them.
The chrome extension helps you in conducting the research on the go without any hassle. To get started with it, you just need to install it from the Launchpad of Viral Launch.
Every time you need to do a product search, you don't have to go to the dashboard. Just click on the chrome extension and enter the keyword to conduct the research.
Viral Launch Pricing Reviewed
Well, I have shared our working Viral Launch coupon codes, which help you get a flat 15% Off On Viral Launch.
Now I've discussed all the features of Viral Launch, it is time to discuss its pricing plans. All of Viral Launch's plans are affordable based on your requirements. There are basically 3 plans available on Viral Launch, and these are: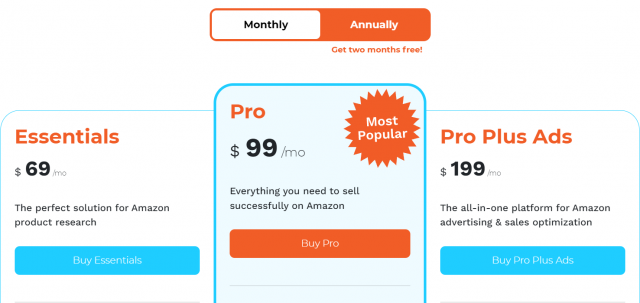 1. Essential Plan ($69/monthly and $58/month yearly)
Product Research Tool
Keyword Search Volume
Global Data
Browser Extensions
Advice and Guidance
2. Pro Plan ($99/monthly and $83/month yearly)
All the features of The Essential plan plus,
SEO Listing & Optimization
Rank Tracking & Alerts
Competitor Monitoring
Price Trends
Historical Data
Listing Health Analysis
Monthly Revenue
3. Pro Plus Ads Plan ($199/month and $166/month yearly)
All the features of the Pro plan plus,
Robust Automation
Detailed Advertising Analytics
Organic + PPC Keyword Tracking
So these are the pricing plans for Viral Launch. I've mentioned all the features you will get with them. Now choose any one of the plans based on your requirements.
Pros & Cons Of Viral Launch:
Here we have listed some advantages and disadvantages of Viral Launch.
Pros:
If you want in-depth details on keywords, then its keyword research tool is best for you.
It offers PPC tool which help you in managing your Ad campaign.
It is a complete suite of multiple tools to help Amazon seller.
Its product launch feature is best for those who want to launch their product instantly.
You can use its market intelligence Chrome extension to conduct product research.
If you get stuck in somewhere while using Viral Launch you can contact its customer support team for help.
Cons:
Little bit expensive for the beginners
Limited features in basic plan
Viral Launch Alternatives
Yes, there are a few alternatives to Viral Launch, which you should check out. We have listed some of the best alternatives to Viral Launch.
Related Read:
Final Verdict: Is Viral Launch Worth the Hype?
I've shared my personal experience of the tool now, you still be wondering if this tool is worth investing your time and money in or not?
I've been using this tool for over a year now. I've scaled my business with the help of this tool. I personally liked its product launch and product discovery feature. Because they save me a lot of time. I just find the best product from the product discovery tool and just launch it after checking out all the metrics.
I've done my job by introducing you to this thorough Viral Launch review. Now it is up to you to decide. Let me know in the comment what your thoughts are on Viral Launch.
FAQs On Viral Launch Review
Is Viral Launch Accurate?
After thorough research, it was found out that Viral Launch is 79.3% accurate. The margin for error is very low with this tool.
Can I try Viral Launch for free?
Yes, you can try Viral Launch for free for 14 days. The free trial expires after the given time period. Cancel the free trial if you don't want to get charged for the plan you've selected.
Am I eligible for a refund on Viral Launch?
There is no refund policy available on Viral Launch. So you can not get a refund once you purchase a plan.
How can I upgrade my subscription?
To upgrade your subscription, you need to visit your Viral Launchpad, or you can take the help of its customer support team by contacting them at service@viral-launch.com.
Does my subscription renew automatically? 
Yes, your subscription will renew automatically, you can cancel your subscription previous to the next renewal period to finish your subscription.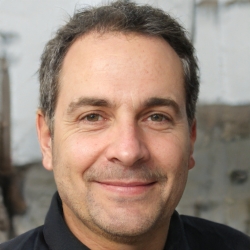 Latest posts by Tim David
(see all)