Scavenging the internet for a working Cloudways coupon? Well, you've landed on the right page.
Cloudways is one of the best cloud hosting platforms which provides world-class hosting services to business owners. But buying a hosting service without any discount can be a little pricy for you.
That's why I've brought you this post which includes valid Cloudways coupons which you can use to buy hosting on DigitalOcean, Linode, VULTR, AWS, and Google Cloud.
In this post, I've featured the Cloudways coupon, which includes working coupon codes, how to claim the discount offer, Cloudways pricing, and so on.
So without wasting any more time, let's get into it.
Available Cloudways Coupon Codes 2023
Some of the working Cloudways coupons and their benefits are:
Coupon 1. With the very first coupon code, you can get up to 40% off on any hosting plan for 4 months. You will get 10% off on monthly plans for only 3 months.
Coupon 2. You can use this coupon to get a 3-day free trial of any hosting plan. It will not ask you for any credit card details. You need to click on the link and enter valid details to get started with it right away.
Coupon 3. This coupon gives a flat discount of $25 for the first month on any hosting plan. The only thing you need to keep in mind is that your server size must be bigger than 4GB to get this discount.
Coupon 4. This coupon offers $20 of free hosting credits on Cloudways. Enter the coupon code in the promo code section and get the free credits after completing the registration.
How To Claim Cloudways Coupon?
Claiming a Cloudways coupon is very easy. You just need to select a coupon that you want to use and follow these given steps to complete the process without any hassle.
Step 1. Click on our special discount link to visit the official website of Cloudways. Once you visit the website, you will see the pricing option and the free trial option. Just select any one of them to begin. You can refer to the screenshot below.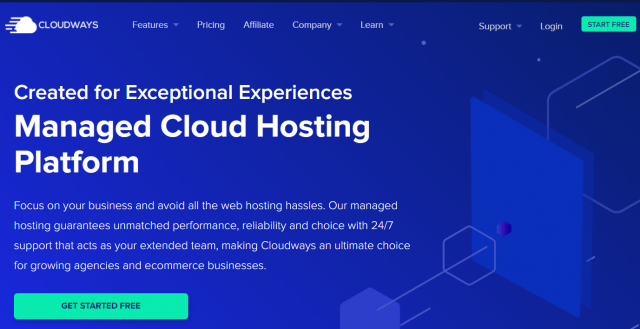 Step 2. In the next step, you need to select a hosting server. To give you guys an overview, I am selecting Amazon Web Services. There are 5 servers available. You can choose any one of them.
Step 3. Once you click on the "START FREE" button, you will be redirected to the sign-up page of Cloudways. Here you have to enter your details, such as name, email address, and password. There are two options available that are "I would describe myself as" and "My monthly hosting spending is". Fill out these options accordingly. You can refer to the screenshot below.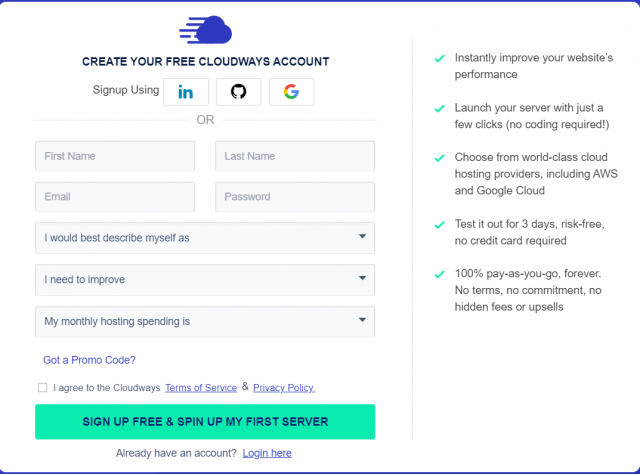 Step 4. In the next step, you will need to click on the "Got a Promo Code" option and enter your desired coupon code. After that tick mark, the terms and conditions opto\ion and click on the "START FREE" button.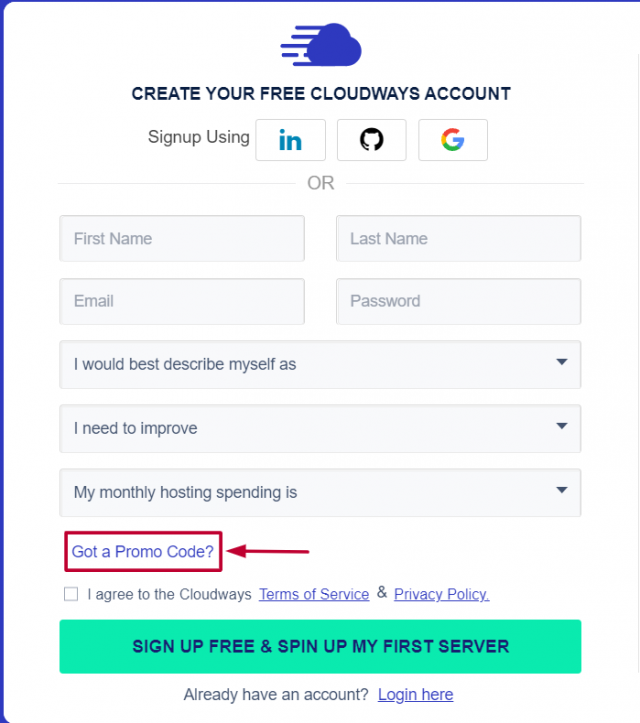 Step 5. In the next step, you need to verify your phone number and email address.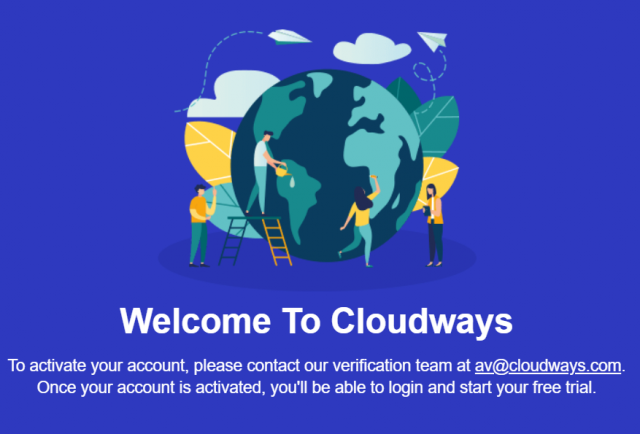 Step 6. In the last and final step, select the server size and the server location and click on Launch now to move on to the credit card details. Here you need to fill out your credit card details and the discount will be applied instantly.
So these are a few steps you need to follow carefully to get the discount offer. I use the Amazon Web Services server to get better website performance and speed so I will recommend you to go with the same.
Cloudways Pricing Explained
Cloudways pricing varies on the basis of server and server size. Basically, there are 5 servers are available on Cloudways. I will explain each of them in detail.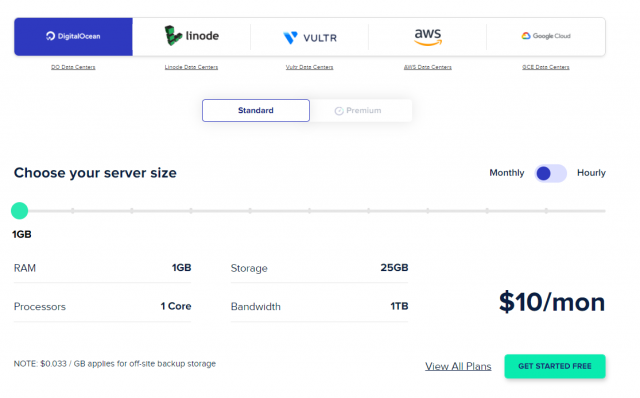 1. Digital Ocean: The premium version of DigitalOcean begins at $12/month, and the standard version starts at $10/month. Both of these versions offer 1 GB RAM, 1TB Bandwidth, 25 GB Storage, and 1 Core processor. The pricing increases on the basis of RAM, which you can see below in the screenshot.
2. Linode: The base pricing of the Linode server starts at $12/month. At this pricing, you will get 1GB RAM, 25GB Storage, 1TB Bandwidth, and 1 Core Processor. This pricing varies on the basis of RAM size.
3. VULTR: The high-frequency plan of this server starts at $13/month, and the standard plan begins at $11/month. With both of these plans, you will get 1GB RAM, 32GB Storage, 1 Core Processor, and 1 TB Bandwidth.
4. Amazon Web Services (AWS): The base pricing of AWS starts at $36.51/month. With this plan, you will get 1.75GB RAM, 20GB Storage, 1vCPU, and 2 GB Bandwidth. The pricing varies depending on the RAM size
5. Google Cloud: The base pricing of Google Cloud starts at $33.18/month. This plan offers 1.70GB RAM, 20GB Storage, 1vCPU, and 2GB Bandwidth. The pricing of this plan also varies depending on the size of the RAM.
Pros & Cons Of Cloudways:
Here in this section, we have listed the pros & cons of Cloudways. Let's get inside it.
Pros:
Offer free SSL and manage security with a dedicated firewall
Provide affordable CDN
SSD based hosting
Free WordPress Plugin
Supported by all PHP apps
Automated Backup
Auto Healing Server
24/7 Customer Support Team
Innovative Control Panel
Private Slack Channel
Real-Time Monitoring
Cons:
Doesn't offer any free domain
Live chat is a little bit slow
Related Read:
Conclusion: Cloudways Coupon 2023
Cloudways is an affordable, high-quality WordPress hosting provider. If you are looking for a better hosting service than Cloudways, then I am pretty sure you won't find something like Cloudways.
It comes with an SSD-based environment that provides expert support and managed security, and its user interface is really easy to navigate.
Choose any one of the managed hosting servers to begin with and use my coupon code to get an instant discount on the pricing plan. Don't forget to use the coupon before it expires.
FAQs On Cloudways Coupon
Why choose Cloudways hosting?
Cloudways is the best choice for a hosting service because it supports multiple platforms and it is beginner-friendly as well.
How can I migrate my website to Cloudways hosting?
To migrate your website, you need to use their WordPress migration plugin. From there, you can migrate as many websites as you want for free.
Is Cloudways free?
No, Cloudways is not free. But they do offer a 3-day free trial on DigitalOcean, Linode, and VULTR servers.
How to claim the free trial of Cloudways?
All you need to do is select a server, fill out the sign-up form, and then verify your credit card. For verification, they will cut $1 from your credit which will be refunded instantly once the process is complete. Now you can enjoy the 3-day free trial.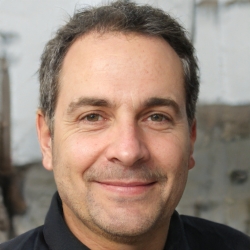 Latest posts by Tim David
(see all)