Unable to figure out the Kajabi pricing Review?
That's not new. We have got your back!
Many users get confused when it comes to choosing the right Kajani plan. The pricing structure of Kajabi is simple; however, there are restrictions with the base plan. That's the reason for the confusion here.
Well, don't worry. In this post, we'll explain the Kajabi pricing plans in detail, along with helping you choose the right plan for your online venture.
So let's dive in.
Kajabi Pricing Explained & Reviewed
This section will review the Kajabi pricing plans and help you get better insights into pricing, features, restrictions with plans, etc.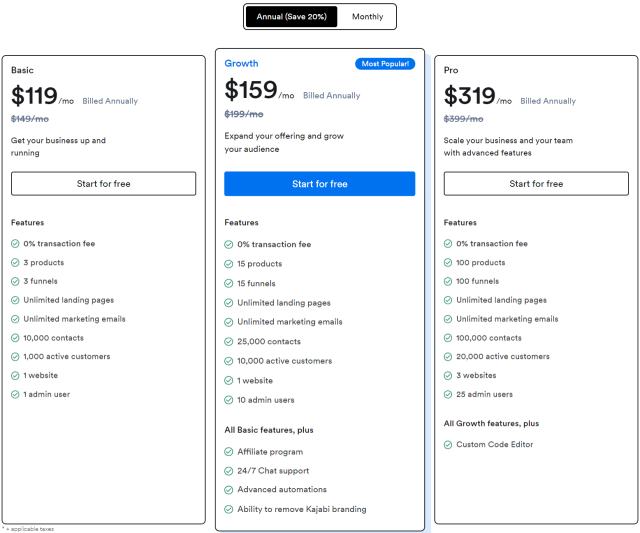 Kajabi comes with three flexible pricing options:
Basic — It starts at $149/month or $119/mo when billed annually.
Growth Plan — It starts at $199/month or $159/mo when billed annually.
Pro Plan —It starts at $399/month or $319/mo when billed annually.
Note: With the annual pricing options, you will be able to save 20% right away. Teachable (another online course builder) charges a transaction fee; however, Kajabi doesn't come with any transaction fee.
Let's understand each plan in more detail:
Basic Plan — Costs $119/mo paid annually.
Suited for: This plan is best suited to beginners focusing more on course creation. This plan is best suited to you.
The basic plan comes with:
3 Products
3 Pipelines
Unlimited landing pages
10000 contacts
Unlimited marketing emails
1000 active members
1 Kajabi website
One admin user
Kajabi university access
No transaction fees
Webinars and even
Pre-built ready to use templates
Chat Support
Automation
Assessments — Surveys, Quizzes, etc.
Note: If you want to get detailed insights into Kajabi features and it's working, read our detailed Kajabi review here.
As you can see here, the basic plan only allows you to sell three products and create three pipelines, aka sales funnels, per month. If you're an advanced marketer looking to sell more with many products, this plan isn't suitable for you.
Just need to remember one thing, Kajabi only focuses on creating and selling courses and memberships.
Limitations Of The Basic Plan:
That's the main aspect of this Kajabi pricing breakdown — limitations in the base plan.
If you're looking to get robust automation features, you need to start with the — Growth or the Pro plan.
Another down part of this plan is — it lacks the custom branding feature. That indicates you can't remove Kajabi branding from the pages you build with Kajabi builder.
Also, the base plan doesn't come with the Affiliate Marketing module. With the base plan, you will not create an affiliate program for your online courses/memberships.
What Make This Plan Value for Money? 
However, these are some unlimited features you get with the base plan as it allows you to create unlimited landing pages and send unlimited emails to your subscribers and customers.
What's more, the plan comes with pre-built ready-to-use templates to build pages on the go. You can also customize the pages the way you want.
With Kajabi Basic, you can host webinars and events as well. This will cut down the need to use other platforms such as — WebinarJam, BigMarker, Zoom, etc.
Also, you will get access to Kajabi University to master the art of creating engaging courses and memberships.
Growth Plan — Costs $159/mo paid annually.
Suited For: The Growth plan is suited for growing ventures looking to thrive in their community with online courses and memberships. This plan is loaded with essential and advanced features such as — pipelines, email automation, affiliate marketing, etc.
The Growth plan comes with these features:
15 Products
15 Pipelines
Unlimited landing pages
Unlimited email marketing
25000 contacts
1 Kajabi website
10,000 active members
Kajabi University
0% charges or transactions fees
Pre-built ready to use templates
24/7 live chat support
Advanced automation options
Allows you to remove — Kajabi Branding
The Affiliate program module.
This plan comes with all the features that the base plan has to offer. What's more, the growth plan comes with robust features such as — Advanced automation, custom branding, etc.
With the growth plan, you will be able to sell 15 products and create 15 pipelines. We think that would be sufficient for you if you're not an advanced courses seller.
Also, this plan bumps to an active user limit of around 10,000 contacts, whereas the contacts limit increases to 25,000.
Where the growth plan excels?
This plan comes with advanced automation that enables you to drill down deeper into your automated targeting. For example, you will be able to implement various robust automation such as — only if filter. Using such filters and conditions enables you to customize your reach further.
The Growth plan comes with Affiliate Program Feature, which means you can add an extra source of revenue to your online courses/membership/products. You can easily create and manage an affiliate program with the Kajabi growth plan.
The growth plan also enables you to remove the "Powered by Kajabi" branding real easily. With this plan, you will have the flexibility to remove the branding and have Kajabi custom branding.
This plan also comes with a 24/7 live chat feature, as this is the added customer support feature.
As explained earlier, this plan is suited to intermediates looking to scale their online courses/memberships.
Pro Plan — Costs $319/month, paid annually.
Suited To: The pro plan is suited to pro marketers, digital agencies, and successful business owners looking to create successful online courses.
The Pro Plan of Kajabi comes with features like:
100 Products
100 Pipelines
Unlimited landing pages
Unlimited email marketing
100,000 contacts
3 Kajabi website
25 Admins supported
100,000 active members
Kajabi University
0% charges or transactions fees
Pre-built ready to use templates
24/7 live chat support
Advanced automation options
Allows you to remove — Kajabi Branding
The Affiliate program module.
Code Editor
The added feature of the Kajabi pro plan is the — Code Editor. With this feature, you can easily edit your Kajabi websites' code — pages, products, etc. This feature comes in handy for developers.
The Pro Plan of Kajabi increases the limits of various features such as — 100 products, 100 pipelines, unlimited emails, contacts, users, etc.
What's more, the pro plan of Kajabi gives you access to three websites along with the ability to add 25 admins.
All in all, this plan is suited for you if you need to create more courses and membership modules. Also, this plan is loaded with all the advanced and essential features to help you thrive online.
Does Kajabi Offer Free Plan? 
As of now, Kajabi is not offering any free plan for its users. But it offers 14 days of free trial to try this tool for free. This offers you exclusive access to Kajabi features which you will get on any of the paid plans that you choose.
Although your credit card detail is required to activate your free trial, as your free trial expire, you will be charged according to the plan that you have selected; cancel your free trial before it expires to avoid the charge. So Kajabi free trial is best for those who want to test this tool.
What Is More Affordable Than Kajabi? 
That's a tough question to answer; however, few other online courses and platforms are available at an affordable price. This section will help you get some of the affordable alternatives to Kajabi.
Note: The best part about Kajabi — it doesn't charge any transaction fee.
However, let's compare the pricing of Kajabi to its competitors.
How Does Kajabi Pricing Stack Against Its Competitors?
Here are some Kajabi pricing competitors
Kajabi vs Teachable
We have already done a detailed comparison of Kajabi vs Teachable here. Compared to Kajabi, the pricing plans of Teachable is affordable, starting at $29/month. However, there are transaction fees of 5% associated with this plan. To get rid of this transaction fee of Teachable, you need to get started with the higher plan costing $99/month.
What's more, the base plan of Teachables also lacks some of the essential features such as — custom branding, quizzes, assessments, etc. Also, it lacks features like advanced theme options, student management, and so on.
Well, if you have made up your mind to get started with a higher plan, Teachable.
Kajabi vs Kartra
When comparing Kajabi vs Kartra, Kartra is a one-stop marketing automation platform. The features of Kartra are top-notch and are better in numbers.
The base plan of Kartra starts at $99/month, which allows you to sell around 20 products build two membership websites along with hosting 50 videos and 100 web pages on the go.
The Karta higher plan starting at $199/mo is best for you if you run an agency. The features of this plan are outstanding worth every single penny you spend. The robust features are sales funnels, email automation (if and only rules), autoresponders, etc.
You can explore more about Kartra pricing here. Else you can also signup for the Kartra 14 Days Free Trial here.
Kajabi vs ClickFunnels
ClickFunnels is the swiss army knife when it comes to funnel builders. This tool makes it super easy to create high-converting sales funnels. What's more, ClickFunnels also enables you to sell physical and digital products along with creating membership sites.
The base plan of ClickFunnels starts at around $97/month, which is suitable for beginners getting started. If you are an advanced marketer, you should get started with the ClickFunnels Platinum plan costing $297/mo. Also, with the ClickFunnels Platinum plan, there are no restrictions on the number of funnels you build or the pages you design with ClickFunnels here.
Note: Well, if wanna check exclusive discounts on ClickFunnels, check our ClickFunnels coupon & discount here.
Kajabi vs Podia
Podia is another reliable platform that enables you to create engaging online courses and memberships websites. What's more, Podia even enables you to sell digital products like a charm.
Podia base plan starts at $39/month, but this plan lacks the membership module, third-party code, etc. So if you need these features, you need to get started with the Podia high-end plan starts at $79/month.
The only down part is, Podia automation and marketing features aren't comparable to Kajabi as Kajabi comes with a robust set of automation and marketing features. 
Advantages and Disadvantages of Kajabi:  
Here are the advantages and disadvantages of using Kajabi, so without getting late let's have a look.
Advantages:
Consistently releasing new features
Very suitable for non-technical small business owners
Multiple options for creating content
The onboarding process is very professional and efficient
Best customer service with the excellent support team
Integrate with all business needs like customer support and email under one roof.
Disadvantages:
Little customization available at basic and growth plan
Email delivery can be improved 
Related Read:
Conclusion: Kajabi Pricing Review
No doubt, if you're looking to create an engaging online courses/membership module — Kajabi is the best shot to take.
The best part, Kajabi even comes with robust marketing and advanced automation options. That makes this platform to create and market your courses real quick and easy.
Which plan should you choose?
If you're just getting started, we suggest starting with the Kajabi base plan starts at $119/mo if paid annually. Once you see you need high-end features, you can switch to a high-end plan at that time.
If you think Kajabi is expensive, we suggest you check other platforms such as Podia, Kartra, Teachable, Thinkific, etc.
FAQs on Kajabi Pricing 
Does Kajabi charge any transaction fees?
There is no high-end transaction fee with Kajabi. If you sell products using the Kajabi in-built payments — Kajabi won't charge a single penny. However, you need to pay the Stripe merchant fee of 2.9% along with pew cents per transaction. 
Can you change your Kajabi plan later on? 
Yes, Kajabi allows you to change or upgrade your plan later on as per your needs and requirements. 
Is there any Kajabi free trial? 
Yes, Kajabi offers a 14-day free trial offer. Using the free trial, you can easily explore all the modules and features of Kajabi. 
Do you need web hosting to create courses?
No, you don't need to purchase any other hosting. As Kajabi all plan comes with a fast and secure hosting to help you host your online courses/membership website. 
Can you use your domain with Kajabi? 
Yes, Kajabi enables you to use your custom domain. Even if you don't have a domain, Kajabi will provide you a domain with its branding — example.mykajabi.com. 
Does Kajabi come with any money-back guarantee?
Yes, Kajabi comes with a 30 days money-back guarantee. To claim the money-back guarantee, you need to cancel the subscription within the first 30 days of the payment.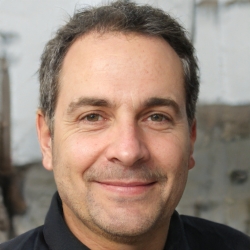 Latest posts by Tim David
(see all)