On the verge of buying a subscription to Systeme.io? Before you do that, check out this Systeme.io review to learn everything about this platform.
To run an online business, everyone needs different tools to automate it completely. According to Technology Industry Trend Report, it was found that every online business owner uses an average of 170+ tools to run their daily operations. To manage all these tools at once can be really overwhelming, and that's when I found Systeme.io.
It was a platform where you get access to tools to manage your affiliate programs, email automation, create sales funnels, create business strategies, and much more. Before buying a subscription to Systeme.io, I decided to take a test drive of its tools, and after that, I never regretted using Systeme.io.
That's why I am here to share my personal experience with you guys through this Systeme.io review so that you guys can understand this platform. My review is based on its features, pricing, integrations, and so on.
Let's get started.
Systeme.io Review: In a Nutshell
Aurelian Amacker created Systeme.io to provide an all-in-one solution to digital marketers so that they don't need to visit different tools to perform simple tasks for their business. He is using Systeme.io to run a successful coaching business online. It was first launched back in 2010 in France, and since then, Systeme.io has made thousands of customers from all over the world.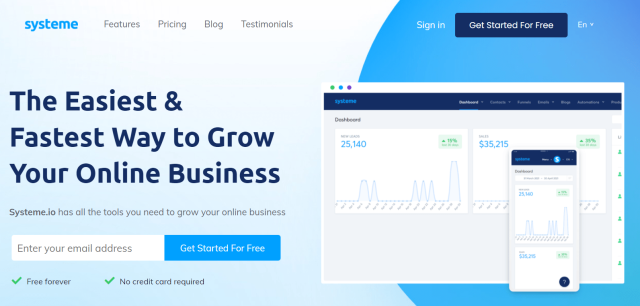 It offers you different tools such as funnel builder, marketing automation, blogging platform, online course builder, email marketing software, and affiliate program management software. Along with these tools, you can also sell physical & digital products using Systeme.io. The best part about it is that you get the core features for free, and the premium features cost very little.
Note: We have listed some of the working Systeme.io Coupons here.
Systeme.io Features Explained
Systeme.io offers multiple tools in one place, and everything can be accessed from the dashboard of this platform. Let's take a look at all those features.
1. Sales Funnels
Most online marketers think that creating a sales funnel is a difficult task. But I created my first sales funnel with Systeme.io within just a few clicks, and then I realized that if I could do it, then anyone could do it. They already have pre-made templates that are highly convertible; all you need to do is enter your offer and make a few changes, and boom!! You have created your first sales funnel.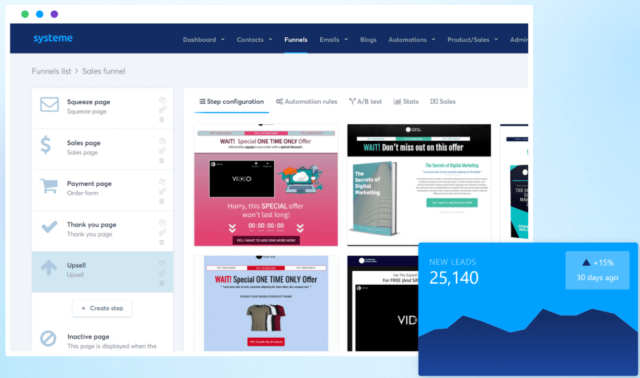 You can easily promote or sell digital or physical products on your website using sales funnels. It has various templates that allow you to create professional sales funnels easily. If you want your visitor to explore sales funnels more, then add a few extra steps to the page and redirect them wherever you want.
2. Email Marketing Automation
Email Marketing is the backbone of online businesses these days. So you need to be careful when choosing a platform for email marketing, or you can just use Systeme.io for its email marketing automation software. It gives you the power to create creative emails so that your emails don't end up in your subscriber's spam folder.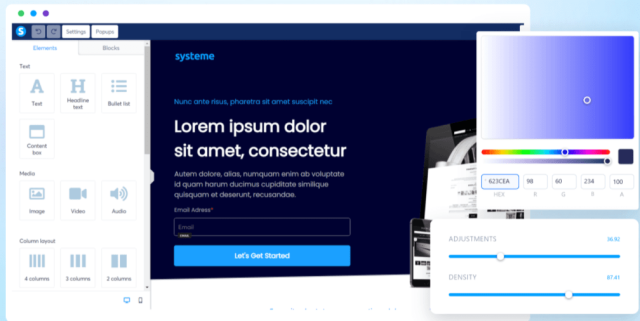 You can quickly increase your email subscribers list and send personalized emails to them with Systeme.io's email marketing software. It also allows you to automate your responses and follow-up emails. You can create unlimited emails to promote your products and to show your subscribers that you care about them. Just set up this email automation software and focus on other essential parts of your business.
3. E-commerce Feature
The eCommerce feature of Systeme.io allows you to promote and sell products quickly. You won't need to use any third-party eCommerce service. Create an online store on your website within a few minutes using Systeme.io. Convert your leads into paying customers using the eCommerce functionality of Systeme.io.
You don't need to worry about integrating third-party payment methods, you will be able to find everything on the dashboard of Systeme.io, and you can easily activate them for your website.
4. Online Course Builder
There are many tools available in the market through which you can create your online courses from scratch. Systeme.io also has an online course builder tool that allows you to design & create your courses in any way you want. You won't need to search for any third-party applications.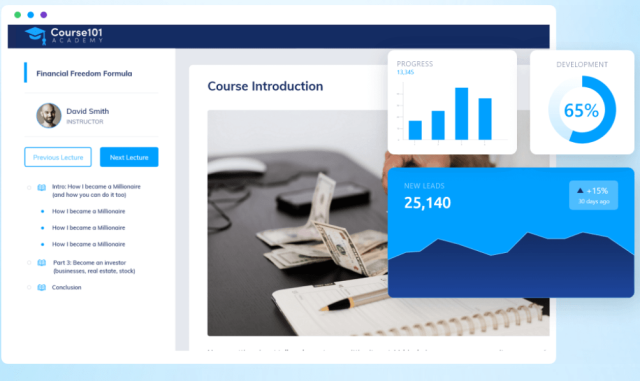 It also gives you access to tools to promote and sell your courses. You can handle everything from just one dashboard. The payment methods are already integrated; all you need to do is activate them. You can receive payments via PayPal, Credit/Debit cards, and Stripe. You can also manage affiliates of your courses from the same dashboard.
5. Blogging Platform
Creating an online business and performing in this digital era has become a little bit hard. You can get better at this only if you have an organic way of increasing traffic for your website. That's why many popular products use blogging to attract more traffic to their website. Systeme.io gives you the power to launch your blog in just a few steps.
You can create excellent content for your website and attract visitors based on it. That's why many online businesses are leaning towards blogging. Systeme.io gives you all the management tools that you will need to manage your blogging platform. It becomes really to create & publish the content with Systeme.io's blogging feature.
6. Evergreen Webinars
Whenever you open a reputated brand's website, you will see evergreen webinars with the context of explaining what their website is all about and how you can use their features or products. You can do the same for your website with Systeme.io's evergreen webinars feature. All you need to do is create a webinar and stream it live. Then post it on your website as educational content for your viewers.
It will be a real game-changer for you if your content of evergreen webinars is providing quality over quantity. It is straightforward to run these webinars on your website, and it will automatically bring leads & sales for your website.
7. Create An Affiliate Program
Everyone is familiar with an affiliate program. You can earn commissions promoting other people's products. You can do the same for your products. Create an affiliate program using Systeme.io and let other people promote your products and bring in sales. In return, all you need to do is give them a few percentages of that sale.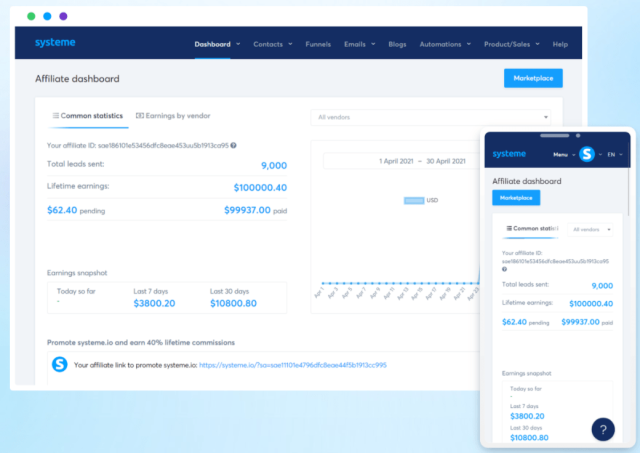 It will automatically help boost your brand and sales. If this works really well for you, then you create customized affiliate programs and get your brand recognition in the digital market. You can also set up multiple tiers in an affiliate program so that everyone who brings in a sale gets a percentage of that sale.
8. Membership Sites
It is straightforward to build membership sites with Systeme.io. You just need to follow a few steps, and voila!! Your membership site is ready within a few minutes.
It does not matter if you have coding skills or not because it has a simple drag and drops feature that allows you to add elements to your website. It also gives you pre-made templates to choose from.
9. Automation Tools
If you're running an online business, then you already know that you can not do all the day-to-day operations by yourself. It would be best if you automated a few operations of your business.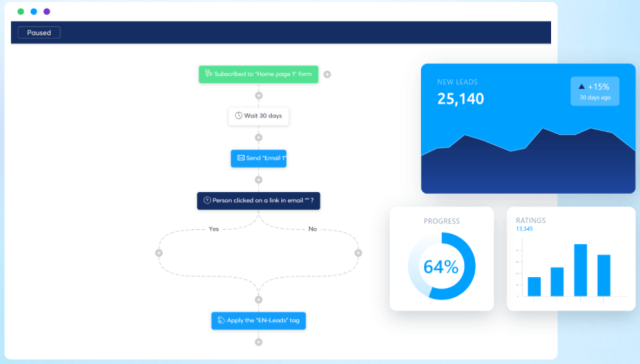 That's where Systeme.io's automation tools come in. It helps you automate your business and increase sales in the process so that you can focus on other essential parts of your business.
10. Contact Management
The common problem most business owners face is getting to know their visitors completely. Like when they came on to your website, when did they sign up, what products they have purchased, what emails are they opening, and what emails they are not opening. Sometimes you end up using multiple software to manage all the aspects of your business which can be costly as well as difficult to manage.
Systeme.io gives you everything in one place which includes all the contact info of your visitors. In the contact management, you can see the complete history of your visitor like when they signed up, what products they have purchased, and so on. With this data, you can make your strategy like what kind of emails you should send, what kind of product suggestions you should show, and all.
Who Should Use Systeme.io?
If you are an online marketer, you already know the headache of going through different tools repeatedly to perform different tasks for your business. That's why Systeme.io was created in 2010. The primary purpose of this platform is to reduce that headache and offers as many tools as possible in one place.
That's what Systeme.io did and started offering email marketing solutions, online course builder, sales funnels builder, drop-shipping, business automation, evergreen webinars, and so much more. If you plan to become a blogger, online instructor, eCommerce store owner, or run an online business, then Systeme.io is the platform to choose. It will give you everything you need to start your business.
Systeme.io Pricing Plans
Systeme.io offers four different pricing options to its users. The basic plan is free of cost, and the other three premium plans offer advanced features. Let's take a look at their pricing structure.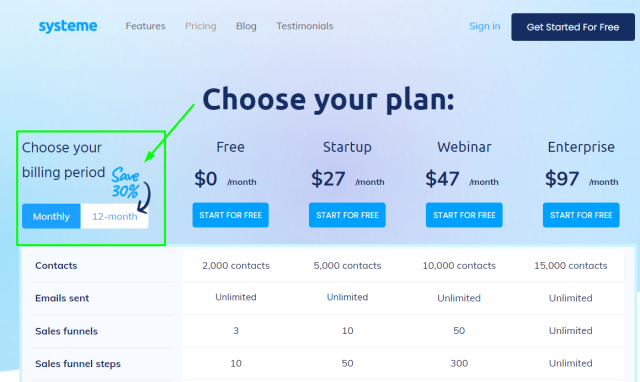 1. Free Plan: You don't need to pay a single penny for this plan. It also gives you unique features such as 1K contacts, unlimited emails & three sales funnels, one membership site, marketing automation, and some other features. In this plan, you will not get access to evergreen webinars and custom domains.
2. Startup Plan: You can purchase the Startup subscription of Systeme.io at just $27/mo. It gives you 5K contacts, five membership sites & ten sales funnels, ten email campaigns, and other features. This plan offers only one custom domain option.
3. Webinars Plan: You can buy the Webinar plan at just $47/mo, and it will give you 10K contacts and allow you to send unlimited emails & create 50 sales funnels. This will also give you access to ten evergreen webinars, 20 membership sites, 50 A/B split tests, and some other features. You will get the option of ten custom domains.
4. Enterprise Plan: The Enterprise plan will cost you $97/mo and give you access to 15K contacts, unlimited emails & unlimited funnels. There is no restriction on the rest of the features. You can use them however and whenever you want.
What Can You Do With Systeme.io Free Plan? 
Here we have listed some points about what you can do with Systeme.io Free plan. Let's have a look.
You can create membership sites
Easily create an affiliate program
You can do A/B testing to optimize conversions
Accept payment
Build funnels to boost conversions and generates lead
You can start blogs with unlimited post
Easily runs email marketing campaigns
You can generate coupons
Create sale pages and home pages
System.io Pros & Cons
Let's take a look at all the pros & cons of Systeme.io.
System.io Pros
It is a fantastic tool for beginners with no experience.
It offers effective tutorials on how to use all the tools efficiently.
Systeme.io works on seamless processes, all the tools at the same time.
Automate your business and save time for other things.
All tools at one place with affordable pricing options.
System.io Cons
The number of features & tools Systeme.io has can be overwhelming for some people.
You will not get access to any third-party integration on Systeme.io.
Limited customization option.
Resources & Customer Support
Systeme.io offers various resources to explain how the tools of this platform work. The knowledge base feature allows you to ask any question you have in your mind related to Systeme.io. You can learn everything about the platform through different video tutorials. If you choose the Enterprise plan, then you will get one-on-one online coaching from the experts of this platform.
The customer support team is always there for you. You can contact them 24*7, and they will resolve any query you have within a few hours. They also have a huge Facebook community where you can connect with current users of Systeme.io and learn about their experience with this platform.
Related Read:
Final Verdict: Is System.io Worth It?
Systeme.io is a reliable platform, and it was designed to solve the problems of online marketers. Because of this platform, I don't need to buy different tools and spend hundreds of dollars on their subscription. I use the enterprise plan and get access to everything I need to automate my online business.
I hope this Systeme.io review helps you decide about buying a subscription to this platform. Let me know your thoughts about Systeme.io in the comment section below.
FAQs On Systeme.io Review
Is there a free trial available on Systeme.io?
Yes, Systeme.io offers a 14-day free trial to all their new users. You can just sign up and start using the premium features of Systeme.io for 14 days.
Does Systeme.io offer a money-back guarantee?
Yes, Systeme.io offers a 14-day money-back guarantee to all its users. You can apply for a refund within 14 days of your purchase.
Is Systeme.io legit?
In my experience of using Systeme.io for two years, I can definitely say that it is legit and offers all the necessary tools in one place.
Is there something better than Systeme.io?
There are many tools available on the market that are much better than Systeme.io, and some of them are Kajabi, Kartra, ClickFunnels, Hubspot, and so on.
Is there a free plan available on Systeme.io?
If you are a beginner and don't have the budget to buy the premium plan of Systeme.io, then you should sign up for its free plans which give you access to all of Systeme.io's features but only limited access.
How many courses can I create with Systeme.io?
The free plan allows you to create only one course, the starter plan gives you features to create up to five courses, and the webinar plan allows you to create up to 20 courses. The unlimited plan removes all the restrictions and allows you to create unlimited courses.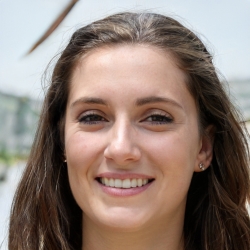 Latest posts by Olivia Baker
(see all)